Greta Thunberg, Bette Midler And Other Celebs Celebrate Trump's White House Exit
Celebrities are welcoming president-elect Joe Biden's inauguration today and bidding farewell to president Donald Trump as he exits the White House for good.
While America's allies and enemies have been celebrating Trump's departure, the phrase "he's gone" was trending on Twitter early on Wednesday.
"He is finally gone," wrote Avengers star Mark Ruffalo. "The nightmare has come to its fitful end. A bunch of trump elite criminals pardoned in the shroud of night. The Golden Toilet Presidency is over. A turd is a turd no matter where it lays."
Comedian Chelsea Handler tweeted a delighted picture of herself waving, and said: "Waving goodbye to Trump, Mike Pence, and that entire cabinet of criminals."
Jim Carrey shared a new piece of art depicting Trump's exit featuring the phrase: "Ding dong the witch is dead" along with an illustration of a smashed mango. The mango is a reference to Trump often being nicknamed the "mango Mussolini."
Greta Thunberg mocked Trump, tweeting: "He seems like a very happy old man looking forward to a bright and wonderful future. So nice to see!"
Star Trek actor George Takei wished for a more forceful exit, tweeting: "Watching Trump leave this morning, I did have one regret: I really wanted to see him dragged out by the Secret Service."
"IT'S TODAY!!!" tweeted a jubilant Bette Midler—a frequent and fervent Trump critic.
"Aaaand scene," said Scrubs star Zach Braff to footage of Trump's helicopter flying away.
Filmmaker Michael Moore tweeted: "Trump! STFU! GTFO! LOSER! HUGEST LOSER EVER! Federal prison. 3 good meals a day."
"Trump lying his way into the sunset," wrote John Cusack. "Pretending he worked hard— not admitting to the big lie—leaving the putrid lying Criminal he came in as—Fly away criminal."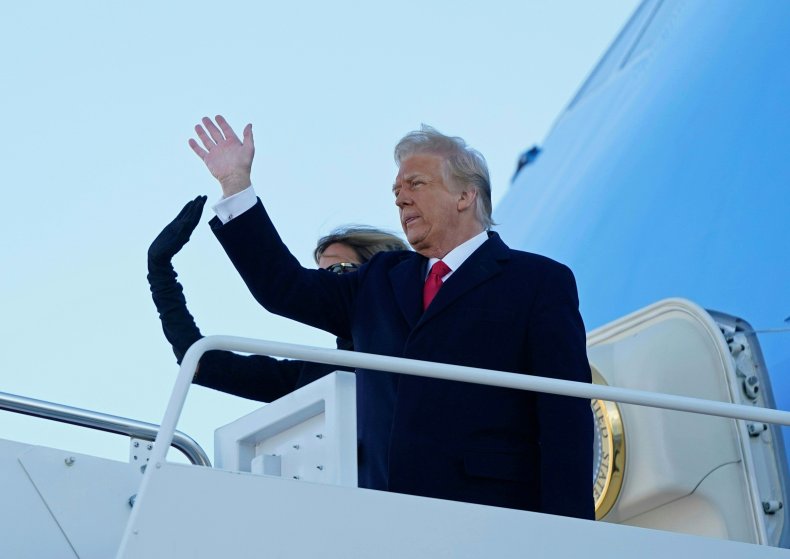 Ahead of inauguration day last night, Patton Oswalt joked: "This feels like Christmas Eve. Or Turd In Human Form Who's About To Leave A Job He's Colossally Unsuited For Eve. One of those."
"Wake up America! He's gone! Today's a new day!!! #Inauguration2021," said actress Rosie Perez.
Bernice King, activist and daughter of the late Dr. Martin Luther King Jr. quoted the bible to footage of Trump flying away.
"Weeping may endure for a night, but joy comes in the morning," she wrote.
"Don, you're fired," tweeted horror author Stephen King. "Don't let the door hit ya where the good Lord split ya on your way out."
"Goodbye, you racist, lethally incompetent traitor," said Get Out actor Bradley Whitford. "Get out of our house. You're fired."
"HURRAY!!!!!" tweeted author Marian Keyes. "Off ya go, s***head!"
Trump delivered a final farewell speech at Joint Base Andrews, telling his supporters: "Our movement is only just beginning."