Celebrities React to Joe Biden and Kamala Harris Winning the Election
Many major celebrities haven't been shy about their endorsement of Joe Biden throughout his campaign, with Lady Gaga and John Legend making highly anticipated appearances at his rallies—and superstars like Taylor Swift, Ariana Grande, Reese Witherspoon and Kendall Jenner posting about voting for the Democrat on their far-reaching social media pages.
Once it was announced by the Associated Press and the major television networks on Saturday that Biden won Pennsylvania's 20 Electoral College votes (thus officially projecting him as the 46th president of the United States), celebs immediately began tweeting their excitement for him and running mate Kamala Harris, the first Black woman and first South Asian woman to win the vice presidency.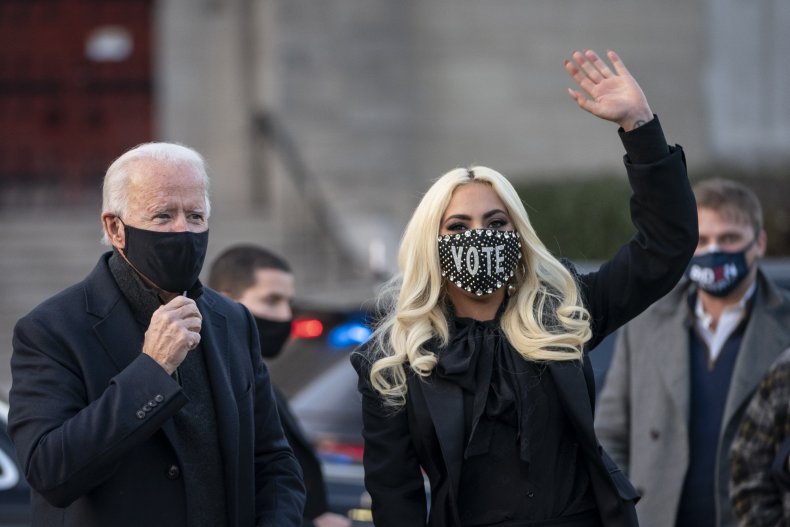 Celebs and longtime critics of President Donald Trump such as Cher, John Cusack and Mark Ruffalo flooded their Twitter pages with celebratory tweets and retweets once the race was called. Both Cher and Ruffalo had similar tweets, saying they were "so happy" following the results.
Actresses Eva Longoria and Kerry Washington—who both emceed the virtual Democratic National Convention earlier this year and have campaigned for Biden— tweeted their congratulations to Biden and Harris.
"Democracy won!!! USA USA USA," Longoria tweeted along with a video of her TV screen declaring Biden the president-elect. She later added: "Our children were watching us as a country... We chose correctly. LOVE will always trump hate! Unity, let's start healing as Americans!"
"The people have spoken!" tweeted Washington just minutes after the call was made. "Thank you to everyone who used your vote and your voice to make history. PRESIDENT Joe Biden and VICE PRESIDENT Kamala Harris."
Singer Lizzo shared an emotional video message on her Instagram, in which she tearfully discusses that the results of the election have caused her to feel "hopeful."
"I think this is the end of a four-year term that felt like a thousand years," she said. "Whether you were blue or were red, that man didn't care about you."
"It's time to hold the people in charge accountable," Lizzo added. "It's time for them to listen. And it's time for actual change in our policies and practices."
Other celebrities emphasized the historic election of Harris and noted that it's an important moment for women of color everywhere.
"Crying and holding my daughter, 'look baby, she looks like us,'" tweeted actress Mindy Kaling, while Alyssa Milano, a fervent Trump critic, shared a photo of Harris and captioned it, "FOR EVERY LITTLE GIRL."
Filmmaker Ava DuVernay, who created the Netflix hit When They See Us based on the Central Park Five case, made sure to address Trump's role in demonizing Antron McCray, Kevin Richardson, Raymond Santana, Korey Wise and Yusef Salaam and calling for their execution. The five young boys, between the ages of 14 and 16, were later exonerated after spending six to 13 years in jail for a crime they didn't commit.
"Imagine the person who took out full-page ads to call for your execution being voted in as President of the United States," DuVernay tweeted. "Now, imagine that person being fired in shame. Sending my love to Korey, Antron, Raymond, Kevin and Yusef. Enjoy this day, my brothers. #exonerated5."
Now known as the Exonerated 5, the five men tweeted "#JUSTICE" in response.
Comedian Leslie Jones tweeted a viral video of Biden and notable Democrats photoshopped into a scene from a Marvel's Avengers movie with the caption: "YASSSSSSS!! CONGRATS PRESIDENT BIDEN!!."
Actress Reese Witherspoon tweeted that "today is a monumental day" while celebrating the accomplishments of women, noting Harris's name among the likes of Harriet Tubman, Ruth Bader Ginsburg and Shirley Chisholm.
Actress Jennifer Aniston posted a GIF on Instagram of her Friends character, Rachel Green, yelling in excitement with a "Biden Harris" sticker, while a later post shows a photo of Biden and Harris, which she captioned: "About time."
Singer Ricky Martin, who appeared at a Hispanic heritage campaign event for Biden in September and has criticized Latinos who support Trump, shared a masked photo of him and the president-elect.
"I wish you the best Mr. President-elect @JoeBiden. Thank you for your integrity and unifying spirit," he tweeted. "As a Puerto Rican, I am honored to have worked with you on this difficult campaign. Congratulations @KamalaHarris for making history, while maintaining grace."
NBA superstar LeBron James posted a viral meme that shows Biden as James blocking a play from Miami Heat player Andre Tyler Iguodala depicted as Trump. James has also been vocal about his support for Biden and launched the More Than a Vote initiative this year that tackles systemic voter suppression within the Black community.