Billy Baldwin and Others React to Trump Stranding People at His Omaha Rally
After supporters were left stranded following President Donald Trump's rally in Omaha, celebrities and others took to Twitter to criticize the president for attendees who were left in the cold for an extended amount of time.
As previously reported, people were bussed to Eppley Airfield from various parking lots for the rally. CNN reporter Jeff Zeleny tweeted that many people were left on a dark road after the rally over an hour after the president left. Police and medics assisted people that were stuck or experiencing problems due to medical issues.
In a statement received by Newsweek, deputy national press secretary Samantha Zager said that road closures were to blame for the lack of buses. "President Trump loves his supporters and was thrilled to visit Omaha last night. Despite the cold, tens of thousands of people showed up for his rally. Because of the sheer size of the crowd, we deployed 40 shuttle buses instead of the normal 15, but local road closures and resulting congestion caused delays. We always strive to provide the best guest experience at our events and we care about their safety," she said in a statement.
As supporters were left in the cold, many celebrities criticized Trump and the campaign for not providing adequate bus transportation to and from the event, saying that it was careless.
Actor Billy Baldwin shared a tweet by Press Secretary Kayleigh McEnany, saying that he'd probably choose to go to a rally for former Vice President Joe Biden over one for Trump. Radio personality Dean Obeidallah said that this is just the latest blow, as the campaign has been holding rallies despite the COVID-19 pandemic continuing. "Trump has been infecting his supporters with Covid for weeks but now he's added giving them hypothermia," he wrote. Singer Malynda Hale also theorized that the campaign will place the blame on the bus company.
Other people made light of the incident while vowing to vote him out. Photojournalist Seph Lawless said he was "about to abandoned [sic] you for good" after the election. Radio personality Chip Franklin also questioned what the supporters getting stranded said about how Trump would treat people if he did win the election.
While many were infuriated, other people took this as an opportunity to mock Trump and his supporters. Musician Jeff Hendrick joked about supporters singing "Let It Go" from Disney's Frozen while stuck in the cold. Ironbound Films CEO Jeremy Newberger likened it to the "old Roach Motel...MAGAs check in, but they don't check out," he wrote.
Author Tomi Ahonen offered several jokes at Trump and his campaign's expense, penning a number of parodies or writing short photo captions, making light of it. He even changed his username on Twitter to "The Bigly Bus Boy of Nebraska." Some of his parodies including re-writing the lyrics to The Proclaimers' hit song "I'm Gonna Be (500 Miles)" to reflect the incident: "I would walk one thousand steps/And I would walk one thousand more/Just to be with Trump who lied ten thousand times." Another was a reworking of Dr. Seuss' classic Green Eggs and Ham to reflect the incident. "I think his lies are getting old/But I HATE walking 4 miles in the cold," he wrote.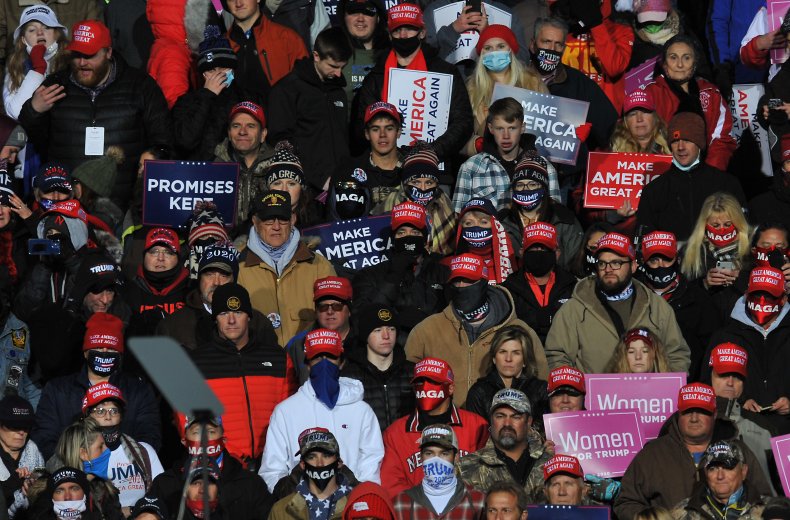 Updated 10/28 11:36 a.m. EST: This story has been updated to include comment from the Trump campaign which was received after the story was published.