Celebrities React to Will Smith Slapping Chris Rock at the Oscars
The 2022 Academy Awards have been overshadowed by an incident involving Will Smith and Chris Rock that will undoubtedly go down in award show history.
Smith, reacted to a joke Rock made about his wife Jada Pinkett-Smith by storming the stage and slapping the comedian firmly in the mouth.
Though the sound was cut from the ABC broadcast in the United States, in other countries' broadcasts, Smith was heard shouting: "Keep my wife's name out of your f****** mouth."
The moment has exploded on social media as viewers grapple with what they had just seen.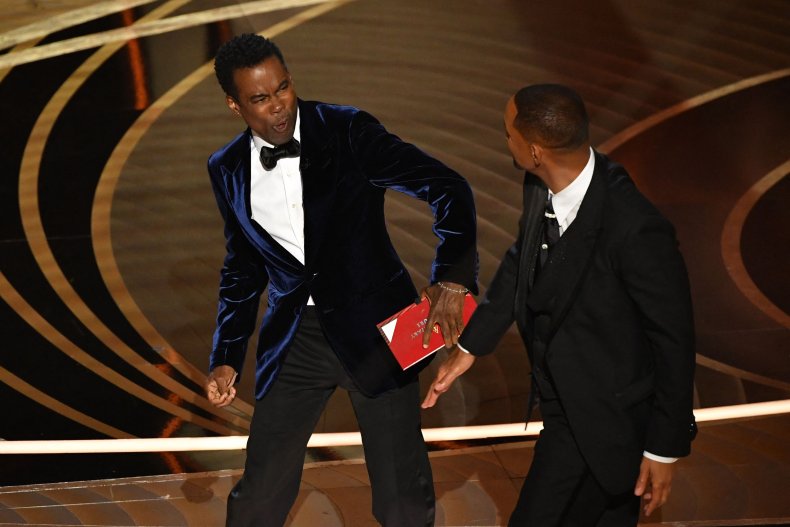 "Wow. Will Smith just smacked the s*** out of me," said Rock as a furious Smith departed the stage.
Footage of the audience from that moment is limited, except for actress Lupita Nyong'o, whose reaction was captured as she sat behind Smith, who can be seen shouting at Rock after he hit him.
Social media quickly reacted to the viral moment via memes and endless questions of "WHAT JUST HAPPENED?" but the lack of audience footage of the moment has found it difficult to prove just how everyone at the Oscars ceremony reacted.
Photos of the audience's reaction to the infamous La La Land incident of 2017, when the film was mistakenly announced as best picture, have resurfaced too.
A number of celebrities have shared their reactions.
Celebrities react to Will Smith slapping Chris Rock:
Amy Schumer
Oscars host Amy Schumer joked on stage: "I've been getting out of that Spider-Man costume. Did I miss anything? There's, like, a different vibe in here."
Conan O'Brien
"Just saw the Will Smith slap. Anyone have a late night show I can borrow just for tomorrow?" the former late-night host tweeted.
Cher
Music icon Cher tweeted: "WENT OUT OF RM & MISSED REASON FOR WILL'S PUNCH..JUST SAW IT, BUT STILL NOT SURE WHY."
Kathy Griffin
"Let me tell you something, it's a very bad practice to walk up on stage and physically assault a Comedian," tweeted comedian and actress Kathy Griffin. "Now we all have to worry about who wants to be the next Will Smith in comedy clubs and theaters."
Billy Eichner
"I'm getting under my couch," joked comedian Billy Eichner.
Sophia Bush
"Violence isn't ok," tweeted One Tree Hill star Sophia Bush. "Assault is never the answer. Also? This is the 2nd time that Chris has made fun of Jada on the #Oscars stage, & tonight he went after her alopecia. Punching down at someone's auto-immune disease is wrong. Doing so on purpose is cruel. They both need a breather."
Judd Apatow
Director Judd Apatow called the incident "pure out of control rage and violence" in a series of since-deleted tweets.
"He could have killed him. That's pure out of control rage and violence. They've heard a million jokes about them in the last three decades. They are not freshman in the world of Hollywood and comedy. He lost his mind," he wrote on Twitter.
"Seems like Will Smith's plan to get comedian and the world to not make jokes about him is not going to pan out. The Williams family must be furious. Pure narcissism," he added.
Jaden Smith
Smith's son Jaden Smith tweeted, "And That's How We Do It," later posting, "My Dads speech made me cry."
Jodie Turner-Smith
Actress Jodie Turner-Smith tweeted: "and as far as *that incident* goes… i am still processing. i have second hand embarrassment for all involved."
Matt Lucas
"I thought I dreamt this but I just looked on YouTube and it actually happened," tweeted British comedian Matt Lucas.
50 Cent
Rapper 50 Cent tweeted: "You have to win Oscars to do this kinda s**t. after i win i'm gonna slap the s**t out of a few people. LOL."
Colman Domingo
Actor Colman Domingo told Variety: "I thought, he's from West Philly, just like I'm from West Philly. We're very passionate people."
Minnie Driver
Actress Minnie Driver also told the outlet she felt the moment was "deeply personal."
"It was deeply personal. We were all privy to...emotions running really high. I really hope they will make up later. It's hard to watch somebody's pain like that."
Bernice King
Activist and daughter of the late Dr. Martin Luther King Jr., Bernice King tweeted: "I just think we really need to be more careful with each other. We handle each other so violently...verbally, physically, psychologically."