Celebrities and Social Media React to Mike Bloomberg Dropping out of the Race
Mike Bloomberg dropped out of the Presidential race on Wednesday, following a disappointing Super Tuesday.
The billionaire former mayor of New York City spent over $500 million dollars on his campaign, with hundreds of millions spent on advertising across digital media and television. The candidate quickly endorsed Joe Biden for President after dropping out, a move that many former candidates, including the former mayor of South Bend, Indiana Pete Buttigieg and Minnesota Sen. Amy Klobuchar, took prior to Super Tuesday.
On Twitter Bloomberg made a quick statement saying: "Three months ago, I entered the race to defeat Donald Trump. Today, I'm leaving for the same reason. Defeating Trump starts with uniting behind the candidate with the best shot to do it. It's clear that is my friend and a great American, @JoeBiden."
Trump did not waste any time when it came to rubbing the billionaire candidate's wasted money in his face
Bloomberg fired back at the President with "See you soon, Donald," accompanied by a clip of Obi-Wan Kenobi facing off against Darth Vader in Star Wars: A New Hope, promoting the mission of party unity in a playful way.
Celebrities were quick to join in with their own reactions on twitter, ranging from jokes to full political commentary. Comedian Rob Delaney pointed out the irony of Biden accepting Bloomberg's endorsement.
Comedian Whitney Cummings did not mince words on where she thought Bloomberg's allegiance would lie after dropping out.
Comedian Neal Brennan took a dig at Bloomberg's record campaign spending, comparing it to returning an item on Amazon.
Members of the media were not adverse to making light of Bloomberg's exit either. Rock critic Dan Ozzi compared Bloomberg dropping out of the race to Sonic the Hedgehog.
Bloomberg has caught the ire of celebrities and social media in the past. In his first Presidential debate, the former mayor was ruthlessly deconstructed by Sen. Elizabeth Warren. With Bloomberg's exit, the field of candidates becomes increasingly smaller, with Sen. Bernie Sanders and Biden as the front-runners.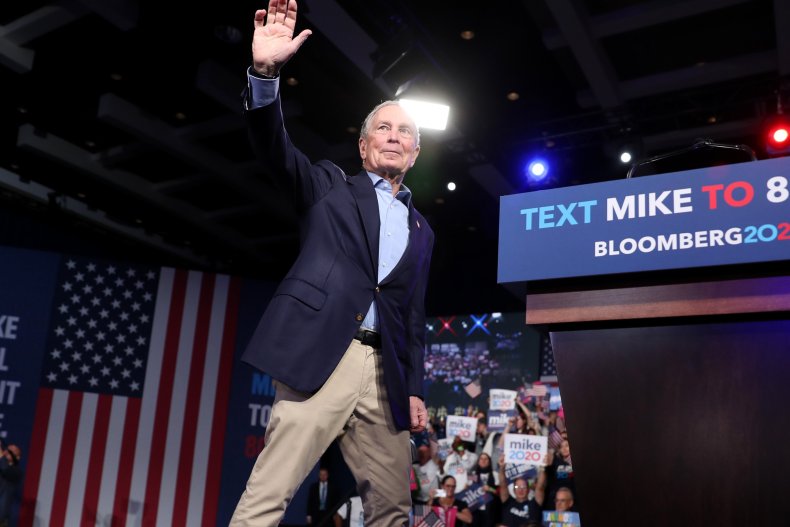 In an official statement, Bloomberg further commented on his reason to leave the race.
"After yesterday's results, the delegate math has become virtually impossible – and a viable path to the nomination no longer exists. But I remain clear-eyed about my overriding objective: victory in November. Not for me, but for our country. And so while I will not be the nominee, I will not walk away from the most important political fight of my life," Bloomberg said.