When Celebrities Speak out About Roe v. Wade, People Listen | Opinion
At the end of the final song of his Glastonbury encore—'Savior'—Kendrick Lamar, with a crown of thorns on his head and blood streaming down his face, chanted, "They judge you, they judged Christ, godspeed for women's rights" over and over before dropping the mic and leaving the stage. There are 3,569 miles and the Atlantic Ocean between the U.S. Supreme Court in Washington D.C. and Worthy Farm in Somerset, but Lamar's words carried.
The rapper's artistic protest against the overturning of Roe v. Wade bookended a weekend of similar statements from Glastonbury's stages. On Friday night, as she became the youngest artist ever to headline the Pyramid stage, Billie Eilish introduced "Your Power" by telling the crowd: "[This song] is about the concept of power and how we need to always remember how not to abuse it. Today is a really, really dark day for women in the U.S..."
Earlier on the same day, Phoebe Bridgers encouraged the crowd to scream "f*** the Supreme Court", while on Saturday, Olivia Rodrigo was joined by Lily Allen to sing the latter's song "F*** You" (dedicated to the Supreme Court justices) and Meghan Thee Stallion led a chant of "my body, my motherf***ing choice." Other acts including Years and Years, Kacey Musgraves, Lorde, Idles and Jarvis Cocker used their sets to attack the decision.
The most common lazy arguments against musicians making political statements are that they should "keep politics out of it" (there's no such thing as apolitical music, just music that pretends it is) and that they don't "achieve" anything through their words. Of course, it's possible to dismiss performances at Glastonbury as preaching to the choir, but those stages in Somerset become global platforms for a few days in the summer.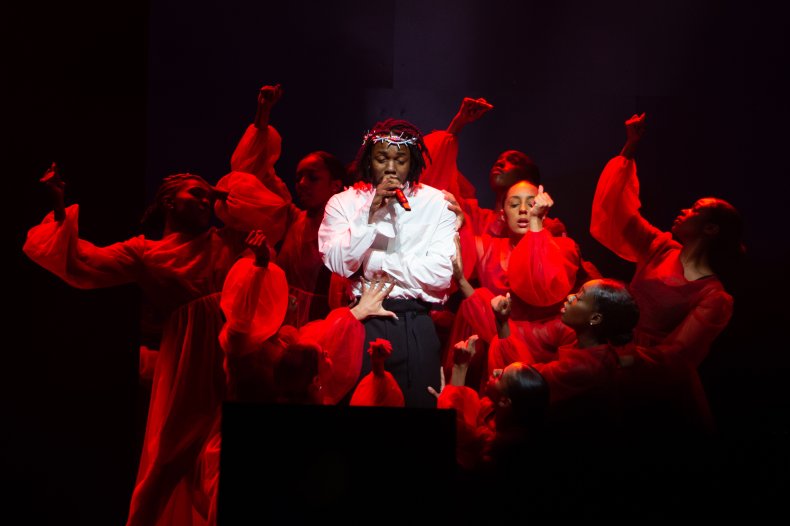 The statements from Lamar, Eilish and others are now echoing through the international media. Raising awareness can be a deeply hollow thing and the acts that spoke up at Glastonbury should continue their advocacy and put their money where their mouths are, but they did not have to speak out at all. Using their shows to stand against the Supreme Court's decision is an act of solidarity in itself.
It's very easy for musicians to choose not to take a position on political issues. Doing so inevitably involves alienating at least some of your potential audience. It's also easy to think that taking a stand is pointless. Peter Cook famously used to say that his comedy club, The Establishment, was based on the Berlin cabaret clubs of the 1920s and 30s which "did so much to prevent the rise of Adolf Hitler." But equally, silence is a choice too.
When news of the Supreme Court's forthcoming ruling first leaked in May, Phoebe Bridgers tweeted her story of having an abortion and encouraged her fans to donate to reproductive rights organisations. She used the megaphone that success as a musician has given her to make a contribution. It's about more than shouting from the stage.
For all my cynicism, I still believe pop music can be inspirational. That major artists like Lamar and Eilish used their platforms at one of the world's most famous music festivals to raise Roe v. Wade matters because of that power to inspire. And their words will inspire at least some of those who heard them to take action.
Mic Wright is a writer and media critic. The views expressed in this article are the writer's own.
For an alternate opinion, read: People Want Music From Billie Eilish, Kendrick Lamar—Not Politics