Katy Perry, Kim Kardashian, and Many More Celebrities Make One Last Effort to Get Out the Vote
Today is the big day, and in case you forgot or thought you might let the day slip by without doing anything important, countless celebrities took to Twitter to remind you to do your civic duty.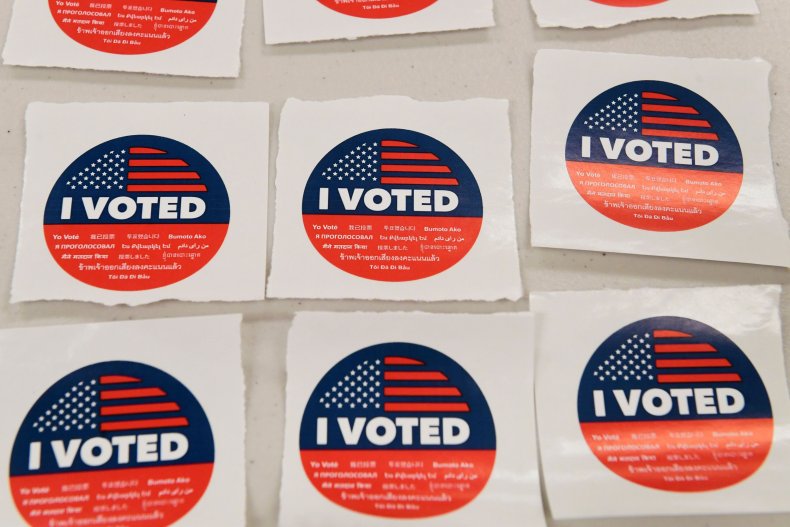 A lot of celebrities started early, even logging on to Twitter yesterday to make sure people woke up today prepared for Election Day. Katy Perry was but one of many who fell into this category.
Viola Davis is no stranger to awards, being the first African-American actress to win an Academy Award, an Emmy, and a Tony (actually two of those), but if they gave an award for most enthusiastic tweet about voting, her name would surely be on the list of nominees.
Demi Lovato is not stranger to voicing her feelings about politics, as anyone who's heard her protest anthem "Commander in Chief" can attest.
Ariana Grande took a break from promoting her new number one album to help voters find their nearest polling site.
This Is Us actress and singer Mandy Moore has been more politically active as of late, and she wasn't going to let the day go unnoticed.
Halsey went with a more somber tone:
Jordan Peele was simple and direct.
Kim Kardashian West offered some helpful notes for people to be mindful of at the booths if they are worried their voting rights being violated.
She later followed-up to proudly show off her sticker (and a face adorned with--no doubt--KKW Beauty products).
Ryan Seacrest's message was to the point, but he also provided a link for people to use to find their correct polling site.
Jamie Lee Curtis sounds as powerful as always.
The rapper Common has been busy campaigning for Joe Biden, but not too busy to tweet a reminder to vote.
Actress Olivia Wilde tried to motivate voters to persevere through long lines.
Josh Gad also implored his fans to get to their local polling site.
Mark Hamill usually takes to Twitter with messages made in jest, or at least with a fair deal of mockery. Today, he became quite serious. (Don't worry Hamill fans, elsewhere, he injected plenty of humor into his political tweets.)
Director Kevin Smith name-checked...a character he created.
Jimmy Fallon isn't one to make political statements. Today isn't much different, as he took no sides, but he did encourage fans to cast their ballots.
If anyone could make a "I Voted" sticker sexy, it would of course be Jennifer Lopez.
Jim Carrey may play Joe Biden on Saturday Night Live, but today he was just another super-successful actor telling people to vote.
Taraji P. Henson stated the importance of contributing to the democracy of the country.
Forest Whitaker also carries a degree of gravitas, as do his tweets.
CNN's chief medical expert, Dr. Sanjay Gupta, shared an inspiring story to get out the vote.
This is but a sampling of the famous faces and bold-faced named trying to get out the vote today. If you're wondering what your favorite celebrity has to say about Election Day, chances are that if they have an active Twitter account, you can find out pretty quickly by checking it.