These Celebs Didn't Vote in 2016—What Have They Said About Voting in 2020?
With so many celebrities inundating television and the internet to encourage people to get out and vote, you'd almost be surprised to hear there are some famous folks who sat out the last presidential election. While many of these well-known figures might not be so vocal about abstaining to vote, some have proudly admitted to not voting, while others are not so proud of the fact. This time around, even less of those people are forsaking their ballots, though. Here are a few of the more famous election-skippers and where they stand in 2020.
Colin Kaepernick
The former football star became one of the most prominent Black protest figures of his generation, so it was little surprise that he told Yahoo! Sports in 2016 he decided to sit out the election, because he saw politics as a form of oppression. In fact, it might be something of a surprise if he voiced support of voting now. At this point, he hasn't commented on the election. (Newsweek contacted his PR representative, who has yet to reply.)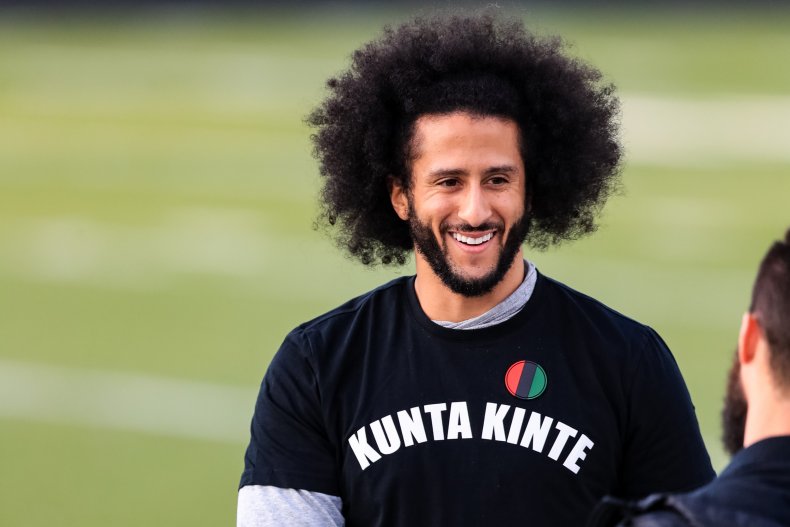 Kanye West
The rapper told an audience during a concert not long after 2016's election he didn't bother to vote for president. But it's what he announced next that really shocked them: "...[I]f I were to vote, I would've voted Trump." That knowledge is so commonplace now that it's hard to remember exactly how upset many of his fans were. The only question for 2020 is whether he'll do the gentlemanly act of voting for one of his opponents or voting for himself.
Snoop Dogg
This West Coast rapper didn't sit out elections due to political objections or apathy--he explained recently he thought he wasn't eligible to vote due to his criminal record. This year, he registered to vote for the first time.
"I ain't never voted a day in my life, but this year I think Imma get out and vote because I can't stand to see this punk in office one more year," Snoop said during an interview on Big Boy's syndicated radio show. "For many years they had me brainwashed thinking that you couldn't vote cause you had a criminal record. I didn't know that. My record's been expunged, so now I can vote."
If you're not clear who he is referring to as the "punk in office," Snoop also worked on the Democratic National Committee's remix of his hit "Drop It Like It's Hot," which was changed to "Drop It in the Box" to encourage voting by mail.
George W. Bush and his brother Jeb
Former Florida Governor Jeb Bush ran a contentious campaign against Donald Trump for their party's nomination. When he came up short, Bush admitted during an interview: "I can't vote for Hillary, and I can't vote for Donald, and it breaks my heart."
His brother reportedly felt the same. George W. Bush and wife Laura lefts their ballots blank, according to a spokesperson. There's been no indication who the Bushes will vote for in 2020, or if they will abstain again, but a New York Times article this summer strongly suggests they are among some other prominent Republicans who won't be choosing Trump.
Tyler, The Creator
The Grammy-winning member of the hip-hop collective the Odd Future took to social media in September to encourage his millions of followers to "pull up" to the voting booth. In a video posted on his Twitter and Instagram pages, the Odd Future rapper admitted he's never voted before, but he will be doing so this year and wants his fans to follow his lead. He also called for more education reform, making the arts accessible, and protecting the rights of women and the LGBTQIA+ community. Though he didn't expressly say so, those issues are typically associated with the Democratic Party. Fellow Odd Future member Frank Ocean has endorsed Joe Biden.