'Celebrity Big Brother' Spoilers: Veto Winner Crowned Ahead of Thursday Eviction
Things on Celebrity Big Brother are heating up as the limited season gets closer to its end date. With only a week left in the game, competition wins are more crucial than ever. For one celebrity, this became clear this week.
Tom Green won the Head of Household competition the same night his closest ally, Kato Kaelin, was evicted. Green went from sitting on the block beside the house's biggest target to controlling the power in what could be considered a crucial and celebratory win. While Green wasn't the immediate target last week, it's clear his position in the house may not be as prominent without Kaelin as a teammate.
In nominations, Green choose to put WWE and reality star Eva Marie and former NFL star Ricky Williams on the block this week. Williams seems to be the household target. Eva Marie is a member of an alliance with Tamar Braxton and Lolo Jones, and has been involved with a series of inner-alliance disagreements.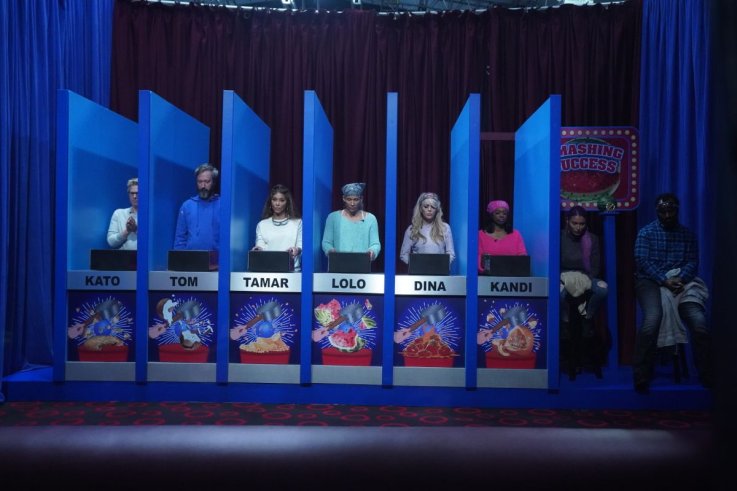 In keeping with the theme of winning competitions—Green and Kaelin had been on top all game except for last week in which Braxton controlled the power—Green won the Power of Veto during this week's competition, according to Gold Derby. This most likely means his nominations, Williams and Eva Marie, will be sitting on the block come eviction time.
The alternative is Green deciding to backdoor a houseguest. So far, there's no inclination he will change his mind on the nominations, but crazier things have happened in Big Brother.
Green's revival in the game comes just days after he was confident he'd be going home. In his last speech, Green seemed to be gearing up for goodbyes. To his surprise, Kaelin was unanimously evicted. "Tom kept saying, 'I'm going to be a unanimous vote. I'm going to go. Ricky hates me. The girls hate me,'" Kaelin told Entertainment Weekly after leaving the house. "I said, 'Tom, there is absolutely no way you're going to go. It's going to be me.' I could just feel they were going to be get rid of me by the way they kept saying 'Kato could win this thing.' So I knew. I was a little shocked it was 5-0, but what can you do?"
Celebrity Big Brother will next air Thursday, and the season will end on February 13.
'Celebrity Big Brother' Spoilers: Veto Winner Crowned Ahead of Thursday Eviction | Culture