'Celebrity Escape Room' Contestants: All the Celebrities Taking Part in the NBC Special and How to Watch
NBC is dedicating its May 21 primetime schedule to Red Nose Day, a night that sees comedians raise money for charity. One of the night's big events is Celebrity Escape Room, in which Ben Stiller assemble a group of his famous friends to solve puzzles that unlock $15,000 each for charity. Jack Black, meanwhile, acts as the escape room master.
Who are the contestants taking part in Celebrity Escape Room?
Ben Stiller
Meet The Parents, Zoolander and Night at the Museum star Ben Stiller came up with the idea for Celebrity Escape Room.
In a behind-the-scenes video for the special, he said of doing the escape room: "The thing I find is that you're trying to use parts of your brain you don't usually use, but those parts of my brain that I don't usually use don't get used a lot, so they're not that great!"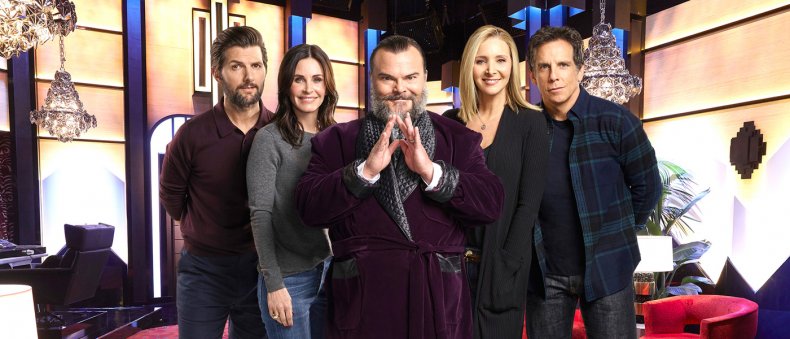 Jack Black
While the rest of the line-up takes part in the escape room, Jumanji, Kung Fu Panda and Goosebumps star Jack Black acts as the Game Master who oversees the cast's progress. In the promo video, he said he accepted Stiller's offer to appear as: "I wanted to be the head of ceremonies but also enjoying the torture."
In a TVInsider interview, meanwhile, Stiller said of Black's role: "The Game Master has to be someone who's enjoying the process of torturing these people. Who's going to be the most fun torturing you? It'd be Jack Black." Adam Scott, meanwhile, said of the School of Rock star in the preview: "He is diabolical."
Courteney Cox
Celebrity Escape Room sees NBC stage a mini-Friends reunion, as Courteney Cox is back together with Lisa Kudrow on screen.
Stiller compared the Scream and Cougar Town star to her Friends character Monica, saying: "It was great to see the way Courteney kept such a level head and was very analytical."
Lisa Kudrow
While Cox was analytical, it seems as if the actress who played Pheobe alongside her for a decade did not fare so well. Stiller said of the Romy and Michelle's High School Reunion star: "Lisa made me laugh all the time, because her reactions to what's going on are so real."
The actor herself, meanwhile, noted: "I don't remember anything because there were loud noises and it gave me amnesia."
Adam Scott
Adam Scott, formerly of Big Little Lies and most recently of the Parks and Recreation reunion, also appears in NBC's Celebrity Escape Room.
Stiller said of him: "Adam is a pretty sharp guy, but he's actually less intelligent than I thought. [Laughs] Not that I'm smart, but we were trying to figure out what 4 times 9 is, and I was like, "It's 36!" And he kept on disputing that!"
Scott seemed to agree with his friend's assessment, saying in the preview: "I've done an escape room two or three times and the skills I brought to the table were essentially nothing."
How to watch Celebrity Escape Room
The hour-long Celebrity Escape Room special will air on NBC on Thursday, May 21 at 8 p.m. ET / 7 p.m. CT, and will be repeated on the network at the same time the following night. After airing, the special will also be available to watch for free with ads on the NBC website and app.
'Celebrity Escape Room' Contestants: All the Celebrities Taking Part in the NBC Special and How to Watch | Culture