The Best Celebrity Messages of Hope During Coronavirus from Judi Dench, Matthew McConaughey, Cardi B and Others
All across the globe, people are freaking out over the novel coronavirus outbreak.
More than 200,000 people have been infected by the virus as of Wednesday. Death rates are rising. Countries are issuing lockdowns, and some states, too. It seems as if the whole world is out of toilet paper thanks to tissue hoarders. And it's still suspected the worse is yet to come as health officials aren't likely to have the virus under control until the summer.
It's in scary times like these when, more than ever, people need to feel supported even if the encouragement can only be offered from a distance.
Some celebrities are doing their part to ease the general public's nerves. A number of them shared home-made public service announcements in regards to coronavirus, whether using their own personal health battles with COVID-19 to motivate people to remain indoors or merely using their social media to spread the word about coronavirus and the importance of social distancing.
From Dame Judi Dench's sweet and funny public service announcement to Tom Hanks' Vegemite, we've rounded up some of the best celebrity coronavirus-themed messages to hit the internet so far.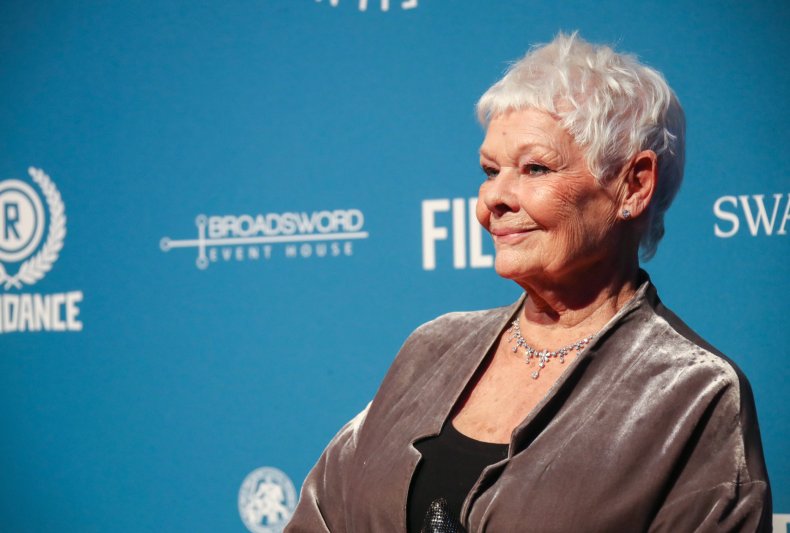 Judi Dench
Sporting her best fluffy dog hat Dame Judi Dench delivered a humorous message on her daughter's Twitter on Wednesday. "Just keep laughing," Dench advised. "That's all we can do."
Matthew McConaughey
The Gentleman actor showed off his endearingly serious side in an Instagram video on Tuesday that included plenty of hand gestures, "lemonades out of lemon" metaphors and surprisingly, not a single, "Well, alright."
"There is a green light on the other side of this red light that we're in right now. And I believe that green light is going to be built upon the values that we can enact right now. Values of fairness, kindness, accountability, resilience, respect, courage. If we practice those things right now, when we get out of this—this virus, this time may be the one thing that unifies us like we have not been in a long time," McConaughey said. "So yes, lets see if we can make some lemonade out of this lemon we're in right now. Turn that red light into a green light."
Tom Hanks
After announcing he and his wife Rita Wilson's COVID-19 diagnosis—and being ridiculed for the debatably obscene amount of Vegemite he spreads on toast—Tom Hanks gave his fans an update of his health and encouraged them to do their part in flattening the curve while also sharing a new revelation about himself: He totally sucks at Gin Rummy.
"Hey folks. Good news: One week after testing Positive, in self-isolation, the symptoms are much the same. No fever but the blahs. Folding the laundry and doing the dishes leads to a nap on the couch. Bad news: My wife has won 6 straight hands of Gin Rummy and leads by 201 points," Hanks wrote in a Twitter post on Tuesday. "I have learned not to spread my Vegemite so thick. I travelled [sic] here with a typewriter, one I used to love. We are all in this together. Flatten the curve. Hanx."
Justin Bieber
The Canadian singer shared a heartfelt video on Instagram on Tuesday. The video, in which Bieber appeared to sing some new original and uplifting lyrics, featured a montage of people doing acts of kindness, like banding together to help turn a flipped-over car and rescuing strangers from severe floods.
"When the world's in a frenzy/ We should all come together/ And as fear takes over/ We gotta pray through the weather/ Though we don't know the outcome/ We have faith/ We don't got the answers/ But we still got hope," Bieber sings.
The song finishes with a prayer—Bieber has long been vocal about his religious beliefs as a Christian—and he captioned the video with a message advocating for togetherness.
"Obviously his is a really scary time," Bieber wrote. I wanted to remind everyone what we can do when we come together!! LETS COME TOGETHER BY ISOLATING OURSELVES UNTIL WE HAVE MORE ANSWERS! Our grandparents are counting on us."
Cardi B
It would be foolish to expect anything but an over-the-top message from Cardi B. The rapper, dressed in a chain fishnet dress, admitted she was "deada** F**KING SCARED" by the increasing coronavirus cases. Despite joking the effect the virus was having in China would likely interfere with shoppers' Fashion Nova orders, Cardi advised her fans to take the pandemic seriously.
"A lot of you motherf**kers think this a joke like, 'hehehehe,' like I was thinking, right? But that s**t right there—just because you think you immune to it, guess what, your pocket ain't b***h because a lot of s**t come from China b***h. So if you wondering why your motherf**king weave or your motherf**king Fashion Nova packages haven't arrived, guess what b***h? Coronavirus!" Cardi said. "I'm telling you, s**t is real. S**t is getting real.
Brandi Carlisle
Over on the compound in Seattle, a caulk-covered Brandi Carlisle and her family were practicing social distancing by "staying in, not going anywhere" and doing renovation work on a house. The country singer said in an Instagram video on Saturday that she was trying to do her part to "stay out of harm's way" and warned her followers to do the same.
"Seattle is a strange place to live right now but I know that lots of places are experiencing this moment. I'll keep updating from home. Stay safe, stay home but please look out for your neighbors and vulnerable people who aren't squared away. Don't put others at risk but there's a balance. Running to the store for someone who's high risk can be massively impactful. So are prayers," she wrote in the video caption.