Celebrities have been describing their sorrow and anger at the latest mass shooting at a U.S. school.
Twenty-one people—19 children and two adults—were killed in Tuesday's attack at Robb Elementary School in Uvalde, Texas. The 18-year-old gunman, named as Salvador Ramos, was then shot and killed by law enforcement, officials have said. It was the 27th school shooting of the year, according to Education Week.
After the massacre, President Joe Biden called on Americans to stand up to the gun lobby. "Why do we keep letting this happen? he asked. "Why are we willing to live with this carnage?"
Talk show hosts, celebrities and athletes have weighed in on the topic too.
Chris Evans posted simply: "F****** ENOUGH!!!!" The Captain America star's comment resonated with Twitter users, gaining more than 500,000 likes in a few hours.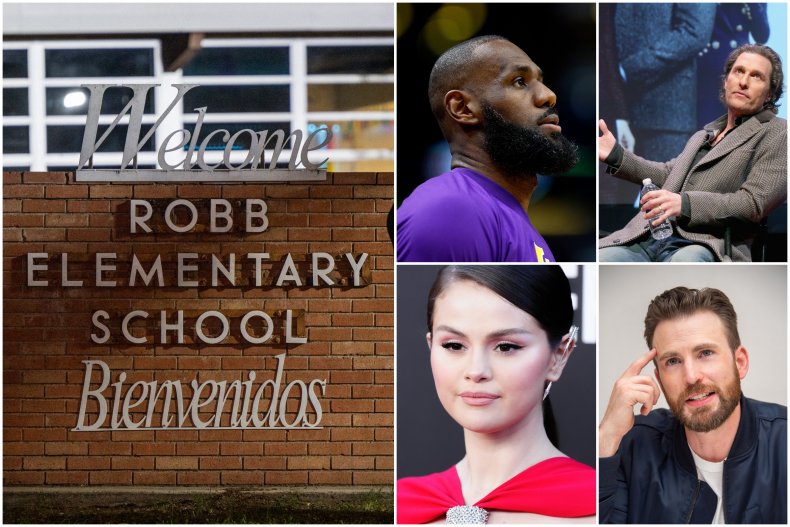 The poet Amanda Gorman, who read at President Biden's inauguration, posted a series of tweets sharing her feelings. "It takes a monster to kill children. But to watch monsters kill children again and again and do nothing isn't just insanity—it's inhumanity."
She added: "The truth is, one nation under guns. What might we be if only we tried. What might we become if only we'd listen."
Dan Levy, creator and star of Schitt's Creek, asked: What will it take to prioritize humanity over politics?"
Selena Gomez, who was born in Texas, condemned the violence in her "home state" and asked: "If children aren't safe at school where are they safe?"
In a follow-up tweet she shared a link to gun violence charity Everytown. "It's so frustrating and I'm not sure what to say anymore. Those in power need to stop giving lip service and actually change the laws to prevent these shootings in the future," Gomez wrote.
Another Texan, Matthew McConaughey—who was born in Uvalde—posted a five-paragraph response to the shooting on his social media accounts. "Once again, we have tragically proven that we are failing to be responsible for the rights our freedoms grant us," he wrote. He described gun violence as "an epidemic we can control."
NBA superstar LeBron James retweeted several posts about the massacre, as well as writing: "Like when is enough enough man!!! These are kids and we keep putting them in harms way at school. Like seriously 'AT SCHOOL' where it's suppose to be the safest!" He continued: "There simply has to be change! HAS TO BE!!"
Family Guy creator Seth McFarlane spoke out against Republican lawmakers who support gun rights, urging his followers to vote in this year's midterms. "You have a chance to stop this. Or keep them on their perch, keep enabling their greed, and live with the dark power of the gun lobby and all the killing it chooses to allow," he wrote.
On Tuesday's late-night talk shows, hosts took a break from their monologues to discuss the massacre.
James Corden opened his show by telling his studio audience: "As a father I can't imagine the horror of that phone call. And the thought of that phone call—that your child is the victim in a mass shooting—is beyond comprehension as a human being."
Steve Kerr, coach of the Golden State Warriors, made emotional remarks about the killings ahead of Game 4 of the Western Conference Finals. "I'm fed up. I've had enough," Kerr said in the pre-game news conference.
"We're going to play the game tonight. But I want every person here, every person listening to this, to think about your own child or grandchild, mother or father, sister, brother. How would you feel if this happened to you today?"