Celebs Back Israel's LGBTQ Film Fest Amid Palestinian Accusations of 'Pinkwashing'
A number of celebrities, including Mila Kunis, Helen Mirren and Neil Patrick Harris, signed a letter this week to support an LGBTQ film festival in Israel amid protests that the event is "pinkwashing" Palestinian struggles.
The Tel Aviv International LGBTQ Film Festival, or TLVFest, is slated to kick off on November 11 but has faced calls for boycotting from pro-Palestinian activists. They argue the event is an attempt to divert attention from Israel's occupation in the region.
In response, a group of more than 200 high-profile celebrities and filmmakers stated their disapproval of the boycott, writing that the festival instead offers an opportunity for unity.
"We reject any attempt to boycott TLVFest – Israel's largest LGBTQ Film Festival — which works to showcase the stories of LGBTQ people globally and create a brighter future for LGBTQ people both inside Israel and around the world," the letter stated. "We stand united with all the participating filmmakers against the divisive rhetoric espoused by boycott activists who seek to misinform, bully and intimidate artists into removing their films from the festival or shame them for participating in the festival."
TLVFest is a week-long festival that includes public film screenings of LGBTQ-themed movies, panels with filmmakers, and a drag competition. But the festival has long faced criticism from pro-Palestinian activists associated with the Boycott, Divestment, Sanctions (BDS) movement, who believe the event is a misguided attempt to "pinkwash" political and cultural issues.
According to the BDS movement, pinkwashing is "an Israeli government propaganda strategy that cynically exploits LGBTQIA+ rights to project a progressive image while concealing Israel's occupation and apartheid policies oppressing Palestinians."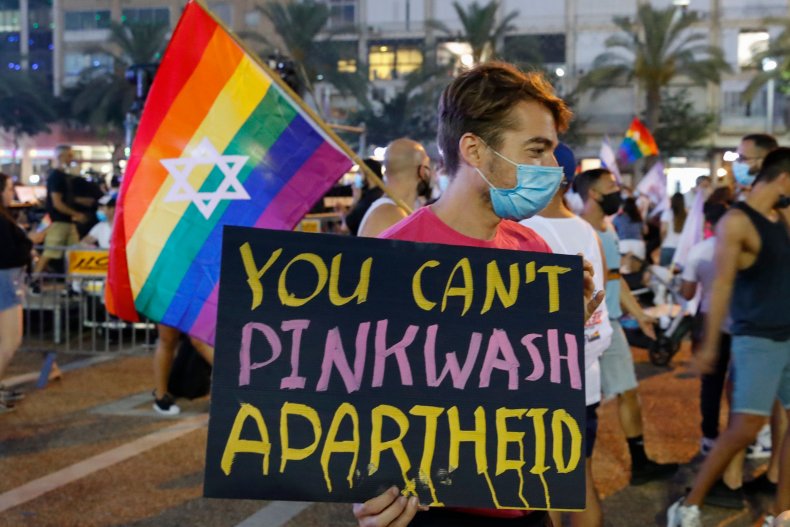 Last year, over 100 LGBTQ filmmakers similarly issued a boycott of the festival "until Israel complies with international law and respects Palestinian human rights," according to the Times of Israel.
Elias Jahshan, a gay Palestinian and social media editor, told Insider that the boycott is meant to draw attention to "how Israel is not the haven for LGBTQ people in the Middle East it purports to be."
"Palestinian citizens of Israel who happen to be LGBTQ are still subject to being treated as second-class citizens, and just because they're queer does not make them immune to all that," Jahshan added.
Alongside the boycott, over 190 queer filmmakers have pledged to support a competing LGBTQ festival aimed at focusing on Palestinian rights. That event will also occur during the same time period at TLVFest, from November 11 to 20, according to Insider.
Yair Hochner, director of TLVFest, defended the festival from the boycott by stating that it is a private, non-governmental affair, which includes Palestinian voices.
"These movements have chosen the wrong target, and instead of promoting the Palestinian cause, they try to silence the ones who fight for freedom of speech," he wrote in a statement. "TLVFest was, and always will be for Palestinian human rights, women's rights, LGBTQI+ rights and freedom of speech. The festival will never serve as a diversion from the human rights violations being committed by the state of Israel."
The celebrities who signed the letter supporting TLVFest also echoed that sentiment, adding that "artists should never be silenced, and art should not be subverted for political goals."
Other signatories of the letter included Sharon Osbourne, Billy Porter, Mayim Bialik, Lance Bass and Stephen Fry along with industry figures such as agents, executives, producers and directors.