Celine Dion to Sing 'My Heart Will Go On' at Billboard Music Awards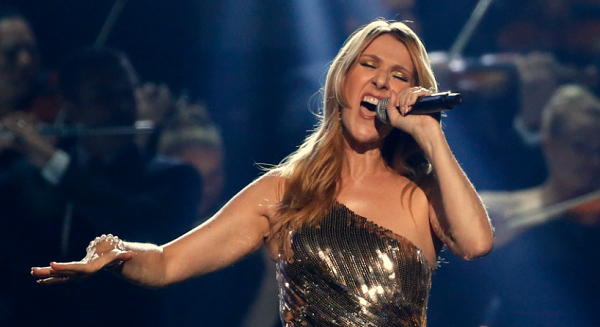 It's been nearly 20 years since Celine Dion brought us to tears with her award-winning song from the Titanic soundtrack, "My Heart Will Go On." Her powerful love songs have been making us cry ever since, and when the masterful songstress performs the heartbreaking theme song at the Billboard Music Awards on May 21, we'll probably be crying again.
In a statement released Monday, Dion announced she would sing "My Heart Will Go On"—which brought her Grammy awards, an Oscar and a Golden Globe—in honor of the film's upcoming 20th anniversary.
"This song means a lot to me, and it has played such a huge role in my career," she said. "I'm so grateful to the late James Horner, and to Will Jennings, for writing it and creating the opportunity for me to be part of Titanic, an amazing film whose legacy will continue for generations to come."
While many artists are expected to perform during the live broadcast—including Drake, Bruno Mars, Ed Sheeran, John Legend, Nicki Minaj and Camila Cabello—Dion's ballad is expected to stand out for the wave of emotion it is likely to bring to the stage. Since her husband René Angélil died in early 2016 following a battle with cancer, Dion has said that the 1997 hit song has taken on a new meaning for her—one that has, in essence, led to the singer's increasingly passionate and heart-filled performances of the track.
"When I was singing [my songs], I understood they were becoming hits and I saw them as hits. I saw them as songs that people loved, that they could rely upon," Dion, who is preparing for a summer European tour, said during a recent interview with The Sun's Dan Wooton. "When my husband passed ('My Heart Will Go On') became, probably for the first time, our song. And when I sing it, I used to sing it for the fans, and now I sing it for us."
Whether it's the memories of Titanic's Rose (Kate Winslett) sadly telling Jack (Leonardo DiCaprio) that she'll "never let go" before watching his frozen, lifeless body sink to the bottom of the ocean, or remembering the love Dion once shared with her late husband, the singer's performance of "My Heart Will Go On" will surely make for riveting TV.
As sentimental as Dion's performance will be, "My Heart Will Go On" isn't the only of the singer's song that has stirred up listeners' emotions. Her discography is filled with songs of love, loss, romance and heartache. Check out some of them below:
1. "With One More Look at You": Dion belted out a cover of the 1976 Barbra Streisand hit when she first returned to the stage following Angélil's death.
2. "The Power of Love": Dion serenades the hopeless romantic in all her listeners on the track from her 1993 album Colour of My Love.
3. "Because You Loved Me": From her fourth English-language album, the 1996 track, the theme song to Up Close & Personal won a Grammy for best song written specifically for a motion picture or television.
4. "All by Myself": Originally performed by Eric Carmen in 1975, the song has been covered by several musicians over the years. However, Dion's dramatic and powerful rendition seemingly has made the song even more popular since its release on the 1996 album Falling Into You.
5. "Think Twice":A breakup anthem of sorts, the 1993 album cut wasn't as popular in the U.S. as it was in the U.K. where it reached No. 1 on the Hot 100 Chart, but Dion's high notes may certainly help for lovers on the fence about their relationships to reconsider where they're going.
6. "Where Does My Heart Beat Now": The heartbreaking ballad appeared on Dion's first English-language album, Unison, released in 1990.
7. "Je Sais Pas": The French translation of "I Don't Know," Dion's 1995 song from her last French album, D'eux, tells the heart-wrenching tale of a fearful woman who was able to face an array of trials and tribulations, except being without the love of her life.