People Are Getting Spam Text Messages From Their Own Cell Number
Baffled phone users are receiving spam texts—many of which include links that redirect to Russian news websites—that appear to have been sent from their own cellphones.
The messages are written as though they are from the cell owner's carrier, with a note about their bill and then an offer of a free gift if they click an attached link.
Usually, spam links lead to a form the target is asked to complete to receive their "free gift", which typically asks for their contact and bank details.
But many users duped into tapping on the link supposedly from their own phone report being directed to Russian news websites, sparking fear the scam is part of a propaganda campaign centering on the war in Ukraine.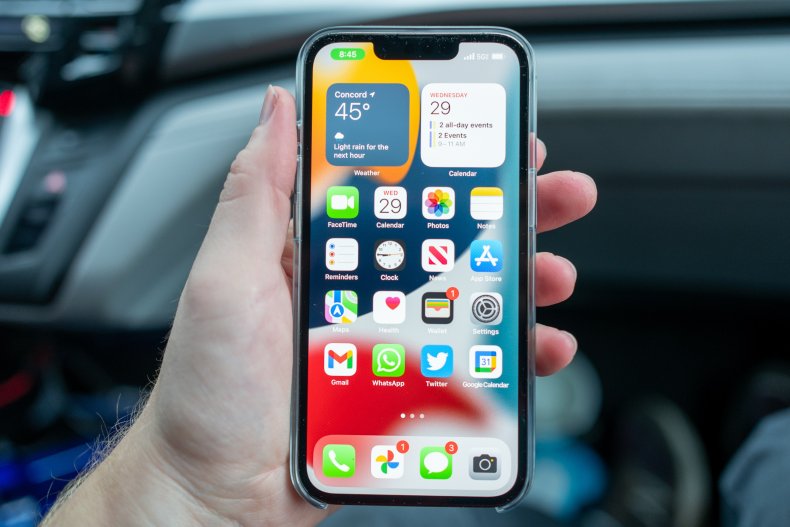 Technology news website The Verge wrote about the issue on Monday after reporter Chris Welch, whose carrier is Verizon Wireless, was targeted.
He wrote: "This morning, I received a very blatant spam text offering me 'a little gift' for supposedly paying my phone bill. Normally I'd groan, roll my eyes, and quickly delete such a thing, but there was something different about this particular message: it was spoofed as coming from my own phone number. As best my iPhone could tell, it was a legitimate message from me to myself. Tapping into the sender details took me to my own contact card... These scammers keep getting more sophisticated."
He added: "There's something more disconcerting and invasive about it being linked to your own number."
Although phone users are advised never to click on links that could be spam, the reporter wanted to investigate. He revealed: "The link I received forwarded me to the website of Channel One Russia, a state TV network. Others have reported similar results and say they're redirected to Russian websites when they click the link."
Spammers have always used "spoofing" of legitimate numbers and companies in a bid to trick phone users, but using the cell owner's own number means it can evade the phone's "filter unknown messages" security features – since it appears to be the safest number you know; your own. In addition, many users may see their number and believe only their carrier would be able to message them using it, making them more likely to believe promises of freebies and click on the links provided.
The White House urged companies last week to encrypt their data because Russia may plan a cyberattack against the United States in response to sanctions imposed on Russia over its invasion of Ukraine.
Many of the unsettled recipients of the spam texts took to social media to warn others or to contact their carriers to complain.
One tweeter, using the handle @jeffNDfan, posted: "So I just got a spam text from my own cell number. I guess this is how the world ends?"
While Joshua Ashcraft tweeting from the handle @joshashcraft13 said: "@Verizon @VerizonSupport So I'm getting spam texts from my own cellphone number now?"
And Twitter user Alex Lanstein blasted the carriers for not using their sophisticated Artificial Intelligence (AI) programs to recognize keywords typically used in scam messages.
He posted a screengrab of the text he received from his own number, which read: "Free Msg: Your bill is paid for March. Thanks, here's a little gift for you." There was a link he was invited to click.
Sending the image to Verizon on Twitter, he wrote: "You folks should be able to detect sms [short message service] spam, spoofing my own vzw [Verizon Wireless] number, that spoofs your own bill pay messages. Doesn't take advanced #ai [artificial intelligence]."
Bennette Misalucha, a Democratic state senator from Hawaii, has become so concerned about spam texts recently, she is asking Congress to step in.
She told local news site KHON2 that while many Americans are aware of "phishing" scam dangers over email, many are unaware the same sorts of risks apply to text messages.
Speaking before allegations of a Russian link to some recent text scams were uncovered, she said: "It's email that we're so used to. We know about phishing, but the text version is one that is most recent. We're not as discriminatory about how we receive it. Our institutions may have our phone numbers and we think, 'Okay, it's okay to click.'"
She added local legislation would not help, saying telecommunications is "more of a federal issue" adding: "So it's really incumbent before Congress. It behooves them to take action because this is getting to be a problem. And not just in Hawaii, but all over the country."
A report by anti-spam app RoboKiller released last month compiled the data on spam texts for 2021. It revealed Americans received 87.8 billion spam text messages – an increase of 58 per cent compared to the year before.
The Federal Trade Commission (FTC) tells consumers there are three ways to deal with an unwanted text message: report it on the messaging app itself, copy the message and forward it to 7726 (SPAM), or report it to the FTC at ReportFraud.ftc.gov.
But it's unclear if that would be helpful in this case, since phone users would effectively be reporting their own phone number as a scam line.
Newsweek has contacted the FTC and the three major carriers in the U.S.—Verizon, AT&T, and T-Mobile—to seek clarification on how exactly customers should respond when it is their own number being used.
So far, only T-Mobile has responded, telling Newsweek: "Unfortunately scams like these are an industry-wide problem. We always encourage consumers to be cautious with engaging with unknown senders and have tools available for blocking unwanted messages."
Update 3/30/22, 8:32 a.m. ET: This article was updated with comment from T-Mobile.