Celtics-Cavaliers: Boston Stands Proud for a Night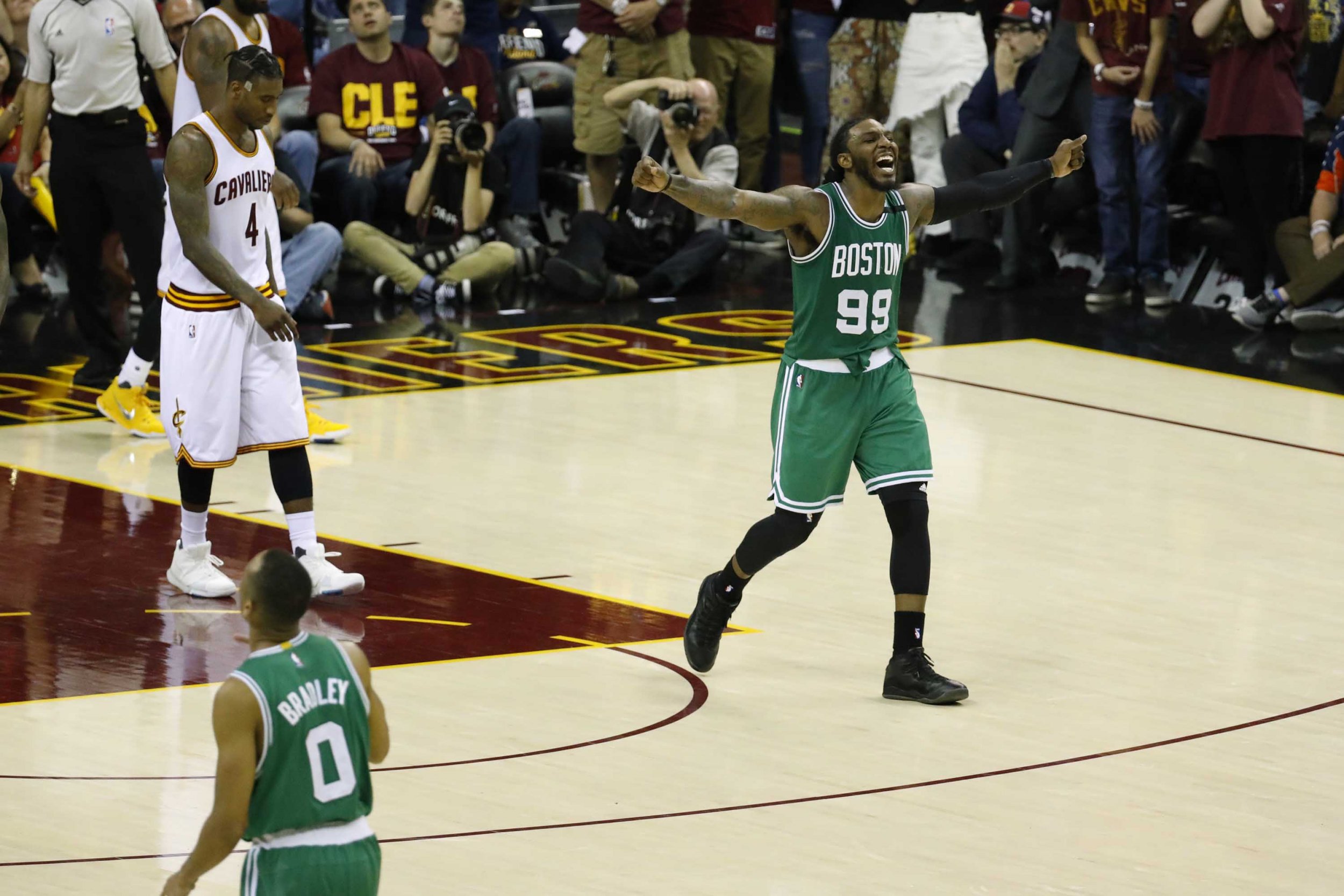 The Cleveland Cavaliers are the reigning NBA champions and, with a 21-point lead midway through the third quarter in Game 3 of the Eastern Conference finals Sunday night, were on the verge of winning a league-record 14th consecutive postseason game. The Boston Celtics are the most successful franchise in NBA history and, even without their All-Star scoring machine Isaiah Thomas, were not about to surrender. On this night, the empire struck back.
Related: Sorry, Boston Celtics Fans: Isaiah Thomas has to go
Trailing 77-56 with 6:39 remaining in the third quarter at Cleveland's Quicken Loans Arena, the Celtics engineered a most stunning comeback, the second that NBA fans have witnessed in as many Sundays in May. One week earlier, the Golden State Warriors trailed by 25 points at home to the San Antonio Spurs before rallying to win Game 1 of the Western Conference finals, but that Lazarus maneuver was almost expected. The Warriors, after all, finished the season with the league's top record (67-15), have its most feared array of three-point shooters and were abetted by the third-quarter injury of San Antonio All-Star forward Kawhi Leonard.
The Celtics, conversely, appeared to be in hoops hospice with a "DNR" label on their chart. On Friday, the Cavs embarrassed Boston on their home floor, 130-86, setting a league record for the largest halftime lead in a postseason game: 41 points. The 17-time NBA champs also lost their leading scorer, the 5-foot-9-inch Thomas, for the remainder of the season due to a hip injury. (Thomas finished third in the NBA in scoring this season, with 28.9 points per game.)
"I believe we've got another level as well," said LeBron James, who had just become the first player since Kareem Abdul-Jabbar in 1970 to score at least 30 points in eight straight playoff games. "As well as we played tonight, we've got a couple of things we can do better. There's no complacency for us now."
The Warriors are 11-0 this postseason. The Cavs were 10-0 and seemed to be rolling toward equaling Golden State's mark on Sunday night. In the midst of a disturbing fashion trend—the men's romper—attempting to gain traction, it seemed comical that the league whose players operate in such outfits had witnessed almost nothing but romps this postseason. The Cavs had won their 10 in a row by an average of 12.4 points per contest; the Warriors' 11 wins have come by 16.5 points. The NBA playoffs have been a hardwood translation of the French phrase fait accompli.
Until Sunday night, that is, shortly after 10 p.m. Former first-round pick Marcus Smart, who started in place of Thomas, led the surge with a flurry of three-pointers. He would bury seven on the evening while scoring a career-high 27 points. James, who two nights earlier had dismissed the notion of complacency, scored just 11 points, as the Cavs were outscored 39-18 through the end of the third quarter and the first half of the fourth. Suddenly, it was 95-all, and for the first time since Game 4 of last June's NBA Finals, the Cavs were in trouble at home in the playoffs.
From that moment on, five different Celtics, most of whom would ordinarily be setting picks or clearing out to give Thomas room to operate in a game's hero moments, scored: Smart, center Kelly Olynyk, power forward Al Horford, reserve forward Jonas Jerebko and, with 0.1 seconds left, guard Avery Bradley. That last bucket, a three-pointer, was set up on a brilliant double screen that coach Brad Stevens had designed during a timeout, with the score knotted at 108.
The Warriors and Cavaliers are still on a path to meet in the NBA Finals for a third consecutive year, which would be a first in league history. On Sunday evening, however, the team in green that has made more history than any franchise reminded fans that Celtic pride is more than a slogan. "We knew that Friday [Game 2] was a disaster," said Stevens. "It wasn't worth all four. It was worth one. So we got back together."