Kyrie Irving-Isaiah Thomas Trade Latest: It's 'Crunch Time' for Celtics, Cavaliers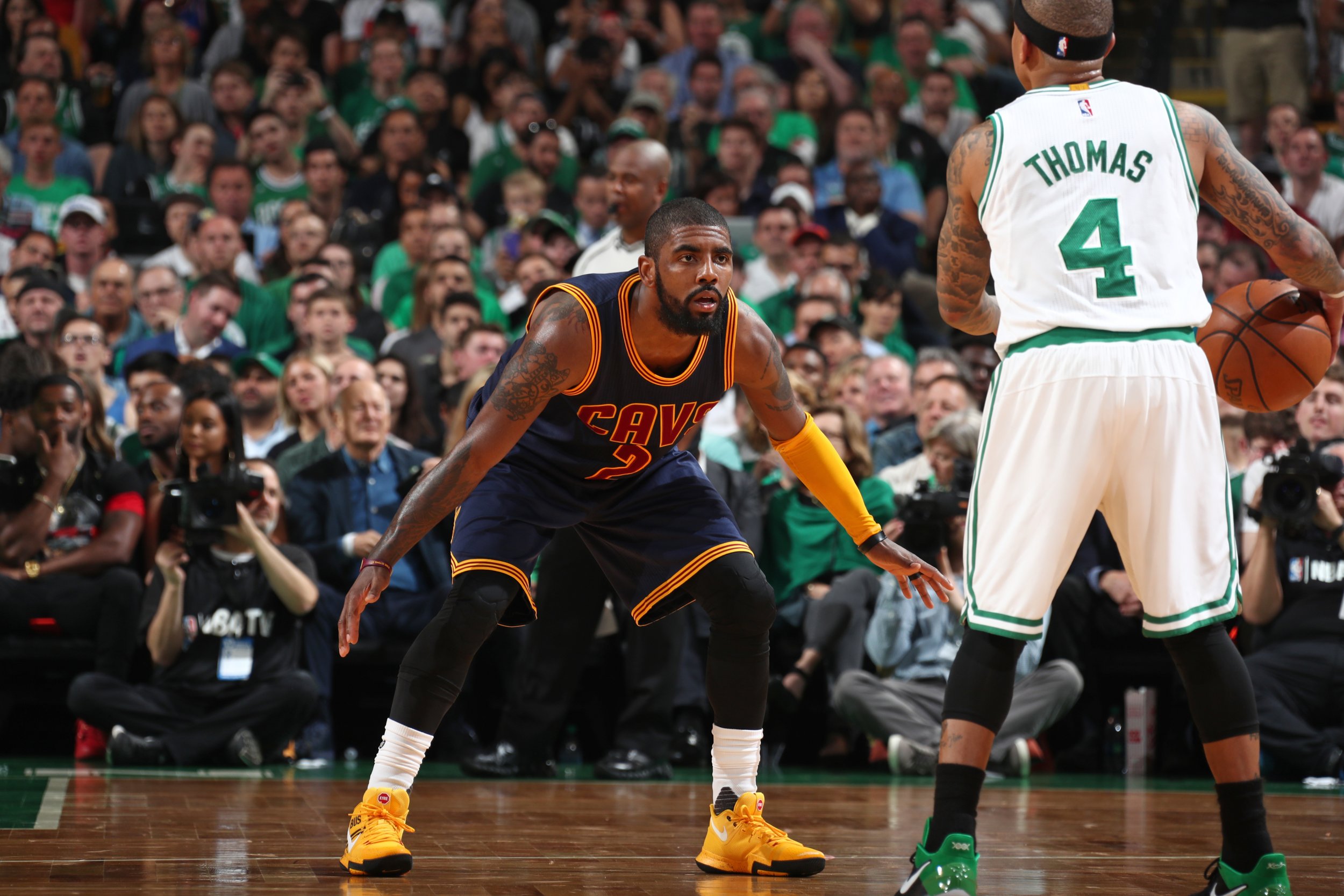 Updated | The trade that shook the landscape of the NBA—the deal that, for the first time in the history of the league, saw conference finals opponents swap players in the off-season immediately after facing one another—might not happen.
We're of course discussing star Cleveland Cavaliers point guard Kyrie Irving being sent to the Boston Celtics for star guard Isaiah Thomas, forward Jae Crowder, center Ante Zizic and a first-round pick that initially belonged to the Brooklyn Nets. The teams agreed to the trade last week, but it has since been tripped up by a medical exam, usually a routine final step before a move is approved. Now, Cleveland is reportedly considering vetoing the deal if it doesn't get another piece in the trade. The deadline for a player to pass a physical comes Thursday morning, but the teams could agree to extend that deadline.
Thomas, the 5-foot-9-inch two-time all-star had to sit out the final few games of the Eastern Conference Finals after injuring his hip. After putting Thomas through a battery of tests, the Cavs apparently determined things were worse than expected and are reportedly demanding another asset in the exchange. It doesn't sound like we're talking small potatoes: The team reportedly wants something big.
"Now, Cleveland is going to try to inquire about a couple of the Celtics' young players: Jaylen Brown, Jayson Tatum, who they tried to get in the original trade. That is very unlikely," said ESPN NBA insider Adrian Wojnarowski on Sportscenter. "But Boston still has a war chest of future first-round picks of their own, and some picks they control from other teams, and Cleveland is going to try to get one more of those to finalize this deal."
But there appears to be conflicting reports. Joe Vardon, of Cleveland.com, reported on Twitter Monday that as of Sunday "afternoon the Cavs had made no request to Boston for more on Kyrie-[Thomas] trade." It wa not immediately clear if that meant the team had simply not yet asked for specific players or assets, or if the deal might go through as it was originally agree upon.
When it comes to draft picks, Boston does boast an embarrassment of riches acquired over the years, such as the Los Angeles Lakers's 2018 first-rounder, and 2019 first-round selections from the Los Angeles Clippers and the Memphis Grizzlies. The Celtics also have their own first-rounders and a bevy of second-rounders.
But Boston appears to be pushing back against adding even more to the trade, considering it already included a prized draft pick. "Word out of Boston is that the Celtics aren't thrilled with the idea of adding another piece to the trade and are adamant they were up front with the Cavs about Thomas's injury," wrote USA Today's Jeff Zillgitt.
If it does fall through, Wojnarowski seems to suggest it's possible Thomas could end up staying in Boston, which would prove awkward at best. He wrote: "If the deal falls apart, Boston would have to count on using its arsenal of draft picks, Crowder and other assets to bring it another point guard in a future trade—if Thomas isn't the long-term answer." Then again, it might face a similar situation to what Cleveland faces with a disgruntled star in Irving, who demanded to be traded.
A vetoed trade would effectively send things back to the beginning. Before the Boston trade shockingly emerged, Irving reportedly said he preferred to end up with the San Antonio Spurs, the New York Knicks, the Minnesota Timberwolves or the Miami Heat, none of which have anything near the assets the Celtics were willing to part with in the trade currently hanging in the balance. Many other Irving rumors emerged before the eventual Boston deal—including a three-team swap that involved Phoenix and Denver—and those talks could ostensibly restart.
It's difficult to project where exactly Thomas could be shipped, since it wasn't really on the NBA rumor-mill radar before the trade happened. Folks did wonder if Thomas could be shipped out after Boston earned the No. 1 overall pick in the 2017 draft (via the Nets) and the consus top selection played Thomas's position, but that speculation quickly died when the Celtics traded the pick to the 76ers. Thomas has one year left on his deal—which, helpfully, coincides with that of Cavs superstar LeBron James, who is reportedly considering a move to L.A. after this season—and proved to be a dynamic scorer last year, averaging nearly 29 points per game.
He'd be an asset to a team looking to make a go of it this year—think of the Oklahoma City Thunder acquiring Paul George on a one-year contract from Indiana, knowing it's highly likely he leaves this summer—but it's tough to find a team that could give up anyone or anything nearly as good as Irving in this deal. Judging from prior rumors and reports, it seems Phoenix and Denver are looking to make improvements, but both are young squads that seem geared more toward the long term. An ESPN headline for a Sportscenter video of a roundtable discussion called it "crunch time" for the trade, and Wojnarowski said both franchises have a whole heck of a lot to lose if the deal doesn't happen.
There's no way to know what happens from here. If this insane NBA off-season has taught us anything, it's that teams are more willing than ever to make risky, splashy moves. But there's a lot involved in the Cavs-Celtics trade, and it's tough to build a case for there being a better deal out there—it's a rare move that seems to have solid rationale for both franchises coming out ahead. Perhaps Boston caves and gives up another piece. Or perhaps Cleveland takes a long look in the mirror and realizes there might not be anything else out there, bum hip be damned.
This story was updated to add the report from Cleveland.com's Joe Vardon.