Celtics' Enes Kanter Thanks Canada for Allowing Him to Play International Game Amid Threat From Turkish Government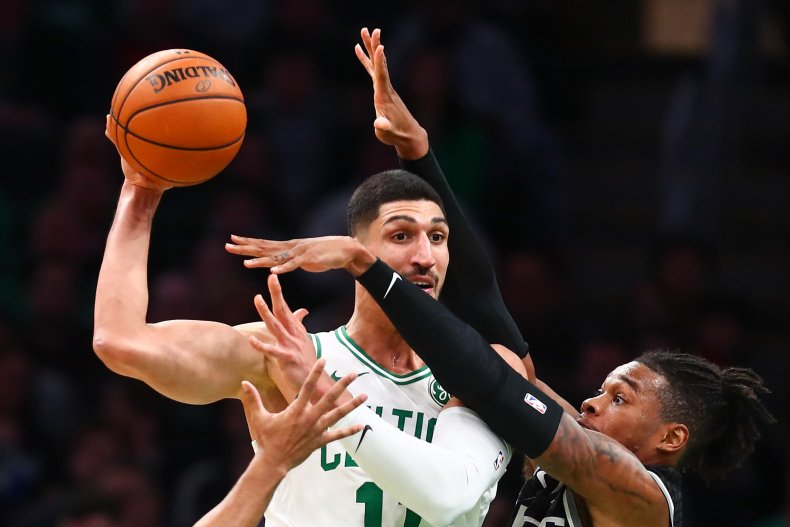 On Monday, Boston Celtics center, Enes Kanter thanked Canada for allowing him to participate in an NBA game that will be played outside of the United States.
The game, set to be played on Christmas between the Celtics and the Toronto Raptors, will be Kanter's fourth to be played outside of the U.S. He most recently traveled to Toronto in 2018 with the New York Knicks and made two other trips since 2016, prior to his passport being revoked by his native Turkey.
"Thank you, Canada, for letting me play basketball – despite Turkey's threats against me," Kanter wrote in an opinion piece published by The Globe and Mail. "And, on Christmas night, I will play in my first game as a Celtic outside the U.S. when I take the court against the Raptors."
Kanter has been involved in an ongoing dispute with the country due to his public criticism of Turkish president Recep Tayyip Erdogan. Kanter's issues with the Turkish government began in 2016 when he first spoke out against Erdogan following a bombing in Turkey's capital city of Ankara. Kanter has also publicly supported Erdogan's opponent Fethullah Gulen, who was accused of staging a coup to overthrow Erdogan.
"For me, there is nothing I would rather do than play basketball. It's my lifelong passion and my escape. Every time I go to a new city to play, I am humbled and inspired by my amazing fans, who keep encouraging me to be who I am," Kanter wrote. "But I haven't been able to go to cities outside the U.S. I've had to leave my team behind, which is hard for someone like me, who values camaraderie and team solidarity as much as I do. The reason: I speak out against the Turkish state."
In 2017, Kanter's Turkish passport was revoked, and he was detained in a Romanian airport while traveling, leading to a warrant for his arrest by Turkish prosecutors. In his recent opinion piece, Kanter notes that the Turkish government has issued "an Interpol Red Notice" for his arrest.
According to Interpol's website, a red notice asks law enforcement personnel across the world to find and arrest the individual named in the notice.
"I'm blessed that I'm in the U.S. and not in a dank prison cell," Kanter wrote in the editorial, adding that the Turkish government is "so angry with me for speaking up against its human-rights violations" that they have also sent "goons" to harass him in Boston and encouraged those in America who support Ergodan to limit his activities in the U.S.
The approval for Kanter to play a game in Canada is surprising as the Celtics center has avoided playing in international games due to his issues with the Turkish government. Earlier this year, while playing with the Knicks, Kanter did not travel to London to play against the Washington Wizards over concerns for his safety.
"Sadly, I'm not going because of that freaking lunatic, the Turkish president," Kanter told reporters in January. "There's a chance I can get killed out there. So that's why I talked to the [Knicks] front office. I'm not going."
While playing for the Knicks, Kanter traveled to Toronto for an international game, but when he joined the Portland Trail Blazers later on in the season he did not go back for the team's game against the Raptors over concerns that he would be arrested and extradited to Turkey.
"Because of one dictator, I can't go out and do my job. Pretty sad," Kanter told Trail Blazers beat reporter Casey Holdahl.
In his editorial, Kanter added that he knew speaking out would be risky.
"I wasn't under any illusion that my activism was going to come without repercussion. But the disproportionate retaliation I received from the Turkish government for calling them out has also taken an enormous toll on my personal life, my family and everyone who has stood by me," he wrote, adding that fans have been investigated for taking photos with him, that his sister cannot get a job because they have the same last name and that his mother has not communicated with him in years out of fear.
Despite these issues, Kanter will make his appearance as a Celtic in Toronto on Christmas Day. In the op-ed, he thanked Canadian Prime Minister Justin Trudeau, U.S. Senator Ed Markey, the U.S. and Canadian governments, the Celtics, the NBA and his managers "for working diligently to make my Christmas game against the Raptors possible and ensuring my safety there."
The Celtics center also thanked Canada for opening its borders to Turkish refugees, writing, "The country's hospitality has attracted thousands of highly-educated Turkish refugees, some of them former members of the judiciary, journalists, business people and university professors. It is a spectacular display of solidarity with people who need help, a demonstration of Canada's welcome attitudes and core values. I can't thank the Canadian government enough for letting refugees from my home country survive here and continue practising their professions."
The game between the two teams is set to start at 12 p.m. on December 25 and can be seen on ESPN.