The Celtics Are Going 80-2 and Kyrie Irving Is Already M.V.P.—Two Premature NBA 2017-18 Conclusions
Maybe you could say it was worrying that the Boston Celtics dug themselves another hole against the drifting Dallas Mavericks at American Airlines Center on Monday night. You could ask, rhetorically, how long a team relying on youthful exuberance can keep up these kinds of comebacks. You can argue—with righteousness—that 18 games into an NBA season isn't long enough to make even tentative conclusions about what is going to happen in June.
You can't argue, though, with two basic facts. The Celtics are on a 16-game winning streak and Kyrie Irving is proving to be more clutch than anyone except Kyrie Irving could have expected when he moved from the Cavaliers this past summer.
Irving was luminous on Monday, with 47 points, six assists, three rebounds and a steal in 38 minutes. Ten of those came in overtime, after the Mavericks had led 87-74 with just under eight minutes to play. The Celtics got another big effort from Jayson Tatum, the third overall pick in the 2017 NBA Draft, too. Tatum had 15 points, nine rebounds, a steal, assist and block. Jaylen Brown contributed 22 points and nine rebounds of his own.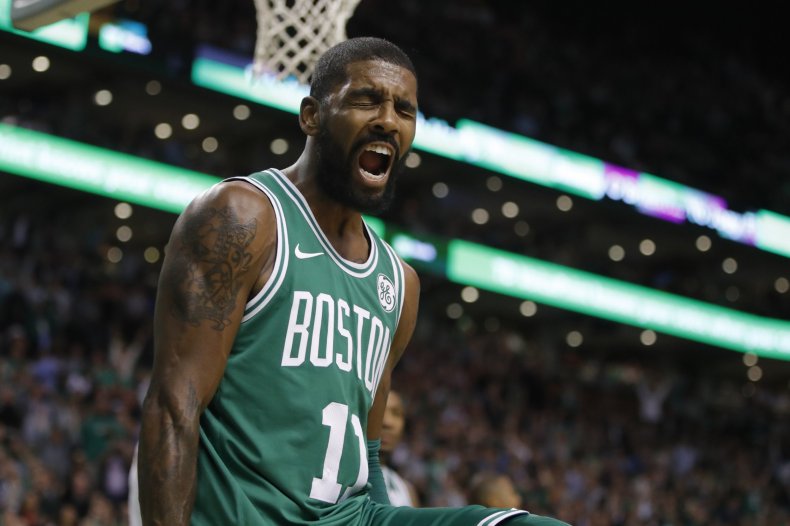 But both of those impressive youngsters are being led by Irving—the leading he set out to do when he left LeBron James's six-foot-eight-inch shadow behind in the summer. "I don't really see it as a pressure situation," Irving said of his late-game play. "It's just like playing basketball, man." Imagining how the Celtics would have gone with Gordon Hayward on the court is futile, of course, unless you turn it around and suggest that Irving has had to step up to fill the void, both in scoring and veteran leadership. That is to say that the Celtics got more out of the trade than they might have done had their marquee free agent been fit to share the load. That Tatum and Brown might not have progressed so fast. Which isn't to say that the Celtics won't be even better when Hayward returns, and that is a scary prospect.
If the season finished at this point, Irving would have to be among the frontrunners for M.V.P., alongside James, James Harden, the Bucks' Giannis Antetokounmpo, and maybe a couple of bolters like Kristaps Porzingis and DeMar DeRozan, the league's best shooting guard and the best player on the Eastern Conference's second-best team.
It's a good job there are still so many games and twists to go, to ensure that we look completely wrong and silly by the time the Finals finish next summer. One conclusion that won't be upended, though: What Brad Stevens, Irving and the Celtics are doing right now is damned impressive.