In the Republican National Committee's (RNC) statement censuring Republican Representatives Adam Kinzinger of Illinois and Liz Cheney of Wyoming, the RNC referred to the January 6 Capitol riots as "legitimate political discourse."
The statement on Friday continued Republican efforts to repaint the attempted insurrection as a mere political protest, the arrestees as "political prisoners" and the committee investigating the day's events as a partisan smear campaign.
"Representatives Cheney and Kinzinger are participating in Democrat-led persecution of ordinary citizens engaged in legitimate public discourse, and they are both utilizing their past professed political affiliation to mask Democrat abuse of prosecutorial power for partisan purposes," the RNC's statement said, in part.
In response to the line, the Democratic Party wrote, "The RNC declared the January 6 insurrection 'legitimate political discourse' by 'ordinary citizens.' The Democratic Party knows that the January 6 insurrection was not legitimate discourse. It was a violent assault on our democracy. This is the choice in 2022, America."
Other political commenters on Twitter have also criticized the RNC over its characterization of the riots.
Former acting U.S. Solicitor General Neal Katyal wrote, "Legitimate political discourse OMG."
"Today is the day a major political party announced its support for a terrorist attack," wrote Walter Shaub, a senior ethics fellow with the Project On Government Oversight, a nonpartisan, nonprofit organization exposing federal government corruption.
The Beer Hall Project, a group dedicated to fight "the far-right's campaign to erase & revise the events of January 6th, 2021" wrote, "The 'legitimate political discourse' in question:" with four posted images of insurrectionists attacking a fallen police officer, battling police and scaling the Capitol's exterior.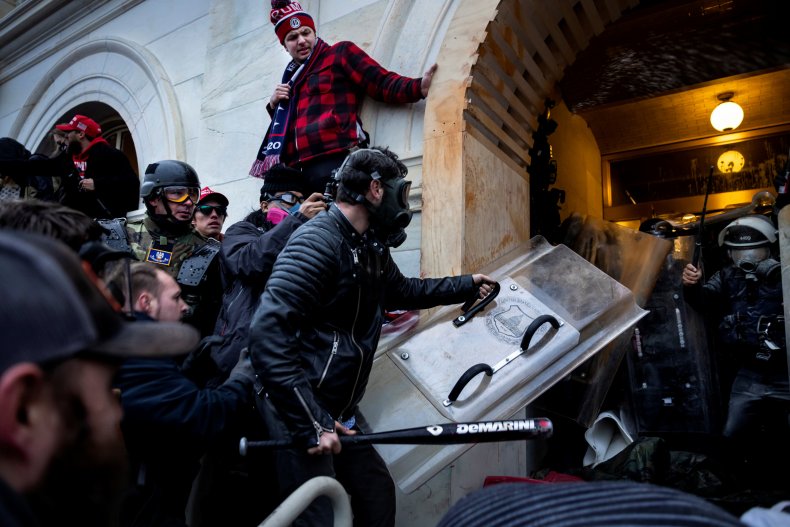 The RNC's censure effectively means that Cheney and Kinzinger will no longer have the RNC's support in fundraising and campaigning efforts.
But while Cheney and Kinzinger have become vocal critics of former President Donald Trump since the 2020 election, the duo largely voted in line with Trump during his presidency. Cheney voted in line with Trump's policies 93 percent of the time and Kinzinger voted in support of his agenda 90 percent of the time, according to the data journalism site FiveThirtyEight.
The censure has also revealed divisions among prominent Republicans.
Trump critic and former chairman of the Republican Party Michael Steele called the censure "a pathetic act of cowardice." Louisiana Senator Bill Cassidy criticized the RNC for punishing fellow Republicans just for trying to better understand the Capitol riots.
Sarah Longwell, a GOP strategist and former chair of the Log Cabin Republicans, tweeted, "The GOP is censuring Cheney and Kinzinger for one reason: They're telling the truth about Donald Trump and his attempt to overturn an American election. And the GOP wants to shut them up."
Newsweek contacted the RNC, Cheney and Kinzinger for comment.