'We Won': Ex-Obama Lawyer Reveals 2020 Census Won't Have Citizenship Question As Trump Admin Admits Defeat
The Census Bureau will begin printing the 2020 census without a citizenship question, the Commerce Department confirmed to Newsweek on Tuesday.
An e-mail revealing the news was first tweeted by former Obama White House lawyer Daniel Jacobson, who added that "We won."
Jacobson's firm Arnold & Porter represents lead plaintiffs in the case.
Commerce Secretary Wilbur Ross confirmed the news in a statement e-mailed to Newsweek.
"I respect the Supreme Court but strongly disagree with its ruling regarding my decision to reinstate a citizenship question on the 2020 Census," Ross said. "The Census Bureau has started the process of printing the decennial questionnaires without the question. My focus, and that of the Bureau and the entire Department is to conduct a complete and accurate census."
New York State Attorney General Letitia James called the decision a "victory for New York State, for America, and for every single person in this nation."
"While the Trump Administration may have attempted to politicize the census and punish cities and states across the nation, justice prevailed," a statement from James's office says. "The census will continue to remain a tool for obtaining an accurate count of our population."
Dale Ho, director of the ACLU's organization's voting rights project, said in a press release that "in light of the Supreme Court's ruling, the Trump administration had no choice but to proceed with printing the 2020 census forms without a citizenship question."
"Everyone in America counts in the census, and today's decision means we all will," he added.
The cancellation of a citizenship question follows a months-long legal dispute between the Trump administration and litigants in three separate, federal jurisdictions. In late June, the U.S. Supreme Court remanded one of the cases back to a federal judge in Manhattan who had demanded that the Commerce Department better explain its rationale for including the question, which it purported was the result of a request from the Justice Department to help enforce the Voting Rights Act.
The Supreme Court found that the Commerce Department's administrative record did not match this explanation and allowed the case to return to a lower court for further inquiry. U.S. District Judge Jesse Furman had placed an injunction on the addition of the question, leaving the department with precious little time to litigate the case before its self-proclaimed June 30 deadline for making a decision. That deadline came and went on Monday, and Tuesday's news appears to put a halt to the three ongoing cases concerning the citizenship question.
The Census Bureau's own research has concluded that a citizenship question could result of an undercount of households with at least one non-citizen by at least 8 percent, leading to an undercount of 9 million primarily Hispanic U.S. residents.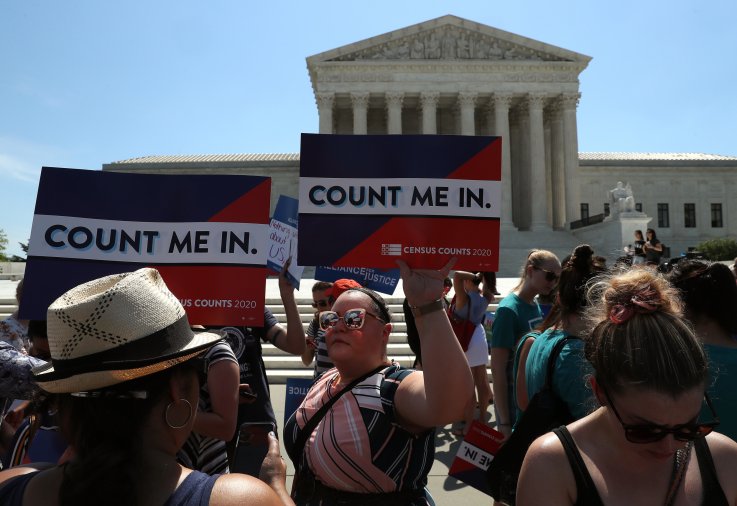 'We Won': Ex-Obama Lawyer Reveals 2020 Census Won't Have Citizenship Question As Trump Admin Admits Defeat | Politics