CENTCOM Commander General McKenzie Says Iraqi Government Wants U.S. to Stay
U.S. Central Command General Kenneth McKenzie said the Iraqi government wants American forces to remain in the Middle Eastern nation and that he has not been given any directive to withdraw.
President Joe Biden and his administration are planning to draw down all troops in Afghanistan by September 11, and previously suggested earlier this month that U.S. combat forces in Iraq would be redeployed somewhere else in the near future. Last January, Iraq's parliament voted to expel U.S. troops from the country after former President Donald Trump ordered the assassination of Iranian military leader Qassem Soleimani—which also resulted in the death of Iraqi military commander Abu Mahdi al-Muhandis on the road from the Baghdad airport.
"The government of Iraq wants us to stay," McKenzie said during a briefing with reporters on Thursday. The general said that Iraq needs American support "to continue the fight against ISIS." He added that he's not been given any direction to stand down American forces in Iraq.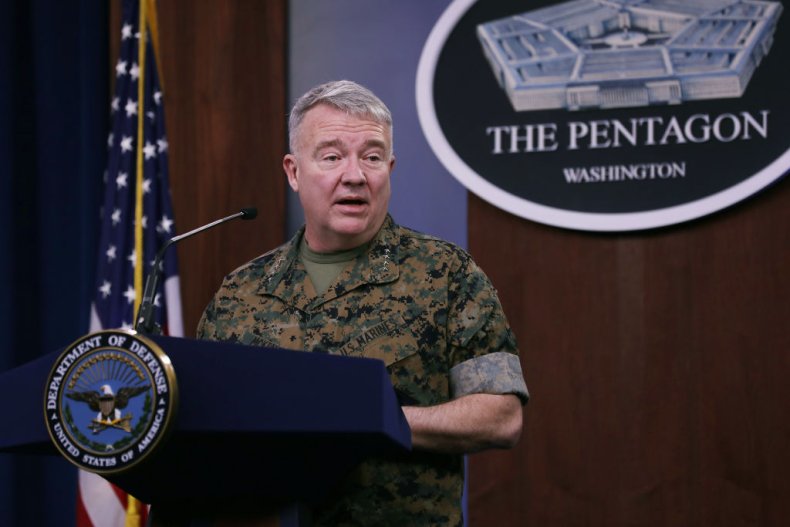 On Tuesday, McKenzie gave a similar assessment during testimony before the House Armed Services Committee. "I don't see us withdrawing completely from Iraq in the future," he said.
But on April 7, the State Department released a joint-statement by the Iraqi and U.S. government that suggested troops could be withdrawn from Iraq under Biden's administration.
"Based on the increasing capacity of the ISF [Iraqi Security Forces], the parties confirmed that the mission of U.S. and Coalition forces has now transitioned to one focused on training and advisory tasks, thereby allowing for the redeployment of any remaining combat forces from Iraq, with the timing to be established in upcoming technical talks," the statement said.
The U.S. first invaded Iraq in 2003, claiming that former Iraqi leader Sadaam Hussein had a stockpile of weapons of mass destruction and posed a threat to the U.S. Those weapons were never found, but Hussein was toppled from power and later executed in Iraq. The U.S. began withdrawing troops from Iraq in 2007 under former President George W. Bush, with the withdrawal completed in 2011 under former President Barack Obama.
However, Obama redeployed U.S. forces to Iraq in 2014 along with other international partners to counter the threat from ISIS. The extremist militant group had managed to take control of large swaths of Iraq and Syria, declaring the creation of a new caliphate in the region. ISIS was largely defeated under Trump's administration, leading the former president to draw down troops from northern Syria in late 2019.
As of January, the U.S. said it had about 2,500 troops stationed in Iraq. At the peak of the Iraq War, the U.S. had some 171,000 troops stationed in the country.
Newsweek reached out to the White House for comment.