Disabled Students Make Up 75% of Preschool Expulsions As Trump Officials Reportedly Weigh Rollback of Obama Guidelines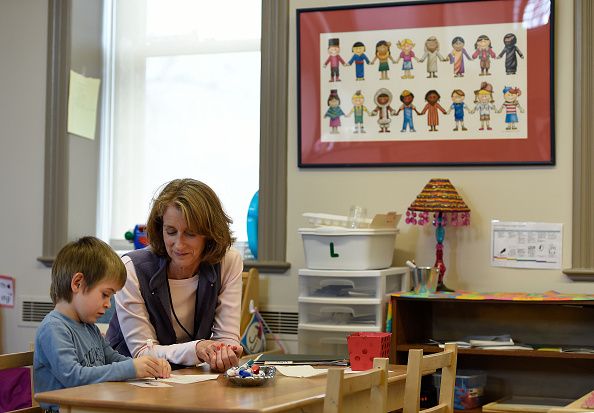 A new Center for American Progress report shed light on highly disproportionate expulsion and suspension rates for disabled students in early education programs, as the future of Obama-era guidance geared toward protecting such populations remains uncertain under President Donald Trump's administration.
The report, released Wednesday, revealed children ages 3 to 5 who have disabilities and/or emotional and social challenges represent 75 percent of early childhood program expulsions and suspensions, despite only making up 12 percent of that student population.
These children are also more than 14.5 times more likely to face suspension or expulsion than their "typically developing peers," the report stated. It offered breakdowns by disability: the odds of expulsion and suspension range from more than four times more likely for children with speech disorders to more than 43 times more likely for children with behavioral problems.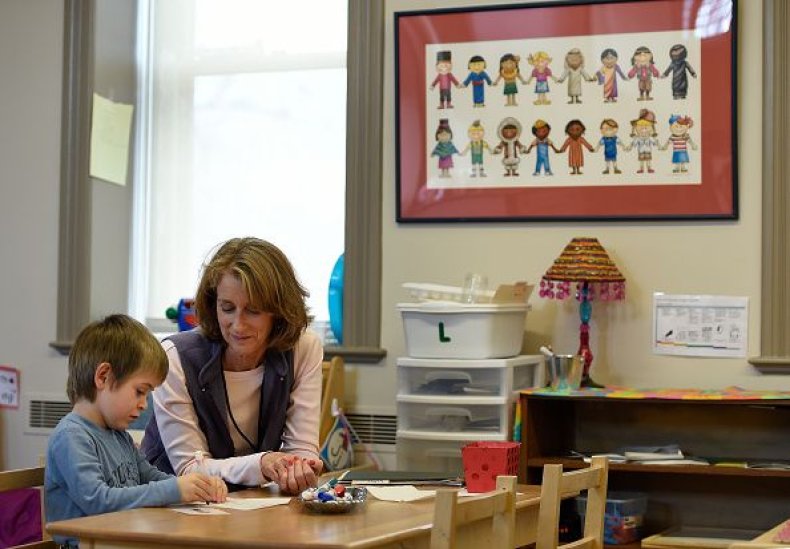 What is unique about this report, which drew from the U.S. Census Bureau's 2016 National Survey for Children's Health, is that it's the first time CAP has been able to track these types of research questions for the preschool population in both public and private schools, Cristina Novoa, a CAP early childhood policy analyst who co-authored the report, told Newsweek on Thursday. She and the other co-author, Rasheed Malik, have worked on the report since the fall.
"Previous studies really do tend to focus on discipline in public settings," she said, adding that it made the analysis of the study "really interesting for us."
At the early education level, "suspension" equates to sending a child to the principal or director's office, or asking a family member to pick a child up early. "Expulsion," on the other hand, might entail informing a family they must seek out a new care arrangement, the report stated. This type of disruption—especially on a frequent basis—is damaging for students' development, Novoa said.
"If you think back to preschool, this is when children are starting to develop friendships; it's when they start to develop a sense of self-efficacy and autonomy," she said. "If you are removing kids from opportunities to develop these friendships, and you are telling a child that there is something fundamentally wrong with them, that they are a 'bad' kid — young children do internalize that."
As for the possible causes of punishment disparities, Novoa pointed to various systemic issues, such as "high student-teacher ratios, teachers who are overworked and underpaid, teachers who don't get adequate breaks ... teachers who could use additional trainings." Only 20 percent of early childhood teachers in 2012 reported having training on children's social and emotional development, which likely contributes to the presence of "unconscious biases," according to the report.
While this particular dataset is new, disproportionate rates of punishment for disabled students is not. The Obama administration in 2014 unveiled nationwide discipline guidelines that encouraged schools to only take students out of class as a last resort, and also laid out "what appropriate discipline looks like for young children, and what it's like to apply discipline in a non-discriminatory way," Novoa said.
Just like various other Obama-era guidelines, though, it's reportedly under the Trump administration's review. A group of teachers and parents met with Trump education officials in November to discuss their opposition to the guidance—namely that "such policies can keep dangerous children in schools, posing a physical threat to students and staff and creating a disruptive learning environment," POLITICO reported.
The Education Department previously rescinded 72 policy documents concerning disabled students' rights in October, with the Office of Special Education and Rehabilitative Services labeling the policies as "outdated, unnecessary, or ineffective." The department told The Washington Post soon after that the action would not affect services for special education students.
"We are very concerned that [a rollback of the guidelines] could happen," Novoa said. "... If we don't protect these guidelines, we're potentially sort of just deepening these disparities and deepening this discrimination that already exists."
Department officials did not have a response for Newsweek at the time of publication.
Disabled Students Make Up 75% of Preschool Expulsions As Trump Officials Reportedly Weigh Rollback of Obama Guidelines | U.S.