Immigration and Customs Enforcement (ICE) acting director Thomas Homan is facing criticism over his plans to speak at an event hosted by the Center for Immigration Studies (CIS), a hardline think tank considered an "anti-immigrant hate group" by the Southern Povery Law Center.
Homan, who is expected to retire from his role this month, is slated to speak Tuesday morning at an "Immigration Newsmaker" event hosted by the CIS at the National Press Club at 9:30 a.m.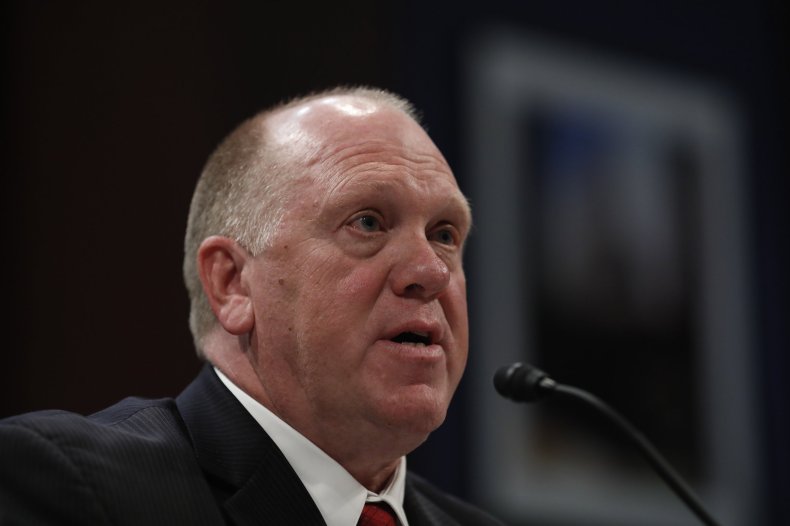 The acting ICE director, who has served under six U.S. presidents, is expected to discuss "deportations, worksite enforcement and sanctuary jurisdictions" in a discussion that will be moderated by Jessica Vaughan, the Center's director of policy studies, and livestreamed on Facebook, according to a press release.
In a letter sent to Homan on Monday, Representative Joseph Crowley (D-N.Y.) urged Homan to cancel the appearance, saying it would risk legitimizing a "group that spreads such abhorrent viewpoints, including white supremacism and anti-Semitism."
"It is highly inappropriate for a senior official of a federal agency to engage with a group that spreads such abhorrent viewpoints, including white supremacism and anti-Semitism," Crowley wrote, adding: "I urge you to immediately retract your plans to speak."
What is the Center for Immigration Studies?
The Center for Immigration Studies describes itself on its website as an "independent, non-partisan, non-profit research organization."
Founded in 1985, the organization claims to have "pursued a single mission—providing immigration policymakers, the academic community, news media and concerned citizens with reliable information about the social, economic, environmental, security and fiscal consequences of legal and illegal immigration into the United States."
The center says that while its "data may support criticism of U.S. immigration policies" it does not "justify ill feelings toward our immigrant community," adding that "many of us at the Center are animated by a 'low-immigration, pro-immigrant' vision of an America that admits fewer immigrants but affords a warmer welcome to those who are admitted."
However, the SPLC has repeatedly condemned the CIS as an "anti-immigrant hate group," writing in a statement on its website that Homan's decision to participate in Tuesday's discussion "will be lending further credibility to a group that for over three decades has published a litany of reports and blog posts demonizing immigrants and blaming them for virtually all of the United States' ills."
The law center branded the CIS's founder, John Tanton, a retired ophthalmologist who also founded the Federation for American Immigration Reform (FAIR), which is aimed at reducing immigration to the U.S., a "white nationalist" and said CIS has "circulated white nationalist content thousands of times."
A recent article to be published by the CIS claimed in its headline that "Illegal Aliens Are Increasing," arguing that the Trump administration's "seemingly harsh policy" to separate undocumented families caught crossing into the U.S. "actually protects foreign nationals."
"Illegal entry is a crime. Prosecuting illegal entrants deters it. Deterrence avoids the dangers of smuggling, as women and children 'often find themselves at risk for assault and abuse such as rape, beatings, kidnappings and robbery' at smugglers' hands," the article, written by Andrew R. Arthur, claimed, quoting information from ICE's website.
The article claimed that more families are trying to cross over to the U.S. because "aliens believe they won't be detained if they arrive with children."
In another article, Arthur said that releasing detained children "will simply encourage more to come" to the U.S.
In an op-ed published in the Washington Post, CIS Executive Director Mark Krikorian argued that the SPLC's designation of the think tank as a "hate group" is unfair and "shuts down public debate."
"The wickedness of the SPLC's blacklist lies in the fact that it conflates groups that really do preach hatred, such as the Ku Klux Klan and Nation of Islam, with ones that simply do not share the SPLC's political preferences," Krikorian wrote.
The SPLC has maintained its stance, however, claiming in a separate statement that the CIS has become the "go-to resource for the White House for its nativist immigration policies."
Vaughan, who is expected to moderate Tuesday's discussion, has previously testified before the House Judiciary Subcommittee on Immigration and Border Security.
The SPLC said she has a "history of bigoted public statements and extremist associations," including backing a plan to send prison inmates to the U.S.-Mexico border to assist in constructing Trump's long-promised border wall.
The law center also pointed out that Homan's participation in the discussion comes just days after President Donald Trump tapped CIS Fellow Ronald Mortensen to serve as assistant secretary of state for the Bureau of Population, Refugees and Migration.
Read more: Who is Ronald Mortensen? Trump nominates immigration hardliner for post dealing with refugees
Mortensen, who also founded the Utah Coalition on Illegal Immigration, has long been vocal on his stance on illegal immigration, writing an opinion piece for The Hill with the headline: "Most Illegal Aliens Routinely Commit Felonies."
In the article, Mortensen claimed that studies finding the percentage of immigrants committing crime was lower than that of U.S. citizens were "critically flawed" and insisted that the "myth of the law-abiding illegal alien is just that: a myth."