Central Europe's Shameful Rejection of Refugees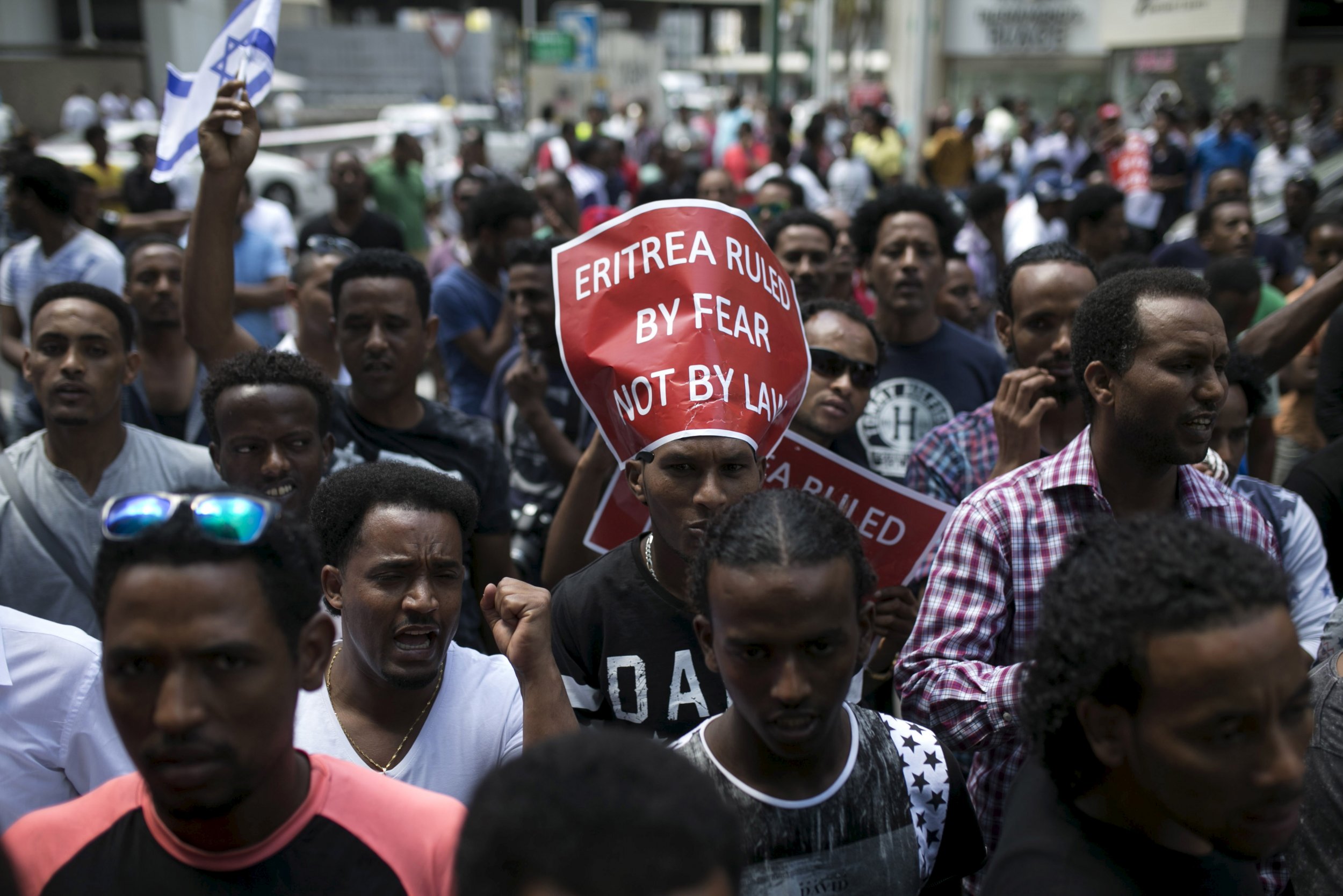 Of all the leaders in the European Union, those who lived under Communism in Central and Eastern Europe know better than most what military conscription meant and how people loathed it.
The conditions were often miserable. The duration of the compulsory recruitment, which was widespread in the region, was long. The training was ideological, militaristic and anti-Western. But at least conscription in Communist states was not permanent.
Central European leaders should compare those times to what is taking place today in Eritrea. That just might make them reverse their opposition to a proposed EU quota system for the tens of thousands of refugees—many from Eritrea or Syria—who are fleeing war and repression.
Eritrea is a deeply authoritarian country where military conscription effectively amounts to a life sentence, according to Human Rights Watch. "Eritrea conscripts all men and unmarried women into 'national service,'" the NGO's 2014 World Report states. "Although Eritrean law limits national service to 18 months, most conscripts serve for much of their working lives. Conscripts are routinely used as forced labor on essentially civilian jobs," the report added.
No wonder many young men and women put their lives at great risk by trying to flee to Europe. The long-term impact of the Eritrean regime's policies on the country's society and economy will be devastating.
Despite the dire situation that causes young Eritreans to escape their country, the response of Central and Eastern European governments, not to mention that of Britain, to the refugees' plight during the EU summit on June 25–26 was shameful.
The European Commission, the EU's executive, had proposed that 40,000 refugees now living in Italy and Greece be relocated to other EU countries. That was in addition to plans to resettle 20,000 asylum seekers currently outside the EU.
So far during 2015, more than 100,000 migrants have crossed the Mediterranean, according to the UN refugee agency. The majority of them have landed in Italy, Greece, or Malta. Germany and Sweden have done much to relieve these countries of the burden.
Most Central European leaders, however, have opposed the idea of quotas and burden sharing. They have said it should be up to national capitals, not Brussels, to decide how many refugees each member state should take in.
At the summit, Italian Prime Minister Matteo Renzi was scathing about this lack of solidarity. "If this is your idea of Europe, you can keep it," Renzi told his 27 counterparts. "Either there's solidarity or don't waste our time."
Hungary's right-wing Fidesz government led by Prime Minister Viktor Orbán is certainly wasting no time. It is planning to build a four-meter-high fence along its border with Serbia to stem the flow of illegal migrants. "Hungary cannot afford to wait any longer," Hungarian Foreign Minister Péter Szijjártó told a news conference.
Fidesz has its own political agenda for taking such measures. It wants to stop Jobbik, the far-right, xenophobic opposition party that is gaining popularity, from setting the agenda on refugees.
Hungary's stance is depressing, particularly given the country's own experience of dismantling borders. In September 1989, Hungary's then foreign minister, Gyula Horn, and his Austrian counterpart, Alois Mock, cut the barbed wire fence that divided Eastern and Western Europe. That allowed thousands of East Germans, who were already camped out in Hungary, to leave for the West. The chink in the fence precipitated the fall of the Iron Curtain.
In neighboring Slovakia, the atmosphere toward refugees is becoming poisonous—not to speak of how the country treats its Roma community. On June 20, protesters opposed to an EU quota system for refugees gathered in Bratislava with the slogan: "Stop Islamisation of Europe; Together Against Dictate of Brussels; Europe for Europeans!"
The EU's proposed quota for Slovakia, which has a population of 5.5 million and a low immigration rate, would amount to 785 people over two years. Last year, 331 people applied for asylum in Slovakia. Twenty-four were accepted.
Neighboring Austria has threatened to reimpose controls on its borders with Hungary.
The Czech Republic has also rejected quotas from the EU. "We support the right of countries to freely choose the scope of their solidarity, which we have also demonstrated by our decision to provide a home for a number of Syrian families," Czech Prime Minister Bohuslav Sobotka said. Last year, the Czech Republic granted asylum to 765 people, mostly from Ukraine, Syria, and Cuba.
In Poland, Prime Minister Ewa Kopacz has opposed a mandatory quota system, saying it should be voluntary. Kopacz did agree to admit 60 families from Syria.
However, Poland has opened its doors to Ukrainians fleeing the war in their country.
In 2014, the Polish government issued 331,000 permits for short-term work to Ukrainians, an increase of 50 percent on 2013, according to the Centre for Eastern Studies. It is estimated that there are now 300,000–400,000 Ukrainians in Poland.
As for the Baltic states, their governments said they didn't have the capacity to deal with a quota system.
Leaving aside the issue of populism, the reaction of most Central European countries to refugees is related to World War II and its aftermath. The war destroyed the previous multi-ethnicity of Central and Eastern Europe's societies, which had comprised such a rich kaleidoscope of communities, particularly of Jewish and German origin. After 1945, most of these countries became ethnically homogeneous.
Under Communism, foreign workers were kept separate from the locals. Maybe that too explains some of the attitudes toward refugees held today by the (former Communist) Eastern states of Germany and its Eastern neighbors.
But none of the above is an excuse to turn this part of Europe into a fortress. Having been forced to live in one until 1989, Central and Eastern Europeans should surely be more welcoming of Eritreans and other refugees who now want to escape their own fortress.
Judy Dempsey is a nonresident senior associate at Carnegie Europe and editor in chief of Strategic Europe. This article first appeared on the Carnegie Europe website.