Kevin Richardson, one of the Central Park Five, says change has to come in the wake of worldwide protests over the death of George Floyd as he condemned President Donald Trump's response to the unrest as "disgusting."
Richardson, 45, was one of five men—all of them black or Hispanic— who were wrongly convicted of the 1989 rape of a white woman jogging in the famous New York City park. Following their arrests, Trump took out full-page newspaper ads calling for the men, who were teenagers at the time, to be hanged.
Now known as The Exonerated Five, Richardson, Korey Wise, Raymond Santana, Yusef Salaam and Antron McCray all had their convictions vacated after each spending years behind bars when DNA evidence linked a serial rapist to the crime.
Last year, after Netflix series When They See Us, written and directed by Selma filmmaker Ava DuVernay, drew attention to the case again, Trump refused to apologize to the men and continued to maintain that they are guilty.
Richardson told Newsweek that what he described as the recent "lynchings" of black people in the U.S.—such as Breonna Taylor in Kentucky and Ahmaud Arbery—and Trump's rhetoric against Black Lives Matter protesters had struck a chord with the men.
"When you listen to him, the rhetoric that spews out of his mouth, I think, and I think many people as well think, it's just disgusting," he said.
Richardson said he was outraged by Trump's recent use of the phrase "when the looting starts, the shooting starts," which echoed the words of a racist Miami police chief who targeted black communities. The tweet was subsequently flagged and hidden by Twitter for violating its policies on "glorifying violence."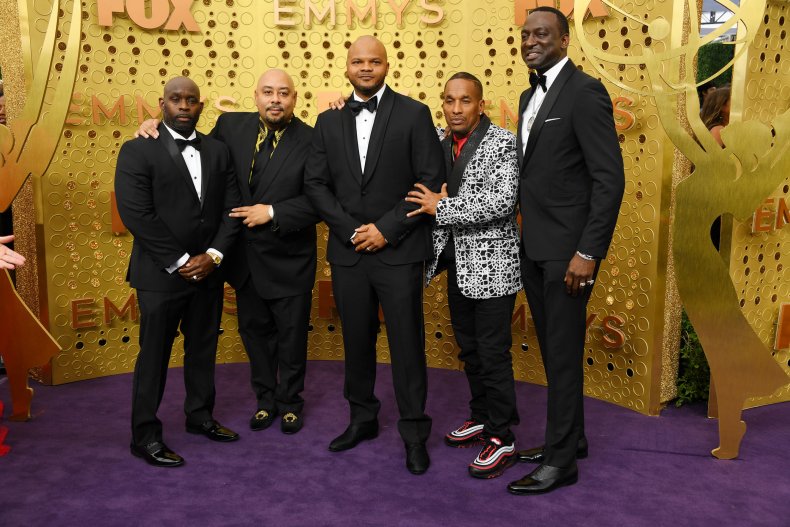 Richardson said Trump was pushing for even more brutality towards black people by police officers. "No questions, shoot first, ask questions later. That's been the mentality of police over the years," he said.
"It makes me feel completely furious, but I know what to expect from him. He's been the same since the beginning."
Richardson also said the contrast between Trump's recent response to armed protesters demanding states lift COVID-19 lockdown measures and those demonstrators in the wake of Floyd's death on May 25 was "outright sickening."
On Twitter, Trump referred to the former as "very good people," while labelling those protesting Floyd's death in Minneapolis as "thugs."
"It's outright sickening to see," Richardson said, "and if someone can't see that or hear it, obviously you're tone deaf to the situation or you just don't want to.
"I always say that its personal for me, my family and my four bothers and their families. This was a man who put a bounty over our heads. If it was up to him, I would not be sitting here right now.
"I would have either rot in prison or died from a lethal injection. He was trying to get us the death penalty as teenagers. This is a man who has a lot of hatred in his soul and that hatred is for people of color."
He added that he and the other four men convicted in the Central Park jogger case had "deep wounds" from what happened to them.
"It feels like the scab is peeling back off and the wound is coming back. That's what people don't understand. It happened 30 years ago to us, but that doesn't easily wipe away from your life. It's still a part of our life, our history.
"So when I see these things, it hits me personally because I first-hand know how it feels. I think us as black people, us as people of color, we're just tired of what's going on."
He added that with the COVID-19 pandemic disproportionately affecting black people and unemployment levels at record highs, the Floyd's death was "a boiling point for many."
"It's at a point where everybody is saying enough is enough," he said.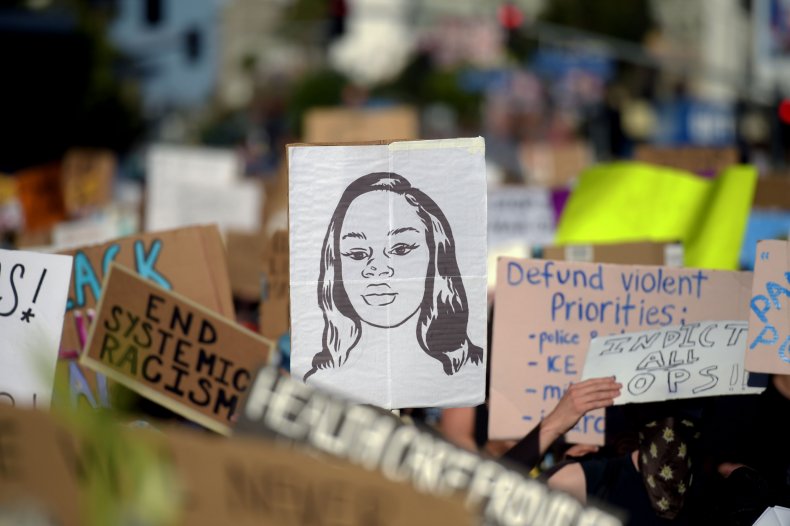 Watching the widely shared video of Floyd gasping for air as a white Minneapolis police officer kneeled on his neck for almost nine minutes took time to process, Richardson said.
One morning, he grabbed his two daughters—aged two and 12—and held them tight. "I held them so tight cause I'm thinking that could be my child out there. Something could happen to them," he said.
He added: "Racism doesn't care who you are. You could be a male, female or child. These things hit hard and when I seen that I felt like we have to start making a change. We have to start changing laws. We can speak about it, but we need to start putting these demands to action."
Richardson said the videos being shared across social media showing police using heavy-handed tactics such as firing tear gas and rubber bullets towards protesters were "hard to watch."
A week ago, United States Park Police reportedly used tear gas to clear protesters in Lafayette Park near the White House to make way for a photo opportunity by Trump at a church. Police later denied tear gas had been used, but conceded pepper balls and smoke canisters were used.
Richardson said: "They don't care that it's happening in front of the world. It's still happening. It shows they don't care about our lives. They're showing you on camera what is happening. These things are happening everywhere. That has to change."
He added: "These are peaceful protesters. Not everyone is being violent. Right away, we've seen footage of women, children getting beaten. On camera, police are showing physical harm first."
He also condemned Trump's call for governors to deploy the National Guard in sufficient numbers to quell unrest.
"Bringing more armed officers to an environment where people are just tired, they're literally tired, seeing it hurts me to the core. It's sickening to see," he said.
On the instances of attacks against police officers, Richardson said it was as a result of a breakdown in the relationship between law enforcement and the communities they serve.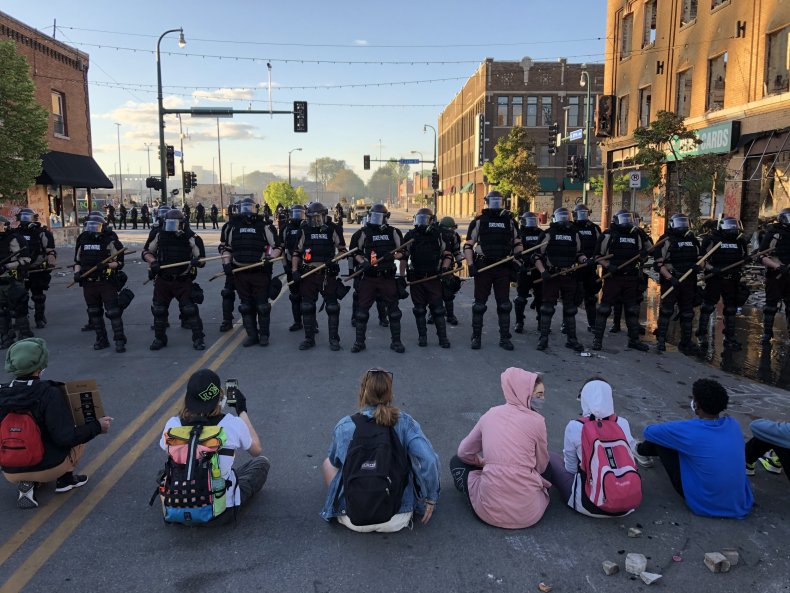 "When you're a police officer in America, you have a certain level of respect, but that respect has faded away. That's why you're seeing violent acts against police," he said.
"Is it right? No. But people are just really extremely fed up. People are ready to die, people are ready to fight for what they believe in because it's really gotten that bad."
He said his mother told him the chaos that's erupted in cities across the U.S. in recent weeks reminded her of the 1960s.
"The time of Martin Luther King, when we were rallying and marching. White police officers were using tear gas and dogs to keep people away," he said. "It feels like that era again. It feels like we're going backwards in time. When we had to fight literally for our rights."
He added: "I think some people don't understand that when we say black lives matter, it's because the black lives are the ones getting killed. We're the ones that are losing our children in the street."
But Richardson is hopeful that change can come thanks to the protests that have taken place in cities across the U.S. and beyond.
In Minneapolis, the city's council has announced that it will disband the police department and in New York City, Mayor Bill de Blasio has said funds will be cut from the NYPD budget, with the money directed to youth and social services instead.
"Things have to change," Richardson said. "We have been through so much over 400 years, from slavery to now. We have to go forward."
He also believes the nationwide unrest as well as the botched response to the coronavirus pandemic could signal the end of the Trump presidency.
"I do not call him president because he's not mine," he said. "Seeing him in office, it's just still unbelievable that he's there. But we as a people, we have to deal with it because his time shall pass."
He added that some who voted for Trump based on his business prowess in 2016 "are seeing the kind of man that he is and wishing they didn't vote for him."
"This right here with the COVID situation and the lynchings of people, the killings of people, I think that will taint his future as the president. It has to. There's no way I believe that he could still be elected," he said.
"I didn't believe that he could have been elected before, but now we're definitely in a different era. We're dealing with a crisis. America is in a crisis."
And to those fighting for change, he promised: "We will see change. Keep fighting, keep protesting, keep shouting out those names because there's many people that you don't know of that have died at the hands of police officers.
"Keep fighting for what you believe in and I'm with you 100 percent. If I'm not there physically, I'm definitely there in spirit."