Central Park's Latest Statue Is Different—Because the Women it Honors Were Real
More than 50 statues and monuments are scattered across the lands of New York City's beloved Central Park, and for the first time ever, three women who actually existed will become one of them.
The city will unveil its latest sculpture, Women's Rights Pioneers Monument, designed by artist Meredith Bergmann on Wednesday. Standing at a tall 14-feet, the statue is the park's first statue to showcase real women will feature the likes of women suffragists Sojourner Truth, Elizabeth Cady Stanton and Susan B. Anthony—all of whom were significant crusaders in the fight for women's voting rights.
While the monument is a particularly special one for Central Park as it's first ode to actual American women figures—the park does include statutes of fictional women like the whimsical Alice in Wonderland fixture and Mother Goose—the statue's debut is also a significant one in American history as it's unveiling comes on the 100th-year anniversary of the passing of the 19th Amendment, which gave women the right to vote.
Anthony, who was convicted for voting illegally in 1872, and Staton, the co-founder of the American Equal Rights Association, were known opposers of Black men voting while Truth, a runaway slave-turned-abolitionist and activist, rallied for equality for all Black people. However, the women still managed to work together in the movement for women's rights although they had conflicting views over Black American's voting privileges. Bergmann, who is responsible for the Boston Women's Memorial of Abigail Adams, Phillis Wheatley and Lucy Stone, told NPR the meetings Truth, Anthony and Staton likely organized together served as the inspiration for Central Park's latest piece.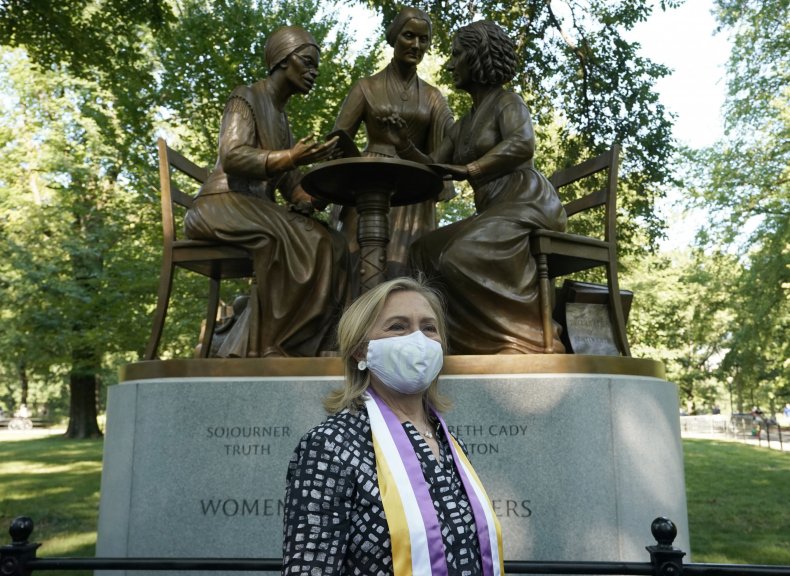 For the last seven years, non-profit organization Monumental Women pushed for a Central Park to house a statue honoring women. The organization's president Pam Elam told NBC New York the group was thrilled to see Truth, Stanton and Anthony immortalized within the park.
"The first statue of real women in the 167-year history of Central Park is here. We're honored to be the group that breaks the bronze ceiling," Elam said. "They worked together and supported each other in many ways. It's only fitting that they share the same pedestal."
The statue also marks a major step forward in women's recognition for the country overall as well considering less than 10 percent of the outdoor sculptures in areas across America are of women, according to the Smithsonian Collections Search Center. Out of the 145 monuments with posts in New York, the new statue is only the sixth to depict women.