Century-Old Time Capsule Unearthed in Church Set to Be Demolished
The German Evangelical Church in Seattle was home to a time capsule, which was unearthed after 115 years.
Earthwise Architectural Salvage was working on recovering parts of the church in the Queen Anne neighborhood of Seattle in July. Workers took out the pews, the floorboards and stained glass. When they found the church's granite cornerstone, they pulled it out and found the metal box from 1906, unopened.
The entire undertaking was recorded and posted to Earthwise Architectural Salvage's Facebook page in two separate videos. One video showed the work that went into rescuing the fixtures and the second video featured the time capsule being opened.
"It always feels really weird when we start tearing apart these churches, but it's really important to remember that the alternative is it [gets] crunched up by an excavator and everything going to the landfill," according to one video's voiceover.
"This is the oldest time capsule we've come across," Director of Operations Aaron Blanchard told Newsweek.
Most churches have a cornerstone, but getting through the cornerstone is a major task. Blanchard said this particular cornerstone took about three hours of work before getting to the metal box.
According to TV station King 5, the capsule contained several newspapers from Cleveland, as well as the publication The Evangelical Messenger. Cleveland was the original location of the Evangelical Association's headquarters. There was also a handwritten letter signed by a bishop that described the founding of the church.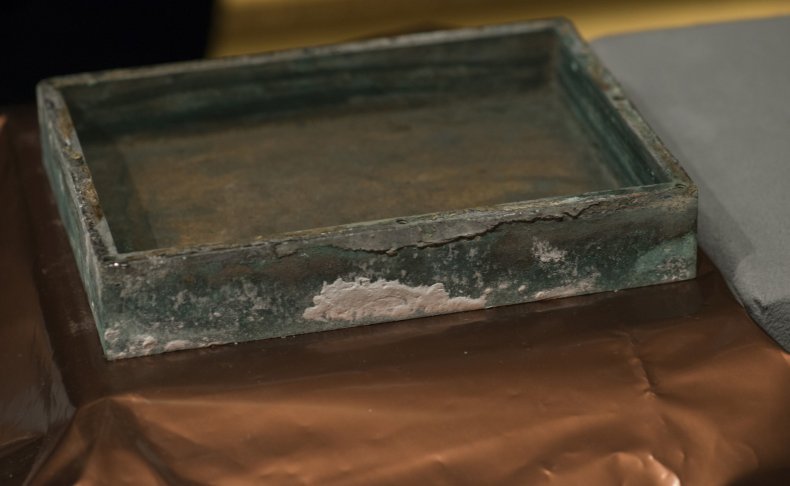 Earthwise Architectural Salvage, founded in 1991, has contacts with different developers who will give them a call to let them know of an upcoming demolition. This gives the organization an opportunity to go through the site and pick out what can potentially be saved and sold to interested buyers at their three locations in Washington state.
Though Earthwise Architectural Salvage managed to sell many of the items they've come across over the years, this time capsule is different. Blanchard said he and his team have been reaching out to historical societies and museums to give these artifacts a chance to sit on display for people to view.
What sets this church apart from previous sites that Earthwise Architectural Salvage has visited is that it has gone through a few different owners. King 5 reported that it was a church until the 1960s and remained mostly vacant until the 1970s when it was used as a counseling center. Now, the building has been demolished and will be rebuilt as affordable housing.
"It's so cool, and we believe this stuff needs to be saved," Blanchard said.