CEO Exploring Presidential Run Could Deliver Blow to DeSantis' Ambitions
Like other dreamers with visions of the White House, Vivek Ramaswamy—the multimillion-dollar biotech investor and so-called "CEO of Anti-Woke Inc."—travelled to Iowa to hawk his platform and test the waters of viability of a 2024 presidential bid with heartland voters.
His trip, per a profile in Politico Magazine published Monday, was steeped in the type of rhetoric that made him a Fox News favorite, dripping with grievance toward the dangers of "wokeism" and the broad banner of environmental, social and governance (ESG) investing that he, one of the so-called "intellectual godfathers of the anti-woke movement," helped bring to a place of prominence in the vernacular of insider conservative politics.
"His metamorphosis into culture warrior came, he said, because his elite-educated business peers would often say one thing in private, like they were fed up with virtue signaling and social activism, yet still toed the progressive party line in public," according to the story. "Faced with what he saw as a combination of duplicity and cowardice, he felt compelled to defect from his peers and speak out."
After authoring two books on the subject—2021's Woke, Inc.: Inside Corporate America's Social Justice Scam and last year's Nation of Victims: Identity Politics, the Death of Merit, and the Path Back to Excellence—and now, exploring a run for the presidency, it seems like the executive chairman of Strive Asset Management has. Whether anyone knows what he means is another story.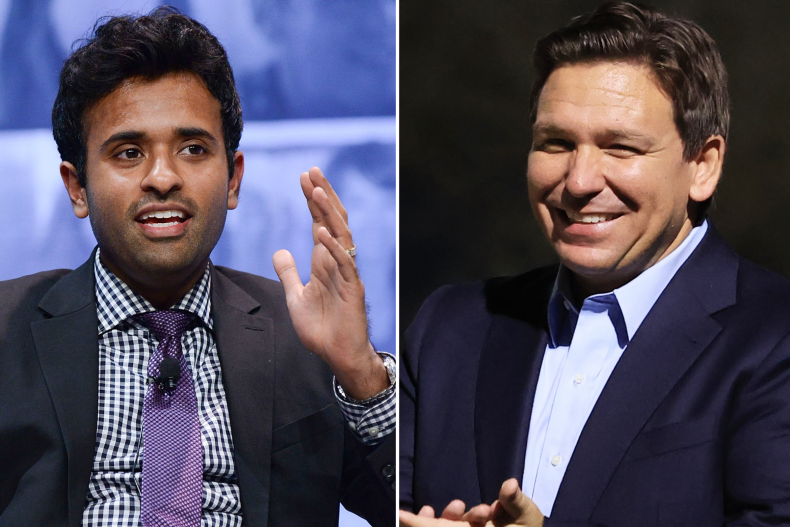 Even as topics like ESG—or "woke banking," as some have described it—have become common fare on pundit-dominated panels and the timelines of the extremely online, only a relative few investors have actively heard of the term, according to Gallup polling, making the public's understanding even less likely.
And those that have, generally oppose it. Another survey by Washington, D.C.-based group ROKK Solutions with a team of researchers from Penn State University last year found that a majority of Republican voters (56 percent) felt there should not be government oversight over investor strategies because they felt companies should be able to make ESG decisions without government interference.
Asked for comment at a Ramaswamy event in Iowa, Senator Chuck Grassley argued that the average Iowan won't care about ESG "for 10 years until it starts affecting them."
That hasn't stopped other potential presidential candidates—like Florida Governor Ron DeSantis—from going all-in on the subject. On Monday, DeSantis held an event on the topic called "End ESG Woke Banking," something he said was an effort by an elite class of investors to shape the world in their vision.
"It's called environment social governance. But basically, what I think it's devolved into is a mechanism to inject political ideology into investment decisions," he said in introducing the subject.
It's a new front in DeSantis' culture war, adding to already active campaigns against transgender athletes and literature describing facets of LGBTQ relationships and race dynamics in public schools.
And it's gaining hold. While lawmakers in Congress have already begun building a groundswell against the so-called concept of "wokeness," smaller-scale candidates—like Kentucky gubernatorial candidate Daniel Cameron—have issued statements pledging to fight ESG as a key tenet of their platforms.
But after wedge issues like "cancel culture" fell flat against other issues like the economy in 2020, is it a winning message nationally? Analysts say it's all about what you're trying to accomplish, whether it's taking leadership within one's own party on the way to the nomination or winning over independents sympathetic to your point of view.
"Ultimately, you have to figure out if your energy is just drive up the base or if it's to win over swing voters," Republican strategist John Feehery, former press secretary to House Speaker Dennis J. Hastert, told Newsweek. "If you abandon your base, you're not going to win no matter if you're a Republican or a Democrat. And so the idea is to drive up your base while appealing to swing voters."
Conservatives' instincts to appeal to the base, some have speculated, could ultimately lead them to alienate those swing voters.
As Republicans in Congress have pushed investigations into big tech and its alleged censorship of conservatives, a Washington Post poll last week found just 28 percent of Americans believing that the federal government was biased against conservatives, while more than half of Republican voters believed it was biased against them.
"If a large majority of conservatives believe the feds are persecuting them, as the Post poll suggests, that could incentivize Republicans to use hearings to activate those grievances with ever-more-hallucinatory inventions," Post columnist Greg Sargent argued in a column dissecting the poll's results. "This could further alienate the large percentage of moderates disinclined to believe this to begin with."
However, some polling indicates DeSantis' track is finding a coalition.
According to a January 2022 survey by the conservative Manhattan Institute for Policy Research, culture-war issues now rank above the midpoint on Republican voters' priority lists, ahead of concerns like religion and family values, with independents placing those issues higher even than the environment.
Other data from mid-summer showed the number of Americans identifying as liberal or "very liberal" in freefall as well, leading the Morning Consult to declare that the "left is losing the battle for the minds of the American electorate."
Just because voters don't understand the intricacies of ESG investing doesn't mean it can't become a salient issue in 2024, Feehery said. It can be used as a cudgel against the abstract idea of an liberal elite class looking to rule your life, or used to argue people's gas prices or energy bills will increase. It's all about how it's communicated.
"This whole idea of stakeholder capitalism versus shareholder capitalism, I mean...it's not something that's on normal peoples' tongues, but it's a real fight," Feehery said. "Not every issue has to have immediate salience with the voters. But it will have some downstream impact."