CEO of Nonprofit Shelter That Called Police on Senator for Trying to Visit Detained Children Is Paid $770,860
Critics are questioning why the CEO of a Texas nonprofit children's shelter that called police on Democratic Senator Jeff Merkley for trying to enter the facility, where detained immigrant children are held, is being paid as much as $770,860 a year.
The Southwest Key Programs (SKP) center in Brownsville, Texas, which receives state funding and houses undocumented children in cooperation with the U.S. Office of Refugee Resettlement's (ORR) unaccompanied minors program, has come under the spotlight after Merkley shared video online of shelter staff barring him from entering the facility, and calling the police on him.
Merkley said "hundreds" of children were being housed at SKP's Brownsville location,many being minors separated from their families under a new "zero tolerance" policy announced last month that sees parents who arrive in the U.S. illegally separated from their children and taken to jail, while their young ones are sent to ORR shelters.
Now, the nonprofit's CEO's paycheck is also coming under scrutiny, with a tax return filed by SKP for fiscal year 2015 showing that President and CEO Dr. Juan Sánchez made $770,860 as his "reportable compensation from the organization."
The sum represented a more than $100,000 increase on what he made in fiscal year 2014, with a tax return for that year showing the CEO earned $659,076 from the organization.
"Why is Juan Sánchez paid $770,860 to house children ripped from their families in a Wal-Mart in Brownsville?" Justin Hendrix, executive director of NYC Media Lab, questioned on Twitter.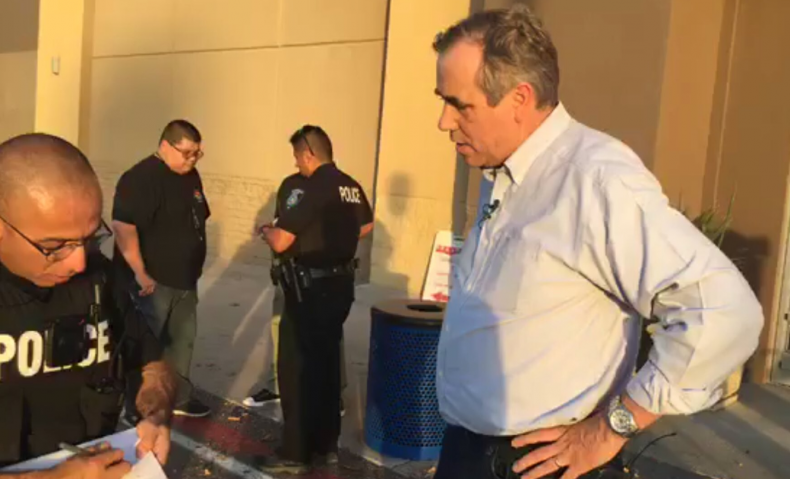 The amount is nearly seven times what the average nonprofit CEO makes, according to a 2016 study by Charity Navigator, which found that the average nonprofit chief makes just over $120,000.
Of course, Charity Navigator also noted that the bigger a nonprofit's budget is, the greater the CEO's compensation will be.
Hendrix noted that the nonprofit had nearly a quarter-billion dollars in revenue in 2015, adding that the high amount "gives you some sense of the scale of these government contracts."
An audit from 2015 showed that SKP received a total federal award of $227,582,409 that year, with $193,948,228 of that going toward the nonprofit's "unaccompanied alien children" program.
According to data released by the U.S. Department of Health and Human Services, which oversees the ORR, the department has awarded SKP a combined total of $310,824,288 in fiscal year 2018 so far, the most recent awards being granted on May 10 in three installments amounting to $99,679,090.
The funds would have been awarded just days after Attorney General Jeff Sessions announced the Trump administration's new policy of separating parents and children at the border.
Read more: Shelter staff call police on Democrat senator as he tries to visit detained immigrant children
Just over a year ago in May 2017, SKP saw mass layoffs at another one of its Texas locations in Rio Grande Valley, with as many as 900 workers being let go with little notice, according to NBC affiliate KVEO News.
The nonprofit said the layoffs were "due to a significant decline in the amount of children coming across our country's border in recent months," telling CBS 4 News Rio Grande Valley in a statement that the ORR had instructed the organization to "reduce capacity at our unaccompanied children's services program by 48 percent, which resulted in the need to reduce staffing."
On its website, SKP, which operates programs in seven states, including Texas, Arizona, California and New York, says Sánchez started the nonprofit in 1987. It has since become "one of the largest providers of services to unaccompanied children in the USA, sheltering immigrant children under 18 years of age who arrive without a parent or guardian."
It says that during their stay in one of the organization's shelters, children "receive educational, counseling, legal, and case-management services on site while awaiting the resolution of their legal case," adding that the average stay at a shelter is about one month as arrangements are made to either reunite the minor with relatives living in the U.S. or back in their home country.
Merkley said taxpayers had a right to know what conditions undocumented minors were being housed in, saying in his video, "American citizens are funding this operation, and so every American citizen has a stake in how these children are being treated and in how this policy is being enacted."
He said he also wanted to know whether the nonprofit was now "having second thoughts about being partners in a process of ripping children away from their families under this new policy," adding he did not believe the organization would "want to be part of an operation that's actually hurting those children."