The 23-Year-Old CEO Trying to Disrupt the Slumlord Racket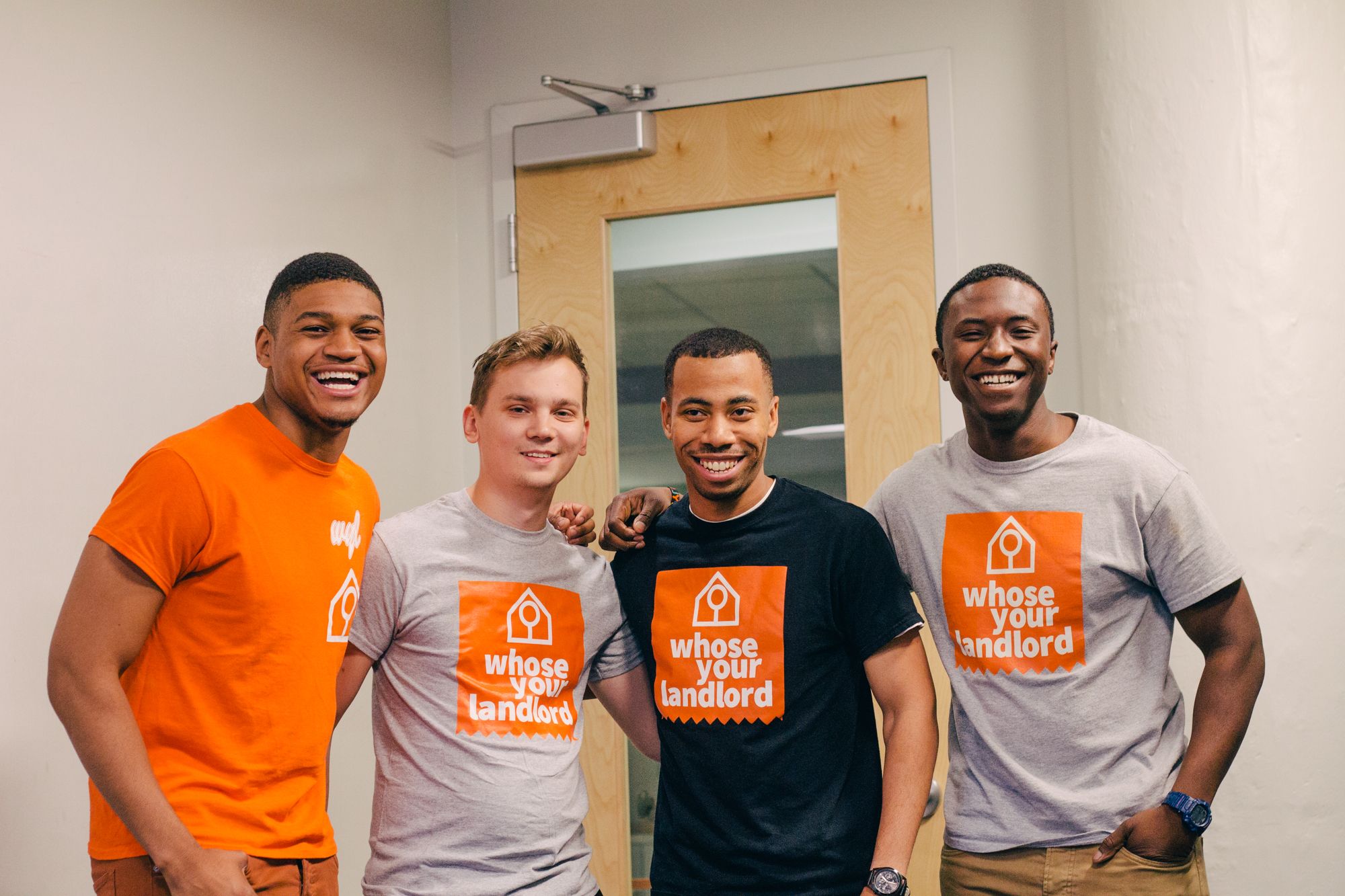 There's an aphorism often passed onto first-time renters in New York City: If the apartment listing describes the space as "cozy," the room is actually a hole-in-the-wall. "Charming" is a code word for "ancient," and "duplex" typically signifies units with odd layouts.
Of course, those circumstances are not always true, but the point remains the same: Landlords and rental companies can blatantly mislead or lie to prospective tenants in order to close a deal. That's interesting, considering the list of documents needed to prove the validity of a potential lessee. Common requirements include a rental application, credit and background check, references, bank statements, paystubs, job history and letters of recommendation.
So then, why can't we ask for background checks on a landlord? Why can't we "recommend" housing to our fellow tenants?
We actually can, thanks to Ofo Ezeugwu, the 23-year-old co-founder and CEO of Whose Your Landlord. He's telling me about his solution while sitting across the table in a Brooklyn coffee shop: a business, he argues, that is not too dissimilar from the rental market.
"Their job is to sell you good quality coffee. If it's good, you pay them and then you come back," he says. "And a lot of times what's different isn't necessarily the taste of the coffee, but the environment you experienced it in.
"In theory, they're both business transactions," he continues. "But this isn't just capitalism. This is basic human rights."
Whose Your Landlord is a web app enabling renters to find their next homes and review their landlords and housing complexes. Co-founded with business partner Felix Addison back in 2013, the steadily growing enterprise is on a mission to "make quality living the standard for all."
Ezeugwu made the same argument one week earlier at the office of the Public Advocate of New York City. Currently held by former City Council Member Letitia James, the public advocate position is first in line to succeed the mayor and is supposed to serve as a direct link between New Yorkers and their government. James is a "watchdog," as her official website states, who recently released the annual Worst Landlords Watchlist. This is the fifth year it's been published and the list has grown to nearly 3400 landlords—nine of whom have violations in more than 200 units.
Ezeugwu emailed the public advocate's office after a friend told him of this year's announcement, requesting a meeting to present a possible collaboration between the city government and Whose Your Landlord.
After a brief round of introductions around the boardroom from members of James's Watchlist team, attention turned to Ezeugwu as he prepared to present his proposal to the committee. "Why don't you tell us how we might be able to work together?" suggested one of the officials (they had requested not to publish individual names). Ezeugwu was clearly a tad nervous, but confidence began to ooze out of the impeccably dressed entrepreneur.
"When I saw the watchlist come out this year I felt like there had to be some way we could collaborate," he began. "I felt like we had the same purpose—to provide quality in a market where, for the most part, the home providers have had all the power in this base for the longest time. Now we want to make it a more transparent and accountable marketplace where renters feel comfortable looking for their next home."
Ezeugwu laid out his business: it launched in Philadelphia back in September 2013; there are 78,000 active users across 100+ cities, 45,000 blog views this past summer and collectively a 40 percent growth rate in 2015. Currently, Whose Your Landlord boasts more than 3000 reviews of 2200+ landlords uploaded to its platform. Some council members expressed admiration, though there were still some concerns.
"I would say that the watchlist is more about protecting current tenants that are living in substandard conditions rather than people looking to find their next apartment," remarked one of the public advocate's administrators. "It's a tool that puts names in the spotlight and identifies the worst actors. There's this idea of using the watchlist as a scientific instrument versus crowdsourcing information."
Throughout the year, the public advocate's commission sends a task force across the five boroughs to identify dismal living conditions in tenements. There are over 6,000 buildings in this year's database, primarily occupied by senior citizens and low-income families, with violations ranging from bathtubs overgrown with mold, shattered living room windows and rusted locks held together with nothing but a wedged-in pencil. The goal of Ezeugwu's app is to empower the tenants by giving them a place to report their experiences.
"That's something I noticed too," says Ezeugwu. "You guys are more focused on the quantitative information—how many violations they have, what class that violation falls into. Our platform is more subjective in regards to their experience, but what we believe is that anytime you can add hard data and numbers to that information…it can create something more powerful."
After the meeting, James's staff promised to connect Ezeugwu and Whose Your Landlord to a variety of tenant and landlord associations. The potential of a full-time partnership between the office of the public advocate and Whose Your Landlord is bookmarked for later discussion, and Ezeugwu vowed to plug the Worst Landlords List into his company's database.
As Ezeugwu left the meeting, he paused by the front door, which bears the seal of the public advocate of New York City. He retrieved his phone from his pocket and snapped a photo of the insignia. The shiny gold plaque inscribed into the glass reflected his smiling face, resulting in a bathroom mirror-esque selfie that he immediately shared on Instagram and Facebook. "It's important to be active on social media," he later explained at our coffee shop meeting. "I'm a normal person who just happens to be running a tech company. I'm a human being first. I want people to relate to me; I don't want anybody thinking that they aren't smart enough to do something like this. Or, 'I've never seen anybody who looks like me doing that.'"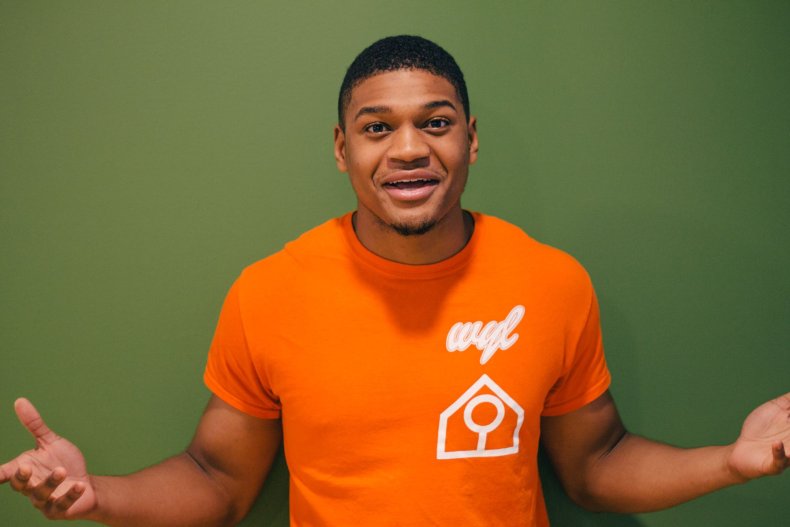 "The immigrant mentality is very entrepreneurial in itself," says Ezeugwu in between presentations at F50 Founder Night in Google's Manhattan headquarters. "To take that leap of faith, run out of money and still be able to figure it out. I think their journey lends to why they are so open to us doing this."
The "they" he's speaking of refers to his parents, who hail from Nigeria and Barbados. Whose Your Landlord's co-founder and COO Felix Addison was born in Ghana. The business partners have been best friends for 15 years and both speak tenderly of their parents, who arrived in the United States and battled during years of economic uncertainty in sacrifice for their children.
"My mom took a huge risk coming here to the U.S," says Addison. "I had a steady job back in Virginia that she wanted me to stay at first, but now I want to take her initial steps a bit further and she's been very supportive of that."
As black entrepreneurs, Ezeugwu and Addison are well aware of the challenges facing immigrants and minorities in the U.S.—particularly for those looking to start tech companies. According to a report from venture capital database CB Insights, less than one percent of the founders of Silicon Valley companies are African-American or Latino; nearly 100 percent of funded founders are white or Asian. Companies with female CEOs receive only three percent of total venture capital dollars.
"You hear statistics like that and you understand there's a flagrant discrepancy in terms of who's being funded, who's being given the opportunity to achieve," says Ezeugwu. "That's not a lack of talent, just a lack of opportunity."
To counter this void in minority business leaders, the Whose Your Landlord team makes a concerted effort to get involved directly with the communities its business model seeks to serve. Ezeugwu frequently speaks with inner-city high schools and middle schools on leadership and college planning, and is a member of the Big Brothers Big Sisters entrepreneurial program. In addition, the Whose Your Landlord staff has spoken at a number of universities including Harvard, Princeton, Columbia, Penn, Villanova and Temple.
"Being forward with technology and operating as a successful company shows that it's a viable option for our youth," says Ezeugwu. It's this ability to educate adolescents and structure Whose Your Landlord around specific communities that has spearheaded the company's accelerated success, he says.
Eric Shashoua, founder/CEO of Zive Inc. and creator of Kiwi for Gmail, a Mashable-reviewed "can't miss app," was the one to invite Ezeugwu and Addison to Google's F50 Founder Night. For the past year and a half, Shashoua has been working with Ezeugwu and Addison as a mentor and board advisor after Whose Your Landlord won the Fordham 3 Day Startup Competition in January 2014. He was impressed with the genius of their idea, and their ability to rally support from surrounding peers.
"Ofo is one of the brightest and most naturally talented startup CEOs I've ever met," Shashoua tells me following the Google summit. "He has an intuitive grasp of marketing that normally takes years to develop. As a venture-backed startup CEO with several years' experience in marketing, what drew me to them initially was seeing how astoundingly effective they are at drawing crowds and building a following on college campuses. It's incredible—in a couple days' time they're able to get people to be wearing their shirts and posting selfies with their brand on social media.
"I also thought their idea was brilliant," Shashoua adds. "Building an ecosystem around simply rating your landlord. It appeals especially to young people who start movements. Ofo and his team are going to make a big mark in the world."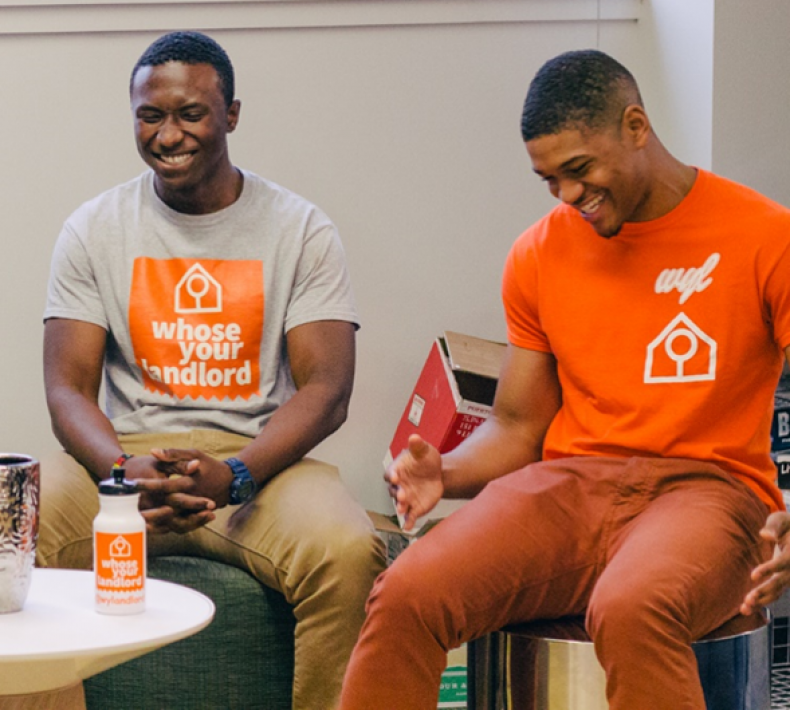 "Often, when we enter into a lease agreement, we as the customer relinquish all our power to the landlord," states Whose Your Landlord's official website. "It is time for that to change. With this site alone, we are making a conscious effort to begin holding 'our' landlords accountable for their actions. In the name 'Whose Your Landlord' we purposefully use the possessive form of the word 'who' because we are now returning the ownership back to the tenants."
That philosophy began at Temple University in Philadelphia back in 2012. During a late night meeting, Ezeugwu—then a junior and campaigning for vice president of the student body—was brainstorming ideas to improve off-campus housing.
He says: "I was just thinking aloud and blurted, 'What if they could review their landlords? That way those coming in after would know what to expect before ever signing a lease.' And the idea just stuck."
Ezeugwu immediately pitched the concept to his childhood best friend Addison, who was living in Virginia and attending George Mason University. "I was renting with a friend from a really crummy landlord and we'd actually just dealt with an issue the very morning [Ofo] reached out," says Addison. "When he called and explained the idea I was just like, 'Are you reading my mind right now?'"
Within six months Ezeugwu and Addison had launched a beta version of the website with help from developer Nik Korablin, who later became Whose Your Landlord's chief technology officer. A full version of the site launched a year later and Ezeugwu and Addison hired Phil Meyer and Brittany Lewis as the company's creative director and content producer, respectively.
Quickly establishing itself among the 18- to 34-year-old demographic with a 70 percent millennial user base, Whose Your Landlord found initial success on the campuses of Temple, the University of Maryland and George Mason, where the beta versions originally launched. Word of Whose Your Landlord began to spread and in the following months the fledgling startup began a prolific competition spree. Following its victory at Fordham's 3 Day Startup Competition, Whose Your Landlord earned first prize at Temple's "Be Your Own Boss Bowl," resulting in a $20,000 cash prize. Within five months it went on to earn first place at Revolt TV & NewMe's Accelerator Miami Pitch Competition, TechCrunch's Radio Pitch-Off, the Scion Motivate Tour Competition and Kapor Capital SXSW Competition.
Despite the success, Whose Your Landlord still maintains a relatively limited geographic spread. Almost 40 percent of the users are still based in Philadelphia. New York residents make up 12 percent, with 7 percent in New Jersey and 5.5 percent in San Francisco. Ezeugwu compares the restricted growth of Whose Your Landlord to the social adaptation of recycling.
"It moved kind of slow at first. You need to create a culture of, 'Now I feel bad if I don't recycle,' and once that culture is created you're now throwing plastic bottles into a recycling bin instead of a trash can," he says. "The continued course of action is educating people on why it's important to take control of this."
Whose Your Landlord has also found securing outside investments challenging. Currently the company fiscally operates with a combination of advertisements, marketing partnerships and paid landlord registrations. Ezeugwu, however, is confident the company will attract financiers soon enough.
"It's not going to happen overnight," he says. "It's more like the 4-5 year route until everyone is on it. Airbnb launched in '08 and I learned about it in the last three years. LinkedIn has been around since 2003. Who was using LinkedIn in 2003? Their growth trajectory was really slow, but with that being said—look where they are now. For us, it's just staying the course and understanding that by changing communities one by one, eventually you'll get there."
Ezeugwu and his staff believe Whose Your Landlord has the power to erase systematic faults in urban environments around the world. In the United States, Ezeugwu expects the company to provide a beacon of security for frequently marginalized tenants—African-Americans, women and LGBT people in particular.
"There's a stereotype out there—which I hate to point out, but it's true—you try to catch a cab as a black guy and it's not as easy," he says. "Then all of the sudden Uber changed the game because [drivers] couldn't see. You just put in your location, your card, and they show up."
"Those kind of effects happen when a business infuses technology into something that's been antiquated for a long time," he continued. "And this is where people are living. This transaction is different from anything else, because while you may own the property—I rest my head there at night. If I'm doing that, I need to know I trust the person I'm renting from. It's the ultimate form of security."
In the days preceding our final interview, Ezeugwu and Addison drive from their shared Brooklyn apartment down to Philadelphia. They're in town for a photo shoot for a new ad campaign that will roll out across subways and buses around the city. Thanks to a sponsored partnership formed with Roadway Moving Company, Whose Your Landlord's marketing drive will generate almost two million impressions from the Philadelphia's mass transit. The company also recently secured partnership deals with Target and Fab.com
Whose Your Landlord isn't settling for just Philly and aims to go global. Ezeugwu claims that people from Canada, Mexico City, Nigeria, South Africa and Europe have reached out with requests for Whose Your Landlord's services.
"I just a call from someone in Spain two days ago," Ezeugwu says. "They were like, 'We love what you're doing over there and we'd love to start up a version of that over here. Can you help us with that?' To hear that is so powerful. Whenever your vision aligns with what your customers are saying, you know you're in a good place.
"This is where they call home," he tells me in closing as we exit the Brooklyn coffee shop. "This is where they have their memories, their laughter, their sadness. Their life."