CEO Asking Workers to Donate Time off to Sick Colleague Branded 'Pathetic'
A company's approach to their sick employee coming to the end of their time-off allowance has been slammed online.
In a viral post on Reddit's popular r/antiwork subreddit, user u/blink_bridgette shared a picture of a yellow sign posted at their job. The caption read: "I am at a loss for words. This is pathetic..."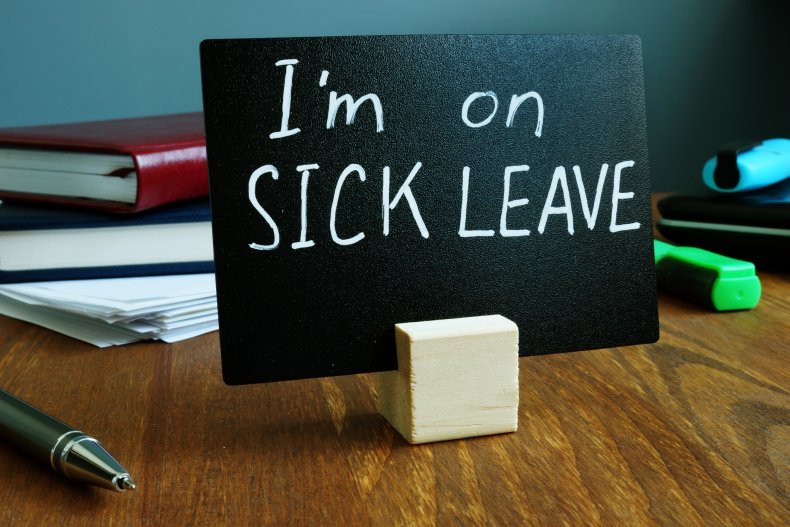 The picture featured a note to employees that read: "Dear Employees, We have a long-term employee of 17 years from our Dietary Department who has been in the hospital and rehab for several months.
"She has exhausted all her PTO [paid time off] days and her benefits are running out. As you can imagine this has been quite a drain on her family's income."
The notice continued, asking employees if they would be prepared to donate their own paid vacation days to their colleague. Those willing to help were directed to the vice president of financial services to arrange this.
New York employment attorney Jon Bell, from the Bell Law Group, told Newsweek: "It is acceptable for employers to ask an employee to donate time as long as it is phrased as voluntary. However, employees should not feel pressured to comply."
Bell said: "Some may appreciate that they are given the opportunity to assist fellow co-workers while others may feel pressured to donate against their will."
Employees being asked if they would like to donate time to a co-worker represents no legal issue, unless there is a negative impact of an employee declining to donate.
With more than 68,000 upvotes and over 4,600 comments, the notice horrified the internet and was overwhelmingly slammed.
One Reddit commenter wrote: "Your company's president is without honor."
Meanwhile, others shared similar experiences of being asked to donate their time to other employees.
"My old company was like this. I managed the accounting department and as a manager they wanted to make me walk around and ask employees to donate time," read one reply. "I refused. I said people can give their time if they so choose but I'm not asking anyone to do this."
"Seems like boss is asking the workers to unionize," posted another commenter on Reddit.
The picture of the request to employees was re-shared on Twitter, where it has been viewed more than 16 million times and received further negative reaction.
"Tell me you're an awful employer without telling me you're an awful employer," tweeted one commenter. Another Twitter user wrote: "It's not just about the leave it's about the deeply personal information just put out there for all to see."
On Reddit, another viewer of the letter wrote: "Or, you know, you as president and CEO, you can waive your magic wand for your 17-year employee."
"That is definitely an option," said Bell. "However, sometimes an employee is out for an extended time, and it can be used in combination. Also, leaving donations sometimes builds camaraderie in the workplace."
Elsewhere online, other users wrote that they didn't see too much of an issue with the request.
"Don't understand the outrage here," wrote one Twitter user. "This is common practice depending on the agency or a company's time and attendance policy."
Another commenter posted: "This is normal, we donate time for everyone who needs it into one big bank. Then the hospital gives it to people in need to have exhausted all other options."
Newsweek has reached out to u/blink_bridgette for comment. We were not able to verify the details of this case.
Have you had a workplace dilemma? Let us know via life@newsweek.com. We can ask experts for advice, and your story could be featured on Newsweek.