CERN Creating 'Stripped-down' Ventilator for COVID-19 Patients That Can Run on Batteries and Could Be Tested in Weeks
A team of experts at the European Organization for Nuclear Research (CERN) in Switzerland, the operator of the largest particle physics lab in the world, is developing a stripped-down medical ventilator for patients suffering with COVID-19.
Known as the High Energy Ventilator, or HEV, the device could be used to help treat patients with mild forms of the disease, or those who are in the recovery phase, freeing up more advanced machines for more severe cases. The design was proposed by a team of physicists from the LHCb (Large Hadron Collider beauty) experiment and has been designed with "ease of deployment in mind."
The device is based on components that are simple and inexpensive to source, and can be powered with batteries, solar panels, or emergency generators, making it easy to deploy in areas with limited resources.
The design, which complies with hospital standards and supports the most requested ventilator operation modes, will be published through the CERN Open Hardware License, meaning it can be produced wherever needed and adapted to local regulations anywhere in the world, the researchers say.
The ventilator is still in the prototype stage and still needs to be tested and verified by medical experts before it can be deployed. Hospital trials of the device are expected to begin later this month.
"We propose the design of a ventilator which can be easily manufactured and integrated into the hospital environment to support COVID-19 patients," the designers wrote in a paper published on the pre-print server arXiv.org describing the new device. "It is presented here to invite fast feedback for development and deployment in the face of the COVID-19 pandemic."
"The worldwide medical community currently faces a critical shortage of medical equipment to address the COVID-19 pandemic. In particular this is the case for ventilators, which are needed during COVID-19 related treatment at onset, during the intensive care phase and during the very extended recovery times. Companies are scaling up production, but this will not be sufficient to meet the demand according to the current forecasts," the authors of the paper wrote.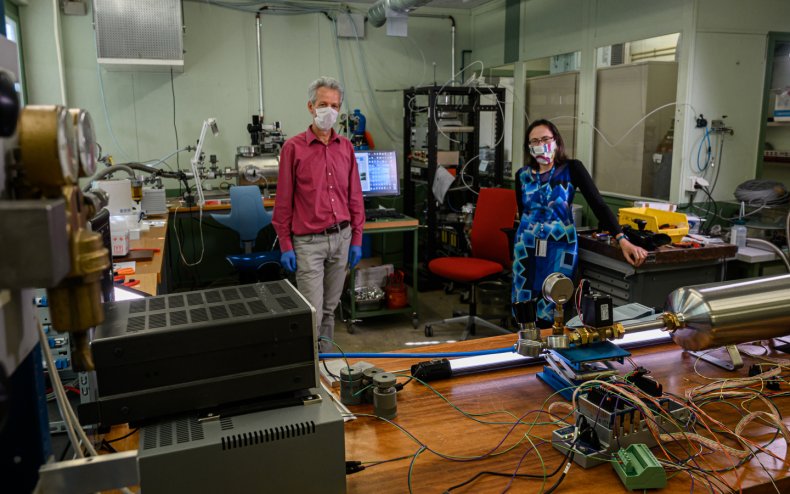 Ventilators deliver oxygen to the lungs of patients while removing carbon dioxide, helping to keep patients alive who have severe breathing difficulties. Given that the usual manufacturers are struggling to meet demand for these devices, various governments, educational institutions and companies that normally build other products, such as Dyson and General Motors, are now turning their attention to the production of ventilators.
The CERN LHCb physicists came up with the idea for the ventilator after realizing that the technology used to supply and control the flow of gas in particle detectors could be adapted to help patients suffering with COVID-19. Because the designers are physicists not medical experts, the team say it was important to seek relevant expertise from the start of the project.
"Here we have benefitted enormously from the experience and knowledge of CERN's HSE (occupational health & safety and environmental protection) group for medical advice, conformity with applicable legislation and health-and-safety requirements, and the working relationship with local hospitals," Paula Collins, one of the HEV team, told the CERN Courier.
"The team is also greatly supported from other CERN departments, in particular for electronic design and the selection of the best components for gas manipulation. During lockdown, the world is turning to remote connection, and we were very encouraged to find that it was possible in a short space of time to set up an online chat group of experienced anesthesiologists and respiratory experts from Australia, Belgium, Switzerland and Germany, which sped up the design considerably," she said.
The graphic below, provided by Statista, shows confirmed cases of COVID-19 in the United States.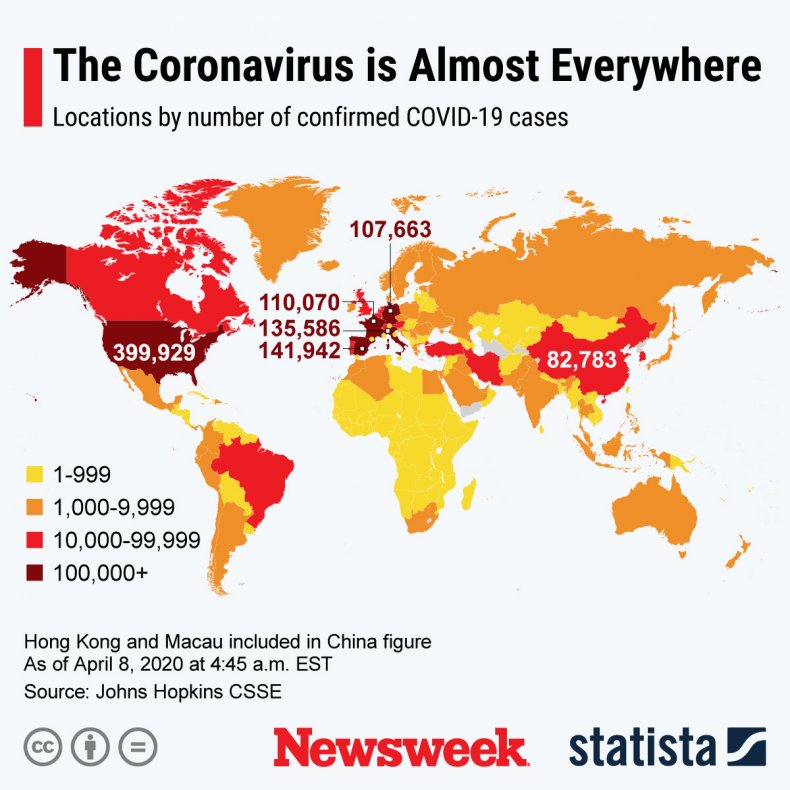 While CERN, home to the most powerful particle accelerator in the world (the Large Hadron Collider), is best known for its pioneering physics experiments, the organization set up a task force in March to support the worldwide response to the COVID-19 pandemic, drawing on the expertise of its 18,000-strong global community.
According to the organization, the "CERN against COVID-19" task force has already received hundreds of proposals from its community for ideas, including the novel ventilator design.
"CERN is a world leading laboratory in particle physics and in the related technologies. As such, it's a hub of resources, including the World-wide LHC Computing Grid, WLCG, mechanical workshops, sophisticated design and prototyping facilities, advanced technologies and expertise ranging from science and engineering to industrialization," CERN Director-General Fabiola Gianotti said in a statement.
"We want to deploy our resources and competences to contribute to the fight against the COVID-19 pandemic," she said.
In addition to the ventilator project, there are already other initiatives underway as part of CERN's response to the pandemic. These include the production of one tonne of sanitizer gel for local emergency response teams, and the production of protective equipment, such as face masks and Perspex barriers, for local law enforcement, using CERN's 3D printing facilities.
Furthermore, CERN experts are also investigating how the vast computing power within the particle physics community could be harnessed to boost the search for a vaccine.
"We have been very encouraged by the enthusiasm of the community to contribute," task-force chair Beniamino Di Girolamo said in a statement. "Ideas range from the deployment of CERN's powerful computing, engineering and technical resources, to assisting the local effort through logistical and emergency response support."
Centers for Disease Control and Prevention Advice on Using Face Coverings to Slow Spread of COVID-19
CDC recommends wearing a cloth face covering in public where social distancing measures are difficult to maintain.
A simple cloth face covering can help slow the spread of the virus by those infected and by those who do not exhibit symptoms.
Cloth face coverings can be fashioned from household items. Guides are offered by the CDC. (https://www.cdc.gov/coronavirus/2019-ncov/prevent-getting-sick/diy-cloth-face-coverings.html)
Cloth face coverings should be washed regularly. A washing machine will suffice.
Practice safe removal of face coverings by not touching eyes, nose, and mouth, and wash hands immediately after removing the covering.
World Health Organization advice for avoiding spread of coronavirus disease (COVID-19)
Hygiene advice
Clean hands frequently with soap and water, or alcohol-based hand rub.
Wash hands after coughing or sneezing; when caring for the sick; before, during and after food preparation; before eating; after using the toilet; when hands are visibly dirty; and after handling animals or waste.
Maintain at least 1 meter (3 feet) distance from anyone who is coughing or sneezing.
Avoid touching your hands, nose and mouth. Do not spit in public.
Cover your mouth and nose with a tissue or bent elbow when coughing or sneezing. Discard the tissue immediately and clean your hands.
Medical advice
Avoid close contact with others if you have any symptoms.
Stay at home if you feel unwell, even with mild symptoms such as headache and runny nose, to avoid potential spread of the disease to medical facilities and other people.
If you develop serious symptoms (fever, cough, difficulty breathing) seek medical care early and contact local health authorities in advance.
Note any recent contact with others and travel details to provide to authorities who can trace and prevent spread of the disease.
Stay up to date on COVID-19 developments issued by health authorities and follow their guidance.
Mask and glove usage
Healthy individuals only need to wear a mask if taking care of a sick person.
Wear a mask if you are coughing or sneezing.
Masks are effective when used in combination with frequent hand cleaning.
Do not touch the mask while wearing it. Clean hands if you touch the mask.
Learn how to properly put on, remove and dispose of masks. Clean hands after disposing of the mask.
Do not reuse single-use masks.
Regularly washing bare hands is more effective against catching COVID-19 than wearing rubber gloves.
The COVID-19 virus can still be picked up on rubber gloves and transmitted by touching your face.