Cersei Lannister's Death 'Gutted' 'Game of Thrones' Star Lena Headey
Game of Thrones' final season was controversial at best, with critics and fans remarking it was rushed and some main characters didn't get the deaths they deserved. Lena Headey, who famously portrayed Cersei Lannister in the worldwide phenomenon, felt the same way about her character.
During a Monday interview with The Guardian, she didn't criticize the way GOT showrunners David Benioff and Dan Weiss, the writers who adapted George RR Martin's books for Season 8 on HBO, though she did want more for Cersei.
"I will say I wanted a better death," Headey, 45, told The Guardian.
In the penultimate episode of the series, Daenerys Targaryen unleashes her wrath on King's Landing, burning it to the ground with Drogon's fiery breath. Cersei was crushed by falling stones while being held by her twin brother-turned-lover Jaime (Nikolaj Coster-Waldau). Not only was it underwhelming, it was almost unbelievable, with some fans waiting to see Cersei come back in the final episode. After all, Cersei was one of the baddest villains, she deserved more than to simply be crushed by some falling rocks.
"Obviously you dream of your death," she told the publication. "You could go in any way on that show. So I was kind of gutted. But I just think they couldn't have pleased everyone. No matter what they did, I think there was going to be some big comedown from the climb."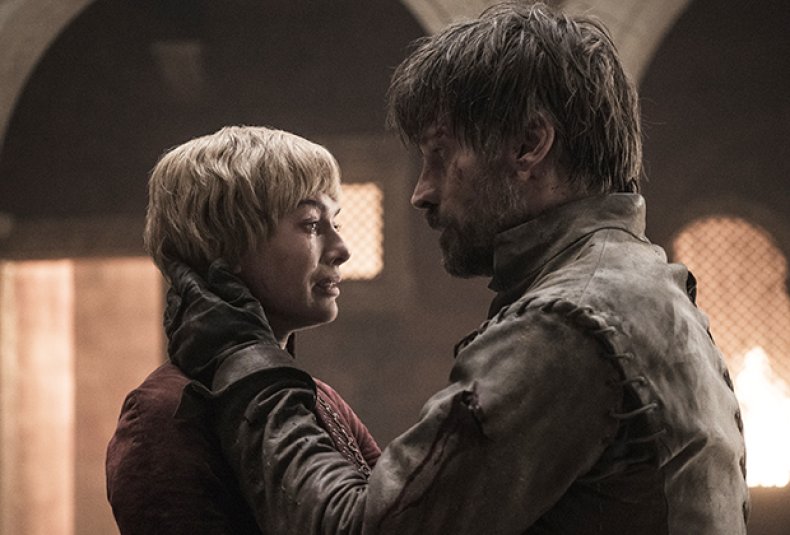 Coster-Waldau defended the writers in an interview with EW.com in May, saying the death of the Lannister twins was "a great ending for that couple." But the death came quickly after they twins meet up. Coster-Waldau wanted his character to have "more stuff with Cersei once they finally meet in the climax. But there are a lot of characters in this show," he told the publication.
While some of the former cast members have struggled with life after Thrones—Kitt Harington entered rehab at a luxury treatment facility—Heady, who has been acting for three decades, is a professional at moving on from jobs.
"When I was much younger I would weep every time I ended a job," she said, "and I would take everybody's phone number, every single person I'd ever said hello to, because it had been such an intense experience. And then you get older and you have more of those experiences and they become less intense. I think the guys who grew up on that show, they probably formed really deep friendships that will carry them through. But most of us have our own kids. If kids don't balance you, then nothing does."
With all those years in Hollywood, it doesn't mean she doesn't occasionally doubt herself. "You have to push away the voice that goes, 'You're fucking shit, mate,'" she told The Guardian with a laugh, "which is really hard some days."