Certain Areas Hit Hard by Coronavirus Like New York Will Take Longer to Reopen, Treasury Secretary Mnuchin Says
On Wednesday, Department of Treasury Secretary Steven Mnuchin stated that certain areas across the U.S. which have been hit hard by the coronavirus will take longer to reopen from a financial and economic perspective.
"My expectation is that we'll be opening it up based upon medical conditions," Mnuchin said when asked about how he would prioritize reopening the economy in different states, while appearing on CNBC's Squawk on The Street. "So, obviously we'd like to open up as much GDP as we can, but my expectation is that places like New York are gonna take a little bit longer."
Mnuchin referenced New York as it is both the financial capital of the U.S. and the county's coronavirus epicenter. According to a tracker provided by Johns Hopkins University, there are over 140,000 coronavirus cases in New York and at least 12,911 deaths.
In an effort to combat the spread of the virus, governors across the country have implemented several different social distancing and stay-at-home policies, which include closures of nonessential businesses as well as forcing restaurants to offer only take-out options. While these measures have helped to slow the spread, they have had a negative impact on the economy, causing over 10 million Americans to file for unemployment in recent weeks.
While New York has continued to see an increase in coronavirus cases, some other states have been able to drastically slow the spread, and Mnuchin suggested that these states could open their economies sooner.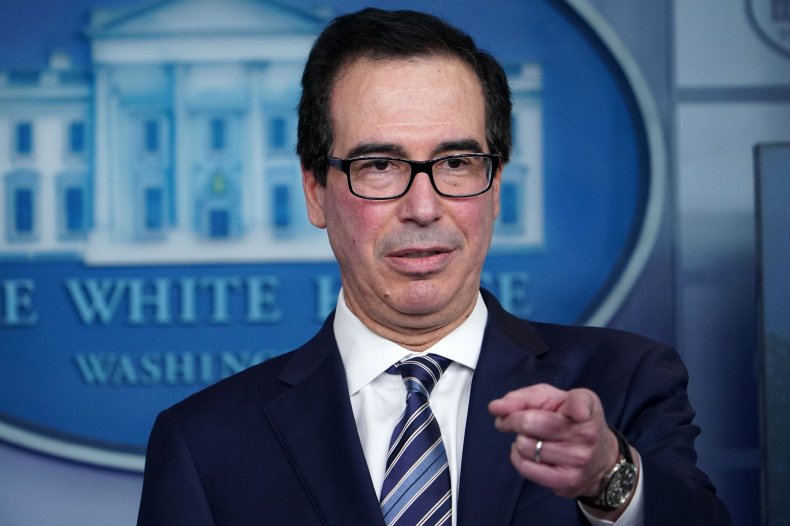 "There's many areas that have very little disease and have been very effective at combatting this, so I think we'll be looking at it on a medical basis," Mnuchin added.
Mnuchin's comments come just a day after similar ones were made by Larry Kudlow, the director of the U.S. National Economic Council, while speaking with reporters outside the White House.
"We are looking to reopen the economy as soon as we can, but we got to get a green light from the health folks," Kudlow said.
Health officials have yet to give a specific date in regard to reopening the economy, but President Donald Trump recently pushed his expected date back to the start of June. While appearing Fox News' Hannity, Trump said he wants the U.S. economy to reopen with a "big bang," but recognized that the timeline of could be different across various states.
"You know, there are some areas that are not affected very much and there are other areas like New York and New Jersey that have a tremendous impact," Trump said. "We're looking at two concepts. We're looking at the concept where you open up sections and we're also looking at the concept where you open up everything."
The novel coronavirus, which causes the respiratory disease COVID-19 has continued to spread throughout the U.S. According to the tracker, there are over 399,900 confirmed cases in the U.S. and at least 12,912 deaths.