Digital Voyeurism at CES: A Dose of Tech Porn and Purse-Snatching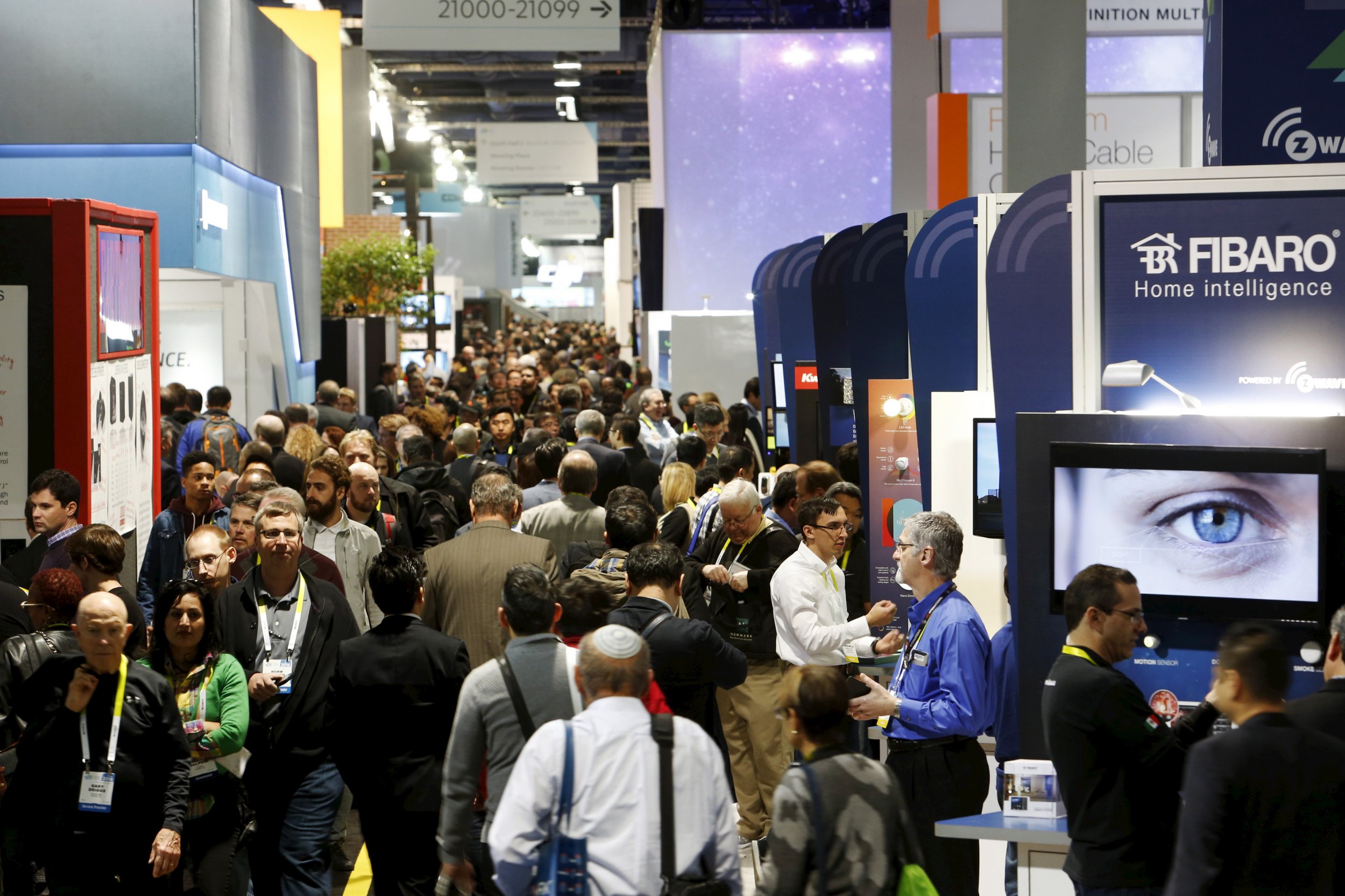 Whenever the new year rolls around, I am faced with a moral dilemma: whether or not to attend the Consumer Electronics Show (CES) in Las Vegas, subjecting my soul (and the soles of my feet) to a 72-hour marathon walking the aisles of the 2.2 million square feet of exhibitor space. I know, I don't qualify for a Purple Heart, but I have probably logged a good 500 miles on these tired old dogs at CES, and that must earn me something—a Fitbit activity tracker and a bottle of Evian water, maybe?
Worse yet, the four-hour drive from Los Angeles was plagued by a rare rainstorm this week, meaning I was risking life and limb in the name of digital voyeurism, rubbery shrimp cocktails and enough useless business cards to start a major wildfire. And all for what, pray tell? To bear witness to a civilization's obsession with progress at any cost, to all that flickers and beeps and tracks you whilst you sleep.
Though I was tempted to turn my car around and thus avoid spiritual calamity, I soldiered on as did brave Odysseus, tied to the mast of my digital desires, unable to resist the Siren's call of microchip gewgaws and 3-D printers. That CES takes place in Las Vegas makes for a double dose of undiluted mammon—the town the Mafia created out of murder and money-laundering is a perfect place to display the wares of an epoch dedicated to profligate consumption, conspicuous or otherwise.
And just when I thought I'd drown in a tepid pool of my own cynicism and ennui, I met a young man from Texas who restored my faith in people over things. Seth Leu of Blue Tiger—a company that makes noise-canceling Bluetooth headphones for big dudes in big rigs—chased down a would-be purse-snatcher in old downtown Vegas and choke-held the wastrel till the constabulary arrived.
"It was my first day ever outside of Texas," the young customer-service team leader said with a 10-gallon smile. "I had no idea what to expect coming to Las Vegas for the first time." The modest Blue Tiger booth was down in the deeper boondocks of the convention center's South Hall, so Seth was surrounded on all sides by tiny companies from Shenzhen, China, and their young, barely English-speaking sales reps. One wonders how they survive making knockoffs of knockoffs, from tablets to smartphones to drones to wireless speakers, ad infinitum.
I was soon thereafter forcibly but charmingly detained by one Kenny Tu of Hon Hai Technology Group, who showed me a power-extending iPhone case (à la Mophie) with built-in retractable headphones so strong he picked up a steel stool with the wire. Impressed by this bit of impromptu theater of the absurd, I asked about the manufacturer, which turned out to be Foxconn, the Golden Gate Bridge of workers so beleaguered by their soul-killing gigs they were jumping off the factory roof in droves four years ago. Compassion reigned in the wake of said tragedy as the company installed nets to catch its workers mid-flight. Where's a digital-era Dickens when you need him?
Lest anybody get depressed as I am writing this somber travelogue, let me change gears and tell you about something rather gay and fanciful: CleverPet—a game console for dogs. That's right, your bored analog animal need not be jealous watching the kids lasering alien invaders to bits anymore—not when he can use his paws to play pattern-recognition games that yield bits of dry food when executed correctly. The downside? Your high-tech hound may never fetch another tennis ball in the backyard. Hard to keep them down on the farm after they've gone all interactive on you.
Speaking of the back 40, for the next time you're out trimming trees and whacking weeds, Black & Decker's new Smartech battery comes replete with Bluetooth capability that will let you know (via your smartphone app, of course) how much juice you have left and where the heck you left the danged thing after falling asleep on the job; it even provides a digital kill switch to foil the erstwhile power thief. All that and a USB port to charge the device you need to keep track of the battery.
What's next, the smart snow shovel that plays Adele's "Hello" when you're about to keel over with a heart attack? Stay tuned.