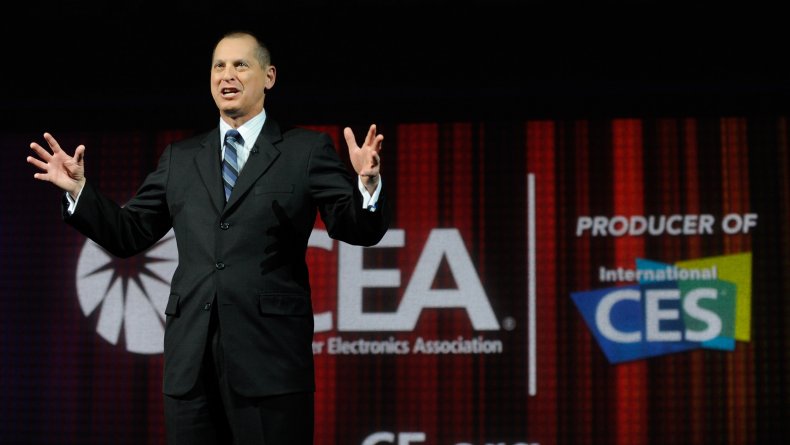 The CEO of the Consumer Technology Association (CTA), Gary Shapiro, discussed the controversy that arose after the organization announced that Ivanka Trump would be a keynote speaker at its upcoming 2020 International CES tech exposition.
Shapiro defended the decision to bring Trump onto the keynote stage, where she will discuss the government's role in how the improvement of technology will impact the job market.
"There's a lot of focus on jobs of the future, and certainly the keynote that I'll be doing with Ivanka Trump will be focusing on... how industry is working with government on this very important issue," Shapiro told the BBC.
Seeking further comment, Newsweek reached out to the White House via email and Shapiro via LinkedIn, but did not receive replies before publication.
In a press release published on December 23, the Consumer Technology Association announced that Trump, who is both President Donald Trump's daughter and senior adviser, would be participating in the exposition as a keynote speaker. Shapiro will interview her on the first day of the expo, January 7, in Las Vegas. Specifically, they will talk about "employer-led strategies to re-skill workers, create apprenticeships and develop K-12 STEM education programs."
The announcement was almost immediately met with criticism, as some alleged that Trump was unqualified to speak at CES because her professional background is primarily in business, not technology. Before becoming the president's senior adviser, Ivanka Trump was the executive vice president of The Trump Organization.
Rachel Sklar, a technology and media journalist, summed up much of the criticism leveled against the Consumer Technology Association in a tweet she wrote on December 30:
"This is a terrible choice on so many levels but also - what an insult to the YEARS AND YEARS of protesting how few women were invited to keynote & being told it was a pipeline problem while similarly-situated men were elevated," Sklar wrote. "There are so many great, qualified women. Shame."
In a statement shared with Newsweek, CTA said that it invited 200 policymakers from around the world to CES and reiterated that it invites members of every presidential administration–whether they be Republicans or Democrats–to participate.
"Life-changing tech innovations – from artificial intelligence to drones to self-driving vehicles – will create countless new jobs, and our industry has a responsibility to prepare American workers for the jobs of the future," the statement read. "Advisor to the President Ivanka Trump leads the White House efforts on job creation and economic growth through workforce development, skills training and entrepreneurship – and she will address them directly at CES 2020."
In his interview with the BBC, Shapiro said that CES has always sought out members of presidential administrations to speak. He further noted that Trump would be familiar with the tech industry's influence on the job market, as she serves as a co-chair of "the American Workforce Policy Advisory Board, whose members include companies like Apple, Walmart and IBM."
CES, which produced by the Consumer Technology Association, is an acronym that stands for "consumer electronics show." According to its official website, CES has attracted more than 170,000 attendees from 160 nations and exhibits more than 4,000 companies, "including manufacturers, developers and suppliers of consumer technology hardware, content, technology delivery systems and more."
The 2020 International CES will take place in Las Vegas, Nevada, from January 7 to January 10.
Update 5:54 PM ET, with part of a statement from the Consumer Technology Association.