CFDA/Vogue Fashion Fund Holds First Fashion Week Presentation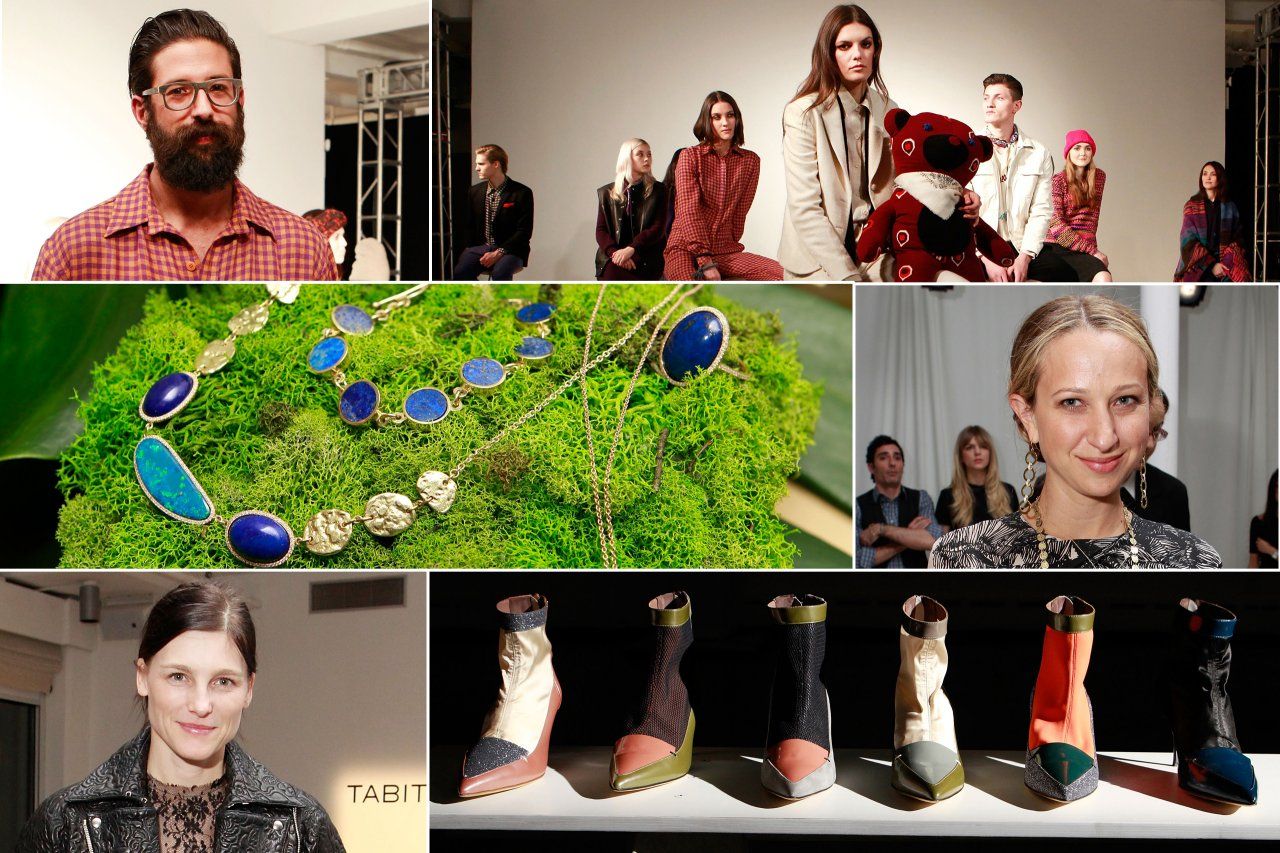 The CFDA/Vogue Fashion Fund, an annual competition that aims to bring funding, mentorship, and exposure to emerging fashion design talent, hosted its very first New York Fashion Week presentation on Friday evening at Milk Studios. Over the past 10 years the fund, spearheaded by Vogue's Anna Wintour and the CFDA, has nurtured designers as acclaimed as Proenza Schouler, Derek Lam, and Alexander Wang. And last evening was 2012's finalists' turn to ramp up the heat.
Winner Gregory Chait of knitwear brand the Elder Statesman and runners-up Jennifer Meyer of Jennifer Meyer jewelry and shoe designer Tabitha Simmons all showed their Fall 2013 collections to swarms of eager buyers, editors, and executives from Milk's eighth floor. "It's 10 years this year that the fashion fund has been going on and in the beginning the designer would win the money and a mentor and that was it," the CFDA's CEO Steven Kolb explained, "but what we've realized is that the value of fashion fund isn't just the year that you are in it … It's kind of like winning an award for a movie when all of a sudden all of this stuff starts coming your way. It's raised the bar for New York fashion and added a whole new group of innovative designers. It's a game changer for American fashion."
The evening served as a first wide-lens look at the designers' development since their wins were announced in November—an initial view at how talent can fledge under the guidance of all-star mentorship and monetary support. For top prizewinner Gregory Chait, that meant dipping his Elder Statesman line further into the worlds of womenswear and shirting. "We've been developing these fabrics for a very long time," Chait explained of the twill pashmina whose light weight allowed him to cut tailored pieces and button-downs with a soft, drapey aplomb. A classic eggshell suit for women was polished, yet still indicative of Chait's articulated West Coast sensibility—he even scented the room to make guests feel as if they were by the ocean. But the sensory experience didn't end there. Looming in the presentation space's corner was a 12-foot, $100,000 cashmere teddy bear that Chait created because "the Elder Statesman is not just about how it looks but it's also about how it feels. We were looking for a way to execute that, short of 400 people touching the models."
In a neighboring room, Jennifer Meyer showed her newest creations among a setting of lush palm fronds. For Meyer, who's sold her delicate array of fine jewelry in stores like Barney's New York since 2004, the fund offered an opportunity to look outside of her already well-established box. "To be honest, it gave me the confidence to step outside of my comfort zone and try new things and experiment," she explained of the experience. Once solely revered for her tiny gold pendants, Meyer's recent efforts have exhibited an adept hand at colored stones and sophisticated geometric shapes. As her husband, actor Tobey Maguire, circulated the floor with his Great Gatsbyco-star Leonardo DiCaprio, she waxed poetic about a different celebrity. "I have the most incredible mentor, Diane Von Furstenberg. I scored so big time I can't even tell you … within the first week of me becoming runner-up she spent three hours in my office. She filled a book of notes … Her advice is incredible."
The fund's final 2012 class member, Tabitha Simmons, occupied Milk's largest block of space in an elegant room overlooking the Hudson, which she filled with industry luminaries like J.Crew's Jenna Lyons, buyer Ikram Goldman, and designer Tory Burch. "Looking at Tabitha, who I think is one of the most talented footwear designers out there, it's really exiting to see that she was a finalist and now you can come see her presentation here," Burch said of Simmons, who created the shoes for her Fall 2013 collection. Simmons, who's long served as a Vogue contributing stylist, leaned toward a bit of the Ziggy Stardust magic for fall by peppering her classic shoes with electric glitter and rhinestones. "I think what we've done is expand," she enthused of her brand in post-fund mode between takes of congratulatory praise from Goldman and beyond.