Chabad of Poway Shooting Victim's Husband Fainted When He Realized He Was Performing CPR on Wife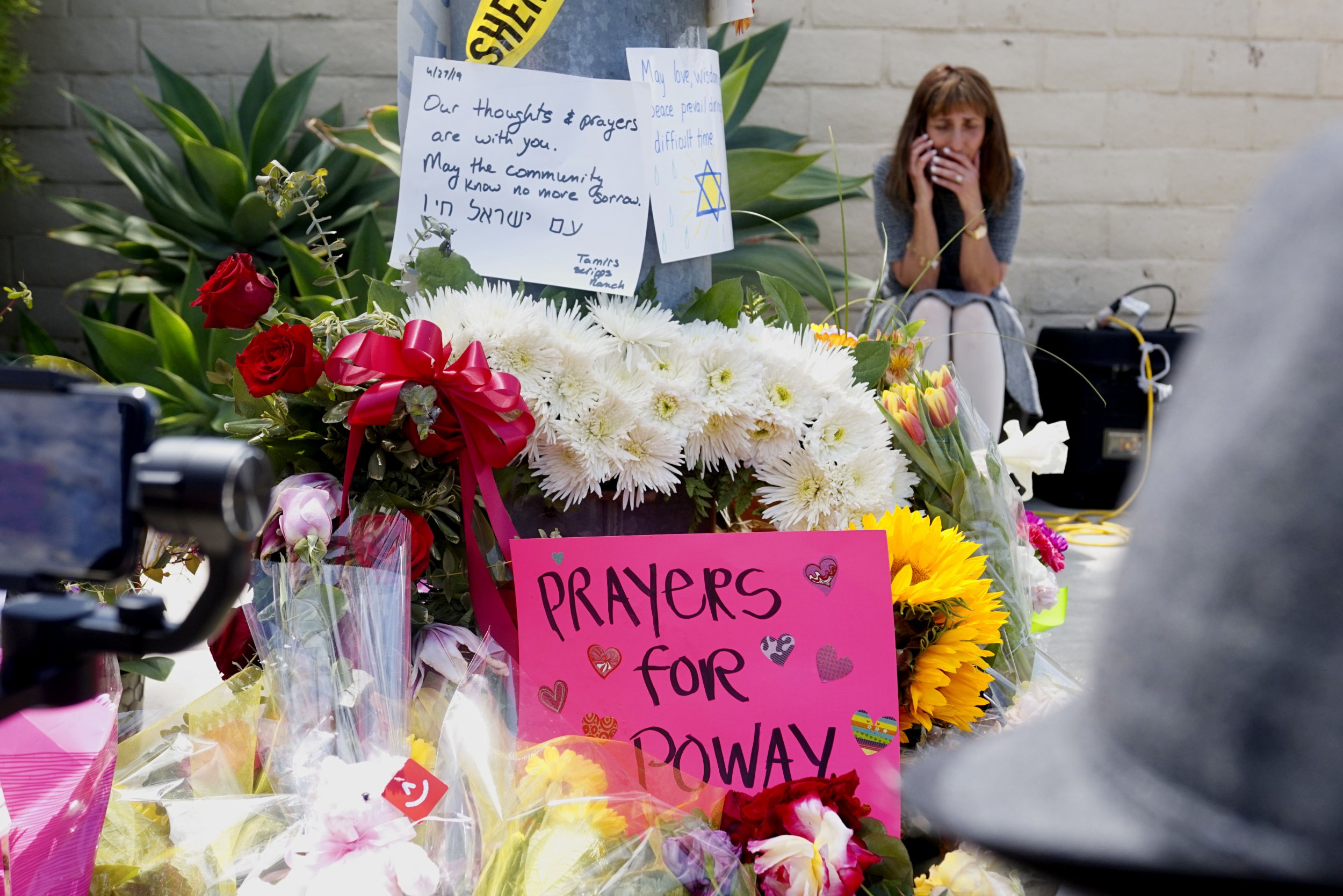 Lori Gilbert-Kaye was shot when a man opened fire at a synagogue in Poway, California, on Saturday and when the man performing CPR on her realized it was his wife, he fainted.
The alleged shooter, identified as John T. Earnest, 19, entered the Chabad of Poway synagogue with a rifle on Saturday, the last day of the Jewish holiday Passover, around 11:30 a.m. PDT. Kaye was killed and three others, including an 8-year-old girl, were injured. Saturday's shooting occurred six months after 11 people were killed during a shooting at the Tree of Life Synagogue in Pittsburgh.
"We are a Jewish nation that will stand tall, we will not let anyone or anything take us down. Terrorism like this will not take us down," Rabbi Yisroel Goldstein said during a press conference.
During a gathering at Kaye's home on Saturday afternoon, Goldstein told Dr. Roneet Lev, a physician at Scripps Coastal Medical Group, that Kay threw herself in front of him, the San Diego Tribune reported. Goldstein sustained injuries to his fingers and credited Kaye with possibly saving his life.
"She died to protect all of us," Goldstein said at a press conference. "She didn't deserve to die right in front of my eyes."
When the gunshots started, service attendees called Kaye's husband to help victims, the San Diego Tribune reported. While performing CPR on one of the victims, he realized it was his wife and fainted.
Lev characterized Kaye as a "people person," who consistently did good deeds. She was at the synagogue to say Kaddish, the Jewish prayer for the dead, for her mother. Lev told the San Diego Tribune the irony of the situation is that now people will be saying Kaddish for Kaye.
"God picked her to die to send a message because she's such an incredible person," Lev said. "He took her for a higher purpose to send this message to fight anti-Semitism."
Officials called the shooting a "hate crime" and Earnest allegedly penned a manifesto saying he was inspired by the Christchurch, New Zealand, mosque and the Tree of Life shooters. After he fled the scene, an off-duty border patrol agent fired at him and struck his car.
San Diego Police Department officers located the suspect and arrested him without incident.
"My deepest sympathies go to the people that were affected," President Donald Trump told reporters on Saturday. "At this moment, it looks like a hate crime. Hard to believe, hard to believe."
Correction: An earlier version of this story mistakenly identified Dr. Roneet Lev as Kaye's husband.