Chad Daybell Charged With Evidence Destruction And Concealment After Human Remains Found On His Property
Local authorities have charged Chard Daybell with two counts of evidence destruction and concealment after officers discovered two sets of human remains on his property while executing a search warrant on Tuesday.
The Rexburg Police Department confirmed the discovery of the human remains via a press release obtained by Fox 10 News reporter Justin Lum.
The police did not confirm any other information about the remains, just that "autopsy results are pending" and that they were working to notify family members once the remains have been properly identified.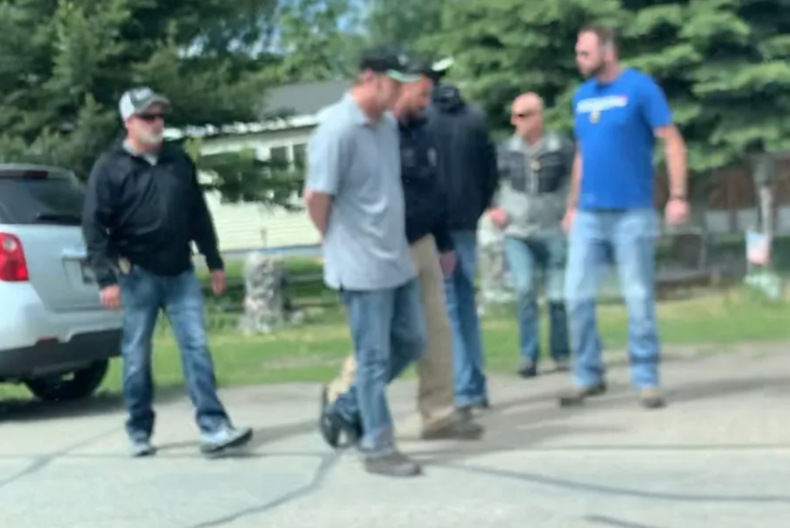 In another tweet, Lum shared two criminal complaints filed by the state of Idaho against Daybell, in which he is charged with two counts of "destruction, alteration or concealment of evidence."
Daybell and his wife, Lori Vallow, have been the subject on an ongoing investigation into Vallow's missing children, 17-year-old Tylee Ryan and 8-year-old J.J. Vallow. The two children have not been seen since September 2019. J.J. was last seen on September 23 when Vallow removed him from school, telling the principal she intended to homeschool her son. The last known sighting of Tylee was on September 8 during a trip to Yellowstone National Park with Vallow, J.J. and her uncle, Alex Cox.
Daybell, the author of several religious doomsday novels and the host of a related podcast, and Vallow were married in November 2019, less than two months after the children went missing, and two weeks after his first wife, Tammy Daybell, died.
Authorities began looking for the children in November, following a welfare check request by relatives who said they hadn't spoken to J.J. in months, but Vallow told the authorities that her son was visiting other relatives in Arizona.
Vallow was arrested on February 20 in Kauai, Hawaii, after she missed court dates and failed to turn the children over to authorities. She was extradited back to Idaho shortly after her arrest and remains in an Idaho jail on charges of child desertion and contempt of court in connection with the children's disappearance.
A friend of the couple, Melanie Gibb, recently told EastIdahoNews.com, that she was asked by the two to lie to authorities and say the children were with her.
In addition to the children's disappearance, both Daybell and Vallow's previous spouses recently died. On October 19, Tammy Daybell reportedly died in her sleep, however, no autopsy was performed. The Idaho Attorney General is currently investigating her death and her body has been exhumed.
Vallow's previous husband, Charles, died on July 11 after he was shot by Cox, which was described as an act of self-defense. Cox died in December 2019 of natural causes.
Newsweek reached out to the Rexburg Police Department for comment but did not receive a response in time for publication.
This is a breaking news story and will be updated when more information becomes available.