Chad Hedrick Says Becoming The World's Top Speed Skater Turned Him Into 'A Monster'
Chad Hedrick won a lifetime's worth of Olympic speed skating medals 15 years ago at the Turino Winter Games, claiming one gold, one silver and one bronze. No one really knew how disappointed Hedrick felt, nor how empty his life was, as he left Italy to return home. Not even Hedrick himself.
Hedrick says it's a feeling that top athletes get, whether it's an Olympic gold medal, a Super Bowl championship, a world record or anyone who reaches the top of their craft. It's a feeling of both emptiness and loneliness. It's a dejection of friendships and sometimes not understanding how to be a better father or mother, or even a better daughter or son.
It's something he rarely talks about when recounting his prowess as an athlete who eventually glided into the National Speed Skating Hall of Fame. He won five Olympic medals in speed skating, endless medals at inline skating and youth roller skating championships from the time he could walk.
He regrets the path it took him on, but he doesn't regret where it's gotten him to this day. He's a better family man, a better father and a better person because his pursuit of excellence in sports made him neglect all of those duties beforehand. And he's the first to admit it.
The Texan entered the 2006 Winter Olympics with the highest of expectations, perhaps possibly able to match a feat of winning five speed skating gold medals at one Games—something only one other American achieved when Eric Heiden did it at the 1980 Lake Placid Winter Olympics.
Hedrick won just one gold medal in 2006, which was Team USA's first gold medal of any sport in Turino, when he took first place in the 5,000 meter-race. He wasn't teary-eyed or overjoyed as he stood on the medal podium, he recalls. Then, he placed third in the 1,500 meters and second in the 10,000 meters.
"I wasn't real satisfied because I was looking through a different lens," Hedrick said. "I didn't understand that silver and bronze in the whole world was a great accomplishment."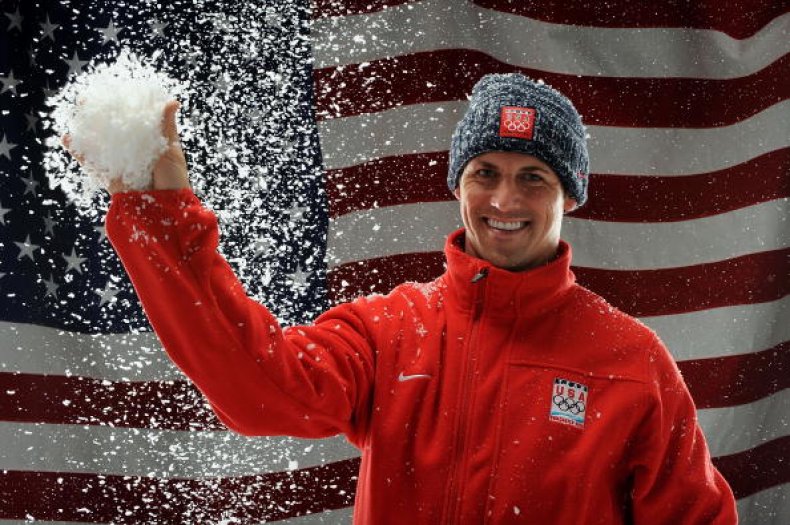 It wasn't in his DNA to lose. It never crossed his mind, because he never lost races from the time he first strapped on roller skates at the family roller rink in Houston not long after he learned to walk. He went from roller skates to inline skating, where he won 52 world championships and more than 90 national titles, becoming the most-decorated inline skater in history before switching to speed skating.
Ever since he won his first roller skating national championship at age 8, he wanted to be the fastest skater in the world. It was engrained in him that finishing second place was merely the "first loser."
Fifteen years after he won gold in the 5,000-meter race at those Olympics in Italy, Hedrick reflects on miscues in his life from back then. There was a lack of friendships, a lack of faith and a lack of looking beyond what he had just accomplished.
"It didn't feel as good as I thought it was," Hedrick recently told Newsweek. "As a man, I was defined on how fast I could go on speed skates. With that, there were a lot of things I did, a lot of manipulation around me. There was a lack of building great relationships around me.
"I was the fastest one who put on skates every day for 30 years. If I didn't win, then something was wrong. It was a very crazy moment for me to realize. This moment doesn't feel as good as I thought it would."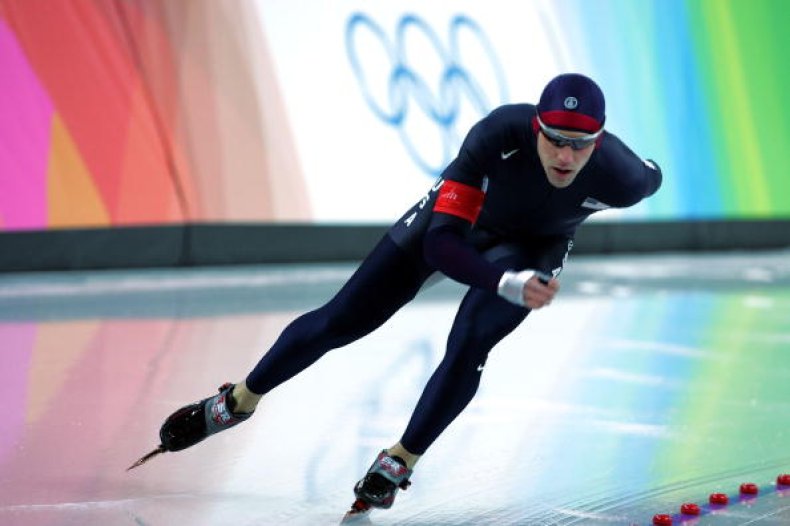 Photos from the 2006 Turino Olympics show Hedrick smiling while he donned his medals, but the 2021 Hedrick admits the emptiness inside him felt like an avalanche had already swept away any emotions or soul that should have been there.
"I was a monster, man," Hedrick said. "I wanted to win that gold medal so bad. I used a lot of people for my personal gain. There was not a lot I was proud of. Within a year or two that experience helped me to become a more grounded person."
Hedrick said top-level athletes and successful people can often feel a sense of emptiness, despite how great things appear from the outside looking in.
"I think a lot of people watch top-level athletes of any sport, and I think—not just athletes, CEOs or whoever is the best in their field—people look at them and think that things are just great," Hedrick said. "Sometimes these people that are great at what they do, and are idolized by people or respected by certain groups. But they have a lot of struggles you wouldn't think they had.
"There's a lot of stories behind the gold medal, Lombardi Trophy and Nobel prize, and not all of it is peaches and cream."
Hedrick said the experience taught him a lot, and that it made him become a better dad, husband, son and friend.
"There's a double-edge sword in order to be the best in the world at anything you have to have more competitive spirit. There's a very, very fine line because that pride can take over your life if you let it."
Hedrick took a year off after Turino, and then tried working his way back onto Team USA for the 2010 Vancouver Winter Olympics. The year off hindered his training, and then he had hip surgery just before Vancouver.
"I went down in the dumps and had to claw back to a high level. Coming back is not an easy thing," Hedrick said. "It was a challenging, challenging time. I was able to get a silver and a bronze in different events I hadn't focused on before."
He won a silver medal in the team pursuit at Vancouver and a bronze in the 1,000 meters. Hedrick retired from speed skating after the 2010 Winter Olympics, and he found what left the void within him. He became a man of faith.
"I became closer to God," Hedrick said. "I realized there was gonna be no fulfillment. If I could accomplish the goal of a lifetime, and my soul was empty, then what will fulfill me? I came to the realization there's nothing I can do. A lot of humility came out."
Having a career deadset on being the fastest skater in the world left Hedrick little direction for a career after sports. He completely walked away from skating, which meant no coaching or opening schools. It meant dabbling in the Houston-area oil and gas industry, and eventually real estate, which he does to this day in his business Gold to Sold Group.
He now hopes to stand back on the podium as the best in his field, and he said all the lessons learned in athletics could help push him to the top.
"I use all the things I learned in sports to accomplish my goals one at a time," Hedrick said. "I'm just trying to get back on that podium of being the best."
A life of achieving gold medals has led Hedrick to a golden era in his own life. He's found faith and a family foundation. He's found something through his Olympic journey that's not well-chronicled.
He's found happiness.