Who is Chad Kelly? A Look at the Denver Broncos QB, Jim Kelly's nephew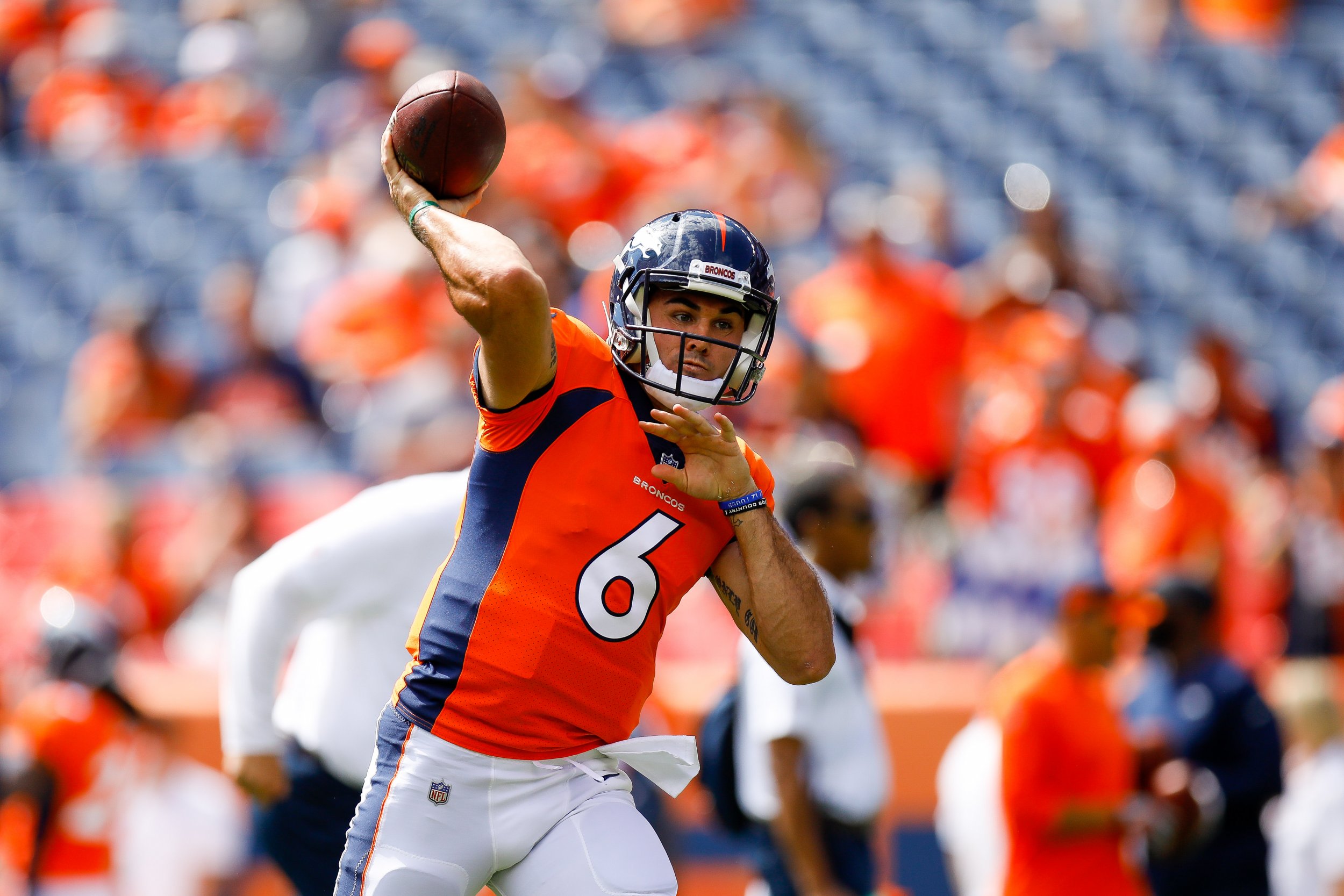 When an NFL team struggles, the backup quarterback is typically the most popular player among its fanbase. The Denver Broncos (2-4) are no exception to this situation as Case Keenum has fallen short of expectations set by his two-year, $36-million contract this past offseason.
Fans booed Keenum during Sunday's 23-20 loss to the Los Angeles Rams at Mile High Stadium, which saw him throw two more interceptions, giving him a total of seven for the season.
Many have lost faith in the quarterback, who helped lead the Minnesota Vikings to an NFC Championship Game appearance during an uncharacteristic career-season in 2017 and are already clamoring for a replacement.
Enter Chad Kelly, who might be the most interesting backup quarterback in the NFL.
If his last name sounds familiar, it's because he's the nephew of Pro Football Hall of Fame quarterback and Buffalo Bills legend Jim Kelly. As a high school senior, he ranked as the No. 5 dual-threat quarterback, No. 2 player from the state of New York and the No. 187 overall prospect for the 2012 national recruiting cycle, according to the 247Sports Composite.
As a freshman, Kelly posed a legitimate threat to win the incumbent starting quarterback job over sophomore Cole Stoudt and five-star freshman Deshaun Watson.
However, the former blue chip prospect quickly made headlines for his off-field antics, which included being dismissed by Clemson due to a minor fender-bender in the team parking lot and spending the second half of the Tigers' 2014 spring game yelling at coaches, according to The Post and Courier's Aaron Brenner.
Kelly enrolled at East Mississippi Community College -- which would later be featured on Netflix's Last Chance U series -- in 2015, where he threw for 3,906 yards and 47 touchdowns while leading the Lions to a JUCO national championship.
After ranking as one of the nation's top JUCO transfer prospects, Kelly signed with Ole Miss in December 2014, but was arrested days later for an incident outside a bar in Buffalo, N.Y. after allegedly telling a bouncer he was going to get his AK-47 "and spray this place."
He was also involved in an incident during his brother's high school football game in which he had to be restrained on the sideline from getting involved in an on-field fight that broke out.
Even still, Kelly emerged as arguably the best quarterbacks in the SEC during his two seasons at Ole Miss. He led the conference with 4,042 yards and 31 touchdowns during his first season in 2015 and finished averaged a conference-best 306.4 yards per game in 2016.
Kelly's starpower grew so large in Oxford that he was dubbed "Swag Kelly" and was possibly responsible for the city getting its first Chipotle restaurant just by tweeting about wanting one in the area, a plea that was granted two years later.
But Kelly's senior campaign was cut short due to a torn ACL injury which, along with his off-field issues, led to him becomming "Mr. Irrelevant" as the last overall pick in the 2017 NFL Draft.
Broncos general manager and executive vice president John Elway confirmed that he was given the benefit of the doubt about the quarterback by his uncle Jim, who told claimed his nephew was "a good kid" leading up to his selection.
Kelly hasn't started a game since being drafted No. 253 overall, but looked impressive during his second training camp and preseason in 2018. That -- along with Keenum struggles -- led to fans exploding when he appeared in the final seconds of the second half during Sunday's game, although not throwing a single pass and exiting after halftime.
It's obvious Broncos fans want Kelly to be Keenum's replacement amid the starter's struggles through his first six games. And really, what else does Denver have to lose?
The Broncos are currently third place and sit three games behind the Kansas City Chiefs in the AFC West standings. The fanbase has already turned on Keenum and it doesn't seem like he's going to match the magic of his 2017 season.
While Kelly may have been a distraction at times during his college career, there hasn't been a single instance of off-field issues during his first two NFL seasons.
His talent has never been questioned. If he remains a model citizen, Kelly has the potential to be an NFL starting quarterback.
That may even happen in Thursday's primetime matchup against the Arizona Cardinals (1-5). Kelly's chances of replacing Keenum are more likely if the starter can't perform well in what should be a very winnable game.
Although Broncos coach Vance Joseph confirmed that he plans on sticking with Keenum, that that could change depending on his performance.
It seems like it's only a matter of time before Kelly gets his chance to be Denver's starting quarterback.