Chad Wolf's Nomination Hearing Set for Next Week After Reports He Was Illegally Appointed
Acting Secretary of Homeland Security Chad Wolf is next week scheduled to appear before the Senate for a nomination hearing to make his position permanent amid allegations that he was illegally appointed to his temporary role.
The Senate Homeland Security and Governmental Affairs Committee announced on Friday that a nomination hearing for Wolf would be held on the morning of September 23. Wolf will be introduced at the hearing, which will be held in person and via videoconference, by Senator Ted Cruz (R-Texas).
President Donald Trump officially submitted his nomination for Wolf to serve as permanent secretary of homeland security on September 10. The previous month, the Government Accountability Office (GAO) issued a report that found Wolf was serving illegally as temporary secretary, while on Monday a judge ruled that he had assumed the role "without lawful authority."
Wolf was made acting secretary in November 2019 following the resignation of Kevin McAleenan, the previous acting secretary, who had been in the role for six months.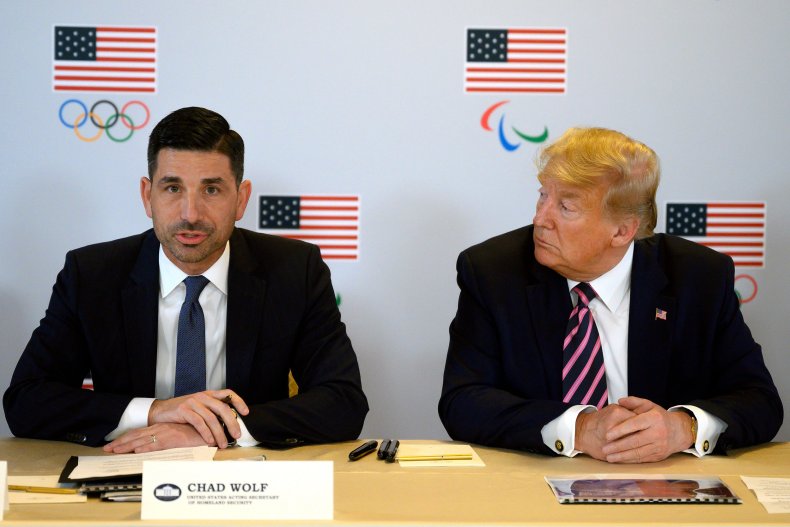 The GAO report found that McAleenan and Wolf, along with Senior Official Performing the Duties of the Deputy Secretary of Homeland Security Ken Cuccinelli, had taken on their roles while an "invalid order of succession" had been in place after former Secretary of Homeland Security Kirstjen Nielsen resigned in April 2019.
A DHS spokesperson said in a statement that the agency "wholeheartedly disagree with the GAO's baseless report." DHS later issued a formal response that accused GAO of "issuing partisan and inaccurate reports."
In addition to questions of order of succession, under the Federal Vacancies Reform Act of 1998, "an acting officer may serve in a vacant position for no longer than 210 days," a limit Wolf has far exceeded. A ruling from Maryland Judge Paula Xinis last week also concluded that "Wolf filled the role of Acting Secretary without authority."
Trump expressed his preference for the "great, great flexibility" of appointing Cabinet officials on an acting basis in comments to reporters last year. Weeks after the GAO report was released, he announced that he planned to officially nominate Wolf for the permanent position.
"I am pleased to inform the American Public that Acting Secretary Chad Wolf will be nominated to be the Secretary of Homeland Security," Trump tweeted on August 25. "Chad has done an outstanding job and we greatly appreciate his service!"
Earlier in August, a DHS official, speaking to Newsweek on the condition of anonymity because they were not authorized to give comments to the press, said that they had "zero faith in senior DHS leadership, with the exception of Pete Gaynor because he's a longtime FEMA employee."
Newsweek reached out to DHS for comment.