Chadwick Boseman's Last Tweet Was of a Picture of Him With Kamala Harris
Black Panther star Chadwick Boseman, who passed away Friday from colon cancer, posted a picture of himself and Democratic Vice Presidential candidate Kamala Harris as his final tweet.
Boseman and Harris both graduated from Howard University, a Washington, D.C. historically black college. Boseman had been a strong voting advocate and appeared in a 2018 public service announcement encouraging Americans to vote. Boseman's last tweet was posted after Harris had been announced as Democratic presidential candidate Joe Biden's running mate.
The photo of Boseman and Harris together was taken at a 2018 event for Families Belong Together, a coalition against separating children who have immigrated to the U.S. from their families.
Boseman appeared in a PSA with other performers from the Marvel Cinematic Universe discussing his first experience voting. "I wasn't sure where to put it, where to slide it in," Boseman said referring to his ballot. "Let's rise up, register, and let our voices be heard."
News of Boseman's death was announced by his family on Twitter Friday evening.
"Chadwick was diagnosed with stage III colon cancer in 2016, and battled with it these last 4 years as it progressed to stage IV, "the tweet read. "A true fighter, Chadwick persevered through it all, and brought you many of the films you have come to love so much. From Marshall to Da 5 Bloods, August Wilson's Ma Rainey's Black Bottom and several more, all were filmed during and between countless surgeries and chemotherapy."
"It was the honor of his career to bring King T'Challa to life in Black Panther," the tweet added.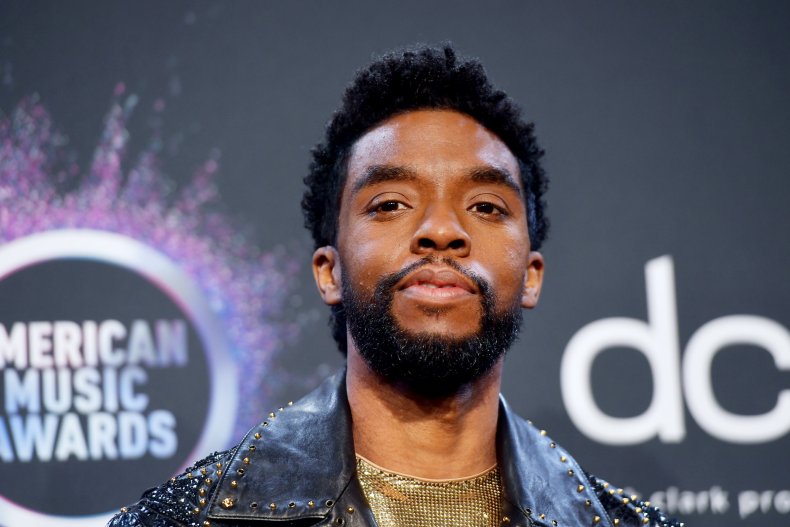 Harris tweeted that Boseman's death had left her "heartbroken."
"My friend and fellow Bison Chadwick Boseman was brilliant, kind, learned, and humble," Harris wrote. "He left too early but his life made a difference. Sending my sincere condolences to his family."
Boseman was also memorialized on the Twitter feed of Howard University.
"It is with profound sadness that we mourn the loss of alumnus Chadwick Boseman who passed away this evening," the tweet read. "His incredible talent will forever be immortalized through his characters and through his own personal journey from student to superhero! Rest in Power!"
Television personality Star Jones tweeted, "My heart aches at the loss of this beautiful soul. #WakandaForever on #JackieRobinsonDay."
"I just heard that Chadwick Boseman died of colon cancer," tweeted CNN anchor Jake Tapper. "Such horrible news. He was such an incredibly talented actor and lovely person. He played Jackie Robinson in '42' and we hear this horrible news on Jackie Robinson day. So awful. Life is short. Be kind."
"Rest in Peace, Chadwick," tweeted actor and activist Alyssa Milano. "Gone way too soon. Talent beyond."
Boseman first attained public notice for his roles in biographical films. In the film 42, he played Jackie Robinson, the first Black major league baseball player. Boseman died on August 28, the same day as a 1945 meeting between Robinson and then-president of the Brooklyn Dodgers, Branch Rickey. Rickey informed Robinson that day that he was considering integrating Major League Baseball.
In a 2013 interview with Vanity Fair, Boseman said he felt playing Robinson was a tremendous responsibility, "but you can focus the same way he did—one thing at a time, moment to moment. Eventually all the pieces will be there."