Chain of DIY Stores Sparks Inventions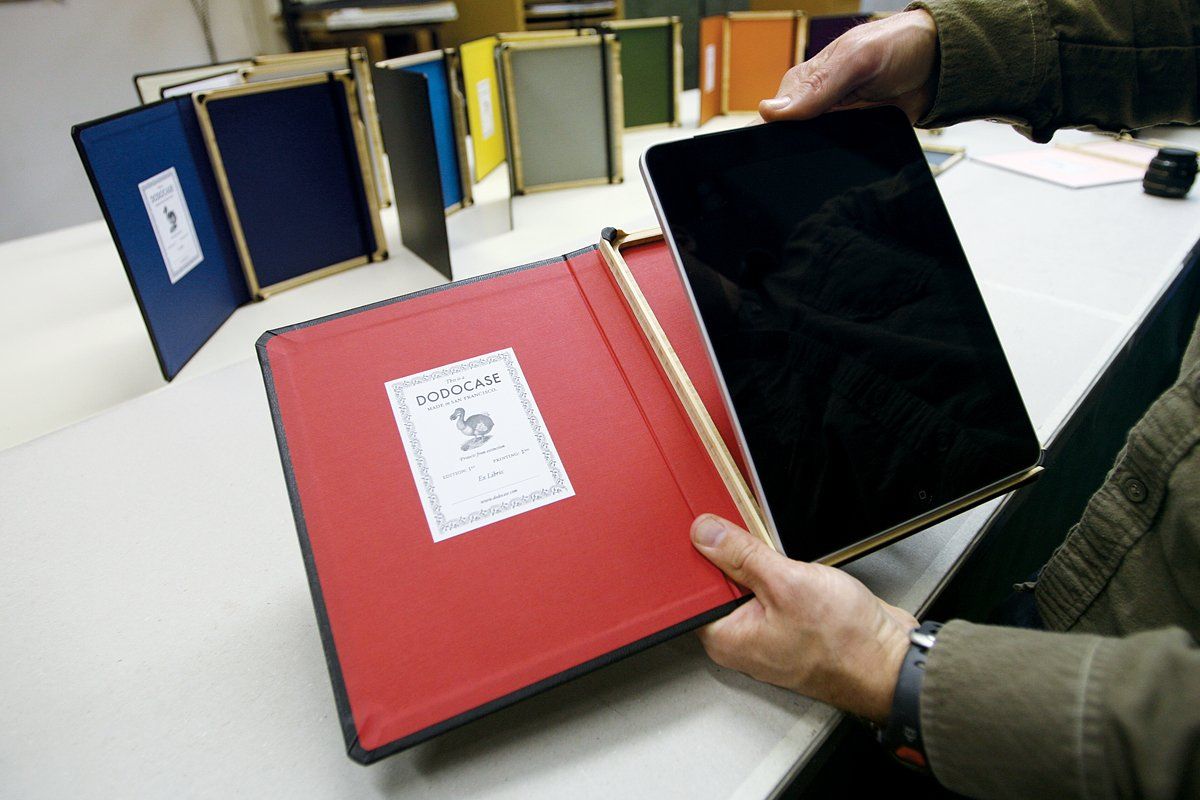 Between the time Apple unveiled its first iPad, in January 2010, and its release three months later, a 28-year-old Silicon Valley entrepreneur named Patrick Buckley had an idea. A lot of Buckley's friends and family had said they were so in love with the feel of books that they couldn't fathom switching to an electronic gadget. Why not create a product that made holding an iPad feel something like cozying up with a book? Only Buckley, like most aspiring inventors, didn't have a basement outfitted with a router drill or any of the other specialized tools needed to create a prototype. Nor did he have the cash needed to pay a high-end design firm to make one for him.
What Buckley did have: access to a nearby TechShop, a fledgling chain of workshops equipped with enough laser cutters, high-end saws, and other heavy-duty equipment to cause the eyes of any serious-minded do-it-yourselfer to bulge wide.
Within four weeks, Buckley says, he had a prototype for a bamboo-and-moleskin iPad holder called the DODOcase. He went on to sell $1 million worth of DODOs during the first four months the iPad was on the market, after investing less than $1,000. Today, Buckley runs a 40-person company and continues to expand even in a lousy economy. "I don't know what I would have done if TechShop didn't exist," he says.
That's a common refrain among entrepreneurs these days. TechShop helped spawn the electric-powered Lightning Motorcycle, slated to hit the market in 2012. It allowed a former clean-technology executive named Mark Goldman to create easy-to-install solar panels he hopes to start selling later this year. And it provided a home for a pair of 60-something electrical engineers who built a water-based system for cooling computer equipment that cuts energy output by as much as 80 percent.
In each case, these inventors say they're fortunate to have found a place that gave them access to hundreds of thousands of dollars' worth of design equipment and tools—all for a monthly membership fee of $100 per month. "We're a bootstrap startup," says Goldman. "Spending $50,000 for a piece of equipment was a nonstarter for us."
TechShop was founded by Jim Newton, a frustrated inventor who says he was looking for a place to "play and work on" his 200 or so ideas. He opened his first TechShop in Menlo Park, Calif., in the heart of Silicon Valley, in 2006. Today, his list of ideas has grown to 300, since he spends most of his time helping to run TechShop. "I don't tinker as much as I thought I would, but it's really rewarding to walk around and say, 'I empowered this person to make this thing,'?" Newton says.
There are now three TechShops in the San Francisco Bay Area and a fourth in Raleigh-Durham, N.C. The company says membership at each ranges from a couple of hundred people to 600. A fifth TechShop is slated to open in Detroit later this year, with another 20 in the works over the next three years.
Of course, only a small percentage of these would-be inventors go on to build businesses. Many say they join for fun or to work on their own projects. And access to a $100,000 laser cutter doesn't guarantee an inventor will create something that leads to a moneymaking enterprise.
But there are breakthroughs, like the Embrace Infant Warmer, developed by Rajan Patel and Nag Murty. Aimed at the millions of preemies and low-weight babies born in the Third World each year, the Embrace is a low-cost pouch that can be heated using electricity or boiling water so a baby stays warm en route to a hospital.
"There was no one we could go to and say, 'This is the heater we have in mind; build us a prototype,'?" says Patel. TechShop "[let] us try different things until we felt we had a prototype good enough to then bring to a manufacturer to make for us."