Man Creates Chair That Turns Into Bulletproof Vest Following Mass Shootings
In the months that followed the October 2017 mass shooting at a Las Vegas country music concert, Aaron Ansel started thinking about products that could help defend people against mass shooters.
"I just thought, is there any sort of technology-based solution that could have kept people safe? There has to be something," the inventor told Newsweek in a recent interview.
Several months and at least 100 mass shootings later, Ansel welcomed the first 1,000 CoverMeSeats, a chair he designed to convert into a bulletproof vest. He began selling them for $100 on his website earlier this week.
The product compliance attorney, who lives in Seattle, readily admits that the necessity of a product like his is "depressing." Nonetheless, he foresees it having practical uses in classrooms, concerts or during other outdoor gatherings. The advertising materials for the product feature teens sitting in front of what looks like a school campus, smiling as they wear different colored versions of the CoverMeSeat.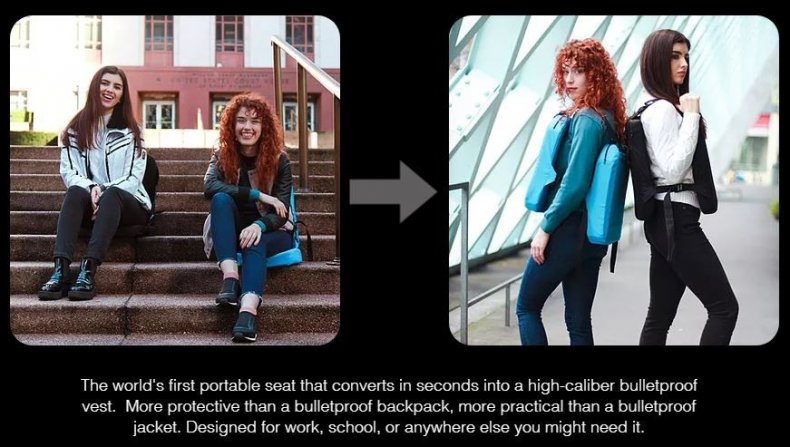 Although he's faced backlash from people who think the seat is capitalizing on mass shootings, Ansel insists he created it to save lives. He framed the chair as something "immediate" that can be done without waiting on Congress to strengthen gun control laws.
"Look, there is gridlock legislatively, nobody is really winning the gun debate," he said. "What was really important for us was to come up with a solution that is not contingent or dependent on the passage of laws or reform," he said.
"It's as apolitical as a fire extinguisher," he later added.
Ansel declined to state how many CoverMeSeats he has sold so far, but the attorney said most of his customers haven't been "stereotypical" gun enthusiasts. He counts teachers, employers and people who attend music festivals within his core demographic for the chairs.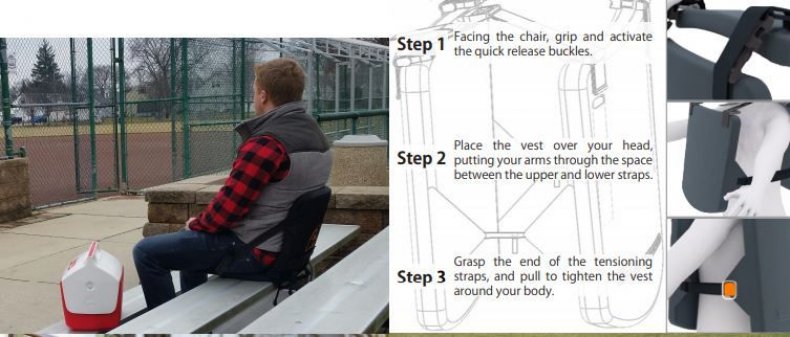 In the aftermath of the deadly Parkland, Florida, school shooting, Ansel is hardly the only inventor trying to find solutions to what's been called a mass shooting epidemic in the United States. Doctors have developed high-tech first-aid kits, while school systems across the country grapple with whether to mandate clear backpacks or potentially install bulletproof doors and windows. Some schools are even considering arming teachers with guns.
"You really have to look at a lot of factors to determine what measures make the most sense for every school," Michael Dorn, the executive director of Safe Havens International, a company that works with schools to come up with safety plans, previously told Newsweek.
"If it sounds like a simple solution, it's probably not that effective," Dorn opined.
Some of the more unique methods have caught national attention—and been subsequently pilloried. Teachers in Millcreek School District in Pennsylvania were told to use baseball bats against would-be shooters, and another school district is arming its teachers with rocks. Parents also appear to be looking for quick fixes: In the days that followed the Florida shooting, stores across the country reported selling out of bulletproof backpacks.
However, the students at the forefront of the gun control debate have said they don't want flashy devices, and they definitely don't want clear backpacks. Given previous statements, it's a safe bet they wouldn't want the chair, either.
"Let me be clear," tweeted Parkland survivor Ryan DeWerff. "I have not been asking for school security, I have been asking for common sense gun laws. However, I think school safety is important. Clear backpacks and checkpoints don't make anyone feel safe. They make us feel like black sheep, like we're different.