'The Chair': Who Is In the Cast of the Netflix Comedy-Drama?
The Chair is Netflix's upcoming comedy-drama miniseries centered around the new head of the English department at a prestigious university. The series follows the challenges of taking on this role, especially as the department is going through a period of change.
Sandra Oh is the lead in the series, but other big names also have roles alongside the Killing Eve star.
Meet the cast of The Chair ahead of its arrival on Netflix on August 20.
The Cast of The Chair
Sandra Oh plays Dr. Ji-Yoon Kim, who becomes the chair of English at Pembroke University.
Alongside her are other professors, including Jay Duplass as Professor Bill Dobson, Holland Taylor as Professor Joan Hambling and Bob Balaban as Professor Elliot Rentz.
Other staff members include Nana Mensah as Professor Yaz McKay, a new addition to the department, and David Morse as Dean Paul Larson.
Dr. Kim also has her father and daughter to worry about, with father Habi played by Ji Yong Lee and daughter Ju Ju played by Everly Carginilla.
There are also a number of guest stars, including Mallory Low as Lila, the teaching fellow for Professor Dobson's course and Marcia DeBonis as Laurie, Dr. Kim's assistant.
Ron Crawford also appears as Professor John McHale, Ella Rubin plays Dafna, an undergraduate student and Bob Stephenson as Horatio, a tech repair guy.
David Duchovny also joins The Chair in an undisclosed role.
What Is The Chair About?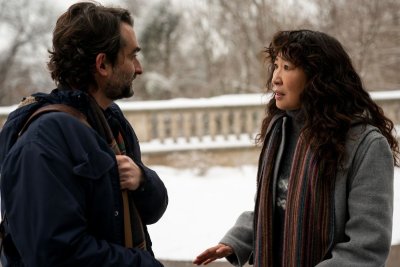 The Chair follows Oh's character Dr. Ji-Yoon Kim, who has been given the new role as the head of the English department at a prestigious university.
Not only must she deal with the day to day running of the department, she also faces challenges as the first woman in the post and one of few staff members of color.
Alongside her role, which sees her facing conflict with colleagues she was close to before she became their boss - she must also help her father Habi and raise young daughter Ju Ju.
The official synopsis reads: "Simultaneously she is struggling to discern if her platonic relationship with beloved English professor Bill Dobson is becoming something more and, if it even should.
"When Bill is captured on video making a controversial gesture the student body erupts into a call for accountability and Ji-Yoon's ride gets even wilder as work, romance, drama and comedy collide in this layered, multi-faceted tale..."
How To Watch The Chair
The Chair arrives on Netflix on August 20 at midnight PT, which is 3:00 a.m. ET.
There are six episodes, each of which is 30 minutes long, so the show could be quickly binged on its arrival.
Clearly the show has a lot of storylines, which may suggest there is a potential for further series if it is successful.
Although a second season is not currently planned, the series so far has had good reviews from critics.
According to review aggregator Rotten Tomatoes, the show has a score of 76 percent.
The Chair is on Netflix from August 20