Beyond a Faster Pizza: Challenge Cup Seeks World-Saving Innovations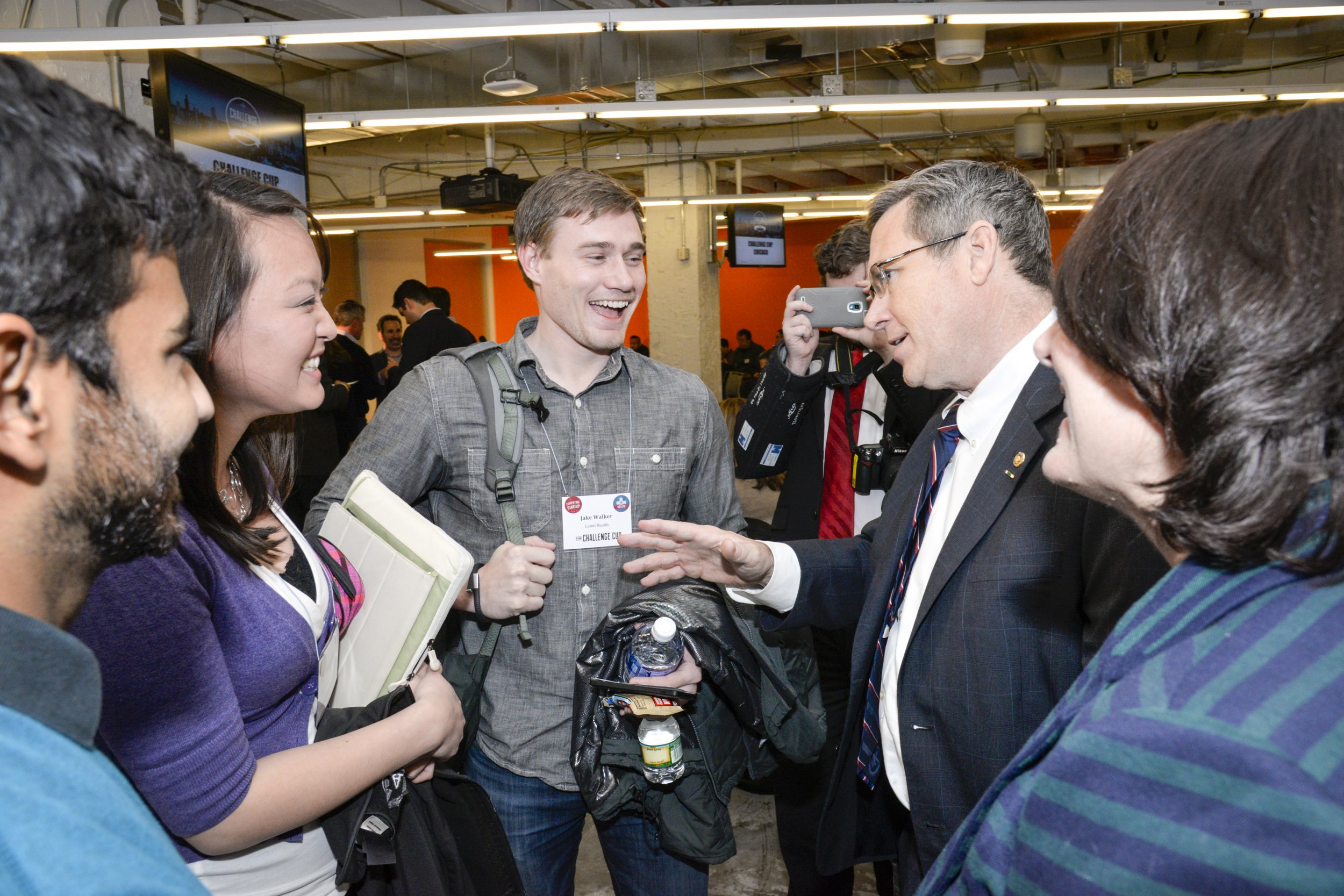 "In Chicago last year we actually had a founder come to the edge of the stage and throw up before fleeing."
So says Evan Burfield, co-founder of the global incubator and seed fund 1776, who is actually trying to reassure the founders and CEOs who have come here tonight, to RocketSpace's bare-bones offices in San Francisco's financial district, to tout their ventures. This is the 16th and last city on an international tour to find, as the incubator's press release puts it, "promising startups focused on solving the world's most fundamental challenges...in the most broken, entrenched industries and sectors that impact millions of lives every day--specifically education; energy & sustainability; health; transportation & cities."
At stake is the chance to go on to compete for the grand prize at the Challenge Festival in Washington, D.C., in May: an actual trophy (think Stanley Cup, but smaller) plus $650,000 and the opportunity to connect with investors, corporate partners and policymakers.
The tech industry has been derided as one in which the best minds in the world are hard at work solving problems particular to its cohort--getting a hot pizza delivered to your office quickly, say--while ignoring the ills and needs of greater society. And indeed, there is plenty of pizza to be had here tonight, boxes stacked up beside kegs of beer and a fridge full of bottled water and Coke. Before the representatives of 35 companies get up to make their initial one-minute pitches to 11 judges picked for their expertise in the fields represented, they line up against the wall like kids at recess as the room starts to smell slightly of melted cheese, soda fizz and just a soupcon of flop sweat.
The format is simple: After the short pitches the judges retire to another room to come up with two candidates in each of the four categories. Then follows a longer (five-minute) pitch from each company using PowerPoint, plus two minutes for questions from the judges. A woman from 1776 signals that the speaker's time is up by ringing a gong that sounds more like an old tin pot.
"Judges who had expertise in a particular field had been spending the day with the companies, doing roundtables and mentoring," Burfield tells me later. "The one-minute pitches are important but that is sort of a public capstone to the process that we've gone through throughout the day."

Few of the pitchers get the gong (they've been practicing) and not all of the ideas on offer scream San Francisco--or Silicon Valley--though there is one that relates to autism (AutismSees, a company that helps those on the spectrum engage more) in the Education category and one on anxiety disorders (Pacifica) in Health; two in Cities and Transportation are concerned with the problems of urban parking (CARMAnation, which makes use of unused parking spaces; and Parkedin, a booking tool called "the Kayak of parking"); and others in the same field are concerned with the future of electric transportation (EverCharge for EV users in multi-unit buildings) and affordable electric bicycles (Faraday).
"Pacifica seemed like the kind of thing you would expect a SF health startup to be like," allows Burfield: "consumer app, really good traction, totally focused on conversions, not hugely concerned with, 'Is there tons of validated medical evidence that it actually cures a psychological condition,' but is really good at getting out there and saying, 'Hey, this makes people feel healthier and we're really growing quickly.'"
Pacifica's app uses techniques of cognitive behavioral therapy (CBT) for people with anxiety to calm and rate themselves. Pacifica is one of the companies to make the second round, and CEO and founder Dale Beermann in his five-minute pitch calls it a relaxation tool that has gathered 22,000 users in less than two months. That's what they call traction; there is more talk of "traction" here than there is at a truck pull, and more mentions of "conversion" (when customers put their money down) than you'll find at a tent revival.
Sometimes, however, traction is not enough. "You have no data to suggest this actually works," one of the judges says to Beermann in the Q&A period (details!), while the only competitor he can point to is the relaxation tool Mood Tracker.
Far more foreign to this West Coast audience is the problem addressed by Energy finalist Radiator Labs: "disgustingly hot apartments in New York," says pitchman Marshall Cox, a problem exacerbated in winter by the 19th-century-style steam heating that warms much of the East Coast and the modern, energy-efficient windows that have made radiators practically redundant. Radiator Labs turns existing radiators into energy-efficient heaters and redistributes the excess heat to other areas of the building.
It also has the best motto of the evening: "170 years later, you can now close your window in winter."
Far less catchy is the Kuveda credo, "Every cancer is unique!" But this Health finalist is a player in the nascent field of personalized cancer therapeutics and offers a data analytics web tool that helps oncologists come up with the best individualized treatment, based on the growing field of cancer genomics.
"In health care it was like, do you want the lightweight consumer app that may or may not have any scientific efficacy behind it but it's got great early traction and people are converting and buying it [Pacifica], or do you want this tool that could totally transform cancer treatment if it works, but it's really complex?" says Burfield, who was one of the team of judges. Others included a representative from the U.S. Department of Energy; a doctor from the American College of Cardiology; and a technology VP from Pearson Education. "All of the industries we focus on you really do have to have people who know about the latest in genomics and personalization of cancer protocols, for instance," says Burfield, "or people familiar with the last 25 years of lithium batteries."
Few of the pitches had the kind of creation myth one's come to expect, that moment when the apple core fell on the proverbial head of the entrepreneur or inventor, though Handsfree Learning CEO Josh Salcman (in the Education category) talked about trying to fix the derailleur on his bicycle with help from a YouTube video and the frustrations of falling behind in the tutorial (not to mention getting bike grease on the iPad). The big idea became teaching skills remotely that need more monkey-do than just -see, which could be applied to everything from cooking to dentistry.
Handsfree won in the Education category, and other winners were Radiator Labs (Energy), Kuveda (Health) and EverCharge (Transportation). They will go on to be among the 80 companies competing for the grand prize in May, a sort of cage-match finale for a lot of innovators and entrepreneurs who approach their calling a bit more...altruistically?
"Not altruistically," Burfield corrects me. "These are entrepreneurs; we're capitalists here." (Actually, the fact that we're in the financial district was the first clue.) But still, they could be making easier money crushing candy than curing cancer. The Gordon Gekko routine only goes so far.
Burfield, founder of the wealth management company netDecide, co-founded 1776 two years ago with Donna Harris, former managing director of the Startup America Partnership. Today they have about 260 startups in their program. "We're very focused on what you see here," he tells me while also touting their work in agriculture and some financial services. "But these are our basic categories: How do we educate our kids better, deliver better health care at lower cost, how do we fix the planet," he adds with a laugh. "There are amazing startups all around the world and rather than hope they find us, let us go out and find them."
Last year's big winner was a SF startup: HandUp, which began as a tool for people to give money to the homeless for specific needs (a laptop, a wheelchair) and has morphed into something bigger, thanks in part to 1776. "When they started out they conceived of themselves as a consumer app," says Burfield. "What they found out was that they were enabling something for all these nonprofit and government agencies that are helping the homeless. They've got to get the consumer piece, they have to activate donors--but they also have to get, as [founder] Rose [Broome] gently put it, organizations that don't move at startup speed on board with what they're doing."
Some of that's in the message, of course, and finding a bigger audience. As Burfield puts it, "How do you tell a story that is not just going to resonate with the San Francisco-equality-zeitgeist kind of thing but that's going to make the exhausted executive director of a nonprofit helping the homeless in Detroit say, 'Wow, this is totally for me'?"