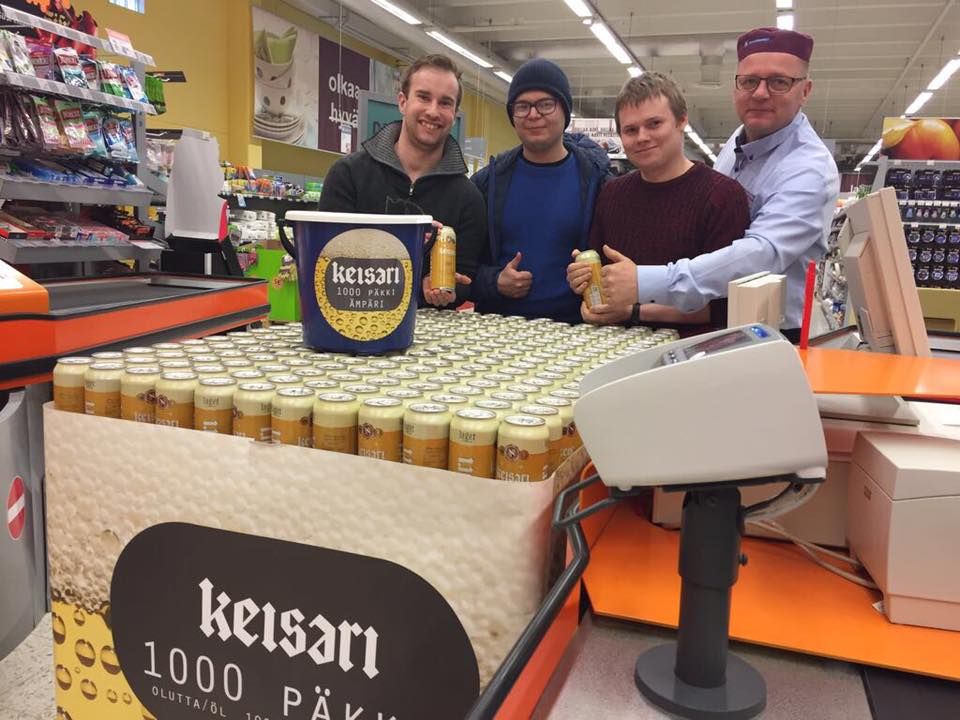 A micro-brewery in Finland has unveiled a 1,000-pack of beer priced at over $2,000 that is proving a hit with Helsinki's technology start-up scene.
Independent brewer Nokian Panimo began selling the giant packs of pint-sized cans of Keisari lager at a supermarket on April 28, a few days ahead of May Day weekend.
May Day in Finland is a celebration of the beginning of summer and leads to carnival-like festivities across the Nordic nation.
At €2,149.20 [$2,345] per case, the multi-pack does not come cheap, but the price has not deterred Finnish beer-drinkers.
One of the shops that is stocking the beer welcomed its first sale of the pack by sharing a picture of the men who bought it.
"Three happy gentleman came in and pulled the whole caboodle aboard," the Helsinki-based supermarket wrote in a Facebook post.
Nokian Panimo told a local news outlet the idea for the pack started as a joke challenge to competitor Harwall, a much larger company that had launched a 100-pack of its 33cl (11.16oz) Karjala beer at the beginning of April.
But the 1,000-can multi-packs have proved to be a big hit with IT companies.
Marko Kuusniemi, at Finnish company Solinor, posted a picture of his purchase on Facebook on April 28 and May 4.
Technology company Qvik also splashed out. A picture widely shared on social media sees Pertti Kroger, software developer at Qvik, buying the pack at a supermarket conveniently located below the company's office.
Kroger brought a measuring tape with him to ensure the pack would fit in the lift before he paid for it, Finnish newspaper Iltalehti reported.
One of Qvik's employees, iOS developer Niko Halva, later tweeted a photo of the pack being brought into the office with the help of the supermarket clerk. "Eagle has landed" he said.
The company also thanked the brewer in a tweet : "At last, we found the right size for May Day."