'The Challenge' Exclusive: Ashley Mitchell on Joining as a Mercenary, Using Her Head in Elimination and That Hookup
Ashley Mitchell made her presence known when she and Hunter Barfield joined The Challenge: Final Reckoning as mercenaries in Tuesday's episode. First, she had to improvise when she couldn't punch through a wall during an elimination round, then she hooked up with Kyle Christie in the house.
Host T.J. Lavin brought in Ashley and Hunter to face off against Faith Stowers and Angela Babicz in Armageddon. "The pro of joining as a mercenary is you have a few weeks to just be yourself at home, eat what you want to eat, keep training," Ashley told Newsweek Tuesday. "In that house, you're living with mentally unstable people, so just being able to have your sanity for those weeks was so amazing."
The mercenaries won the elimination round, during which Ashley used her head to break through a wooden wall when punching it didn't work. The only incentive she needed was the $1 million the winning team will get at the end of the season. "I can buy a new head if I get $500,000," Ashley said, laughing. "I always say since my first Challenge [Rivals III in 2016], I have these chicken arms. They're my weakness, and I knew I wasn't going to get through [the wall] with [them]."
It would have been "embarrassing" to let rookies beat her as a mercenary, she explained. Not only did she send the two women to the redemption house, she took Faith's bed in the house—and hooked up with Kyle, with whom Faith had been involved. "We hung out for two nights, and we were just alike," Ashley said about Kyle. "We drink too much. We laugh too much. We curse too much. We got along like peanut butter and jelly. I thought, 'Hey, he was with this other girl, so Cara probably doesn't care anymore because she's flirting with Paulie [Calafiore], from what I hear, so that's kind of perfect.'" Cara Maria Sorbello and Kyle were involved on Vendettas earlier this year.
Ashley lied when Hunter asked if she slept with Kyle. "Hunter gets very jealous," she told Newsweek. "I don't think he has feelings for me, but he's just very possessive, so I thought, 'Oh my God, I don't want to hear him bitching at me for however long we're going to be here.'"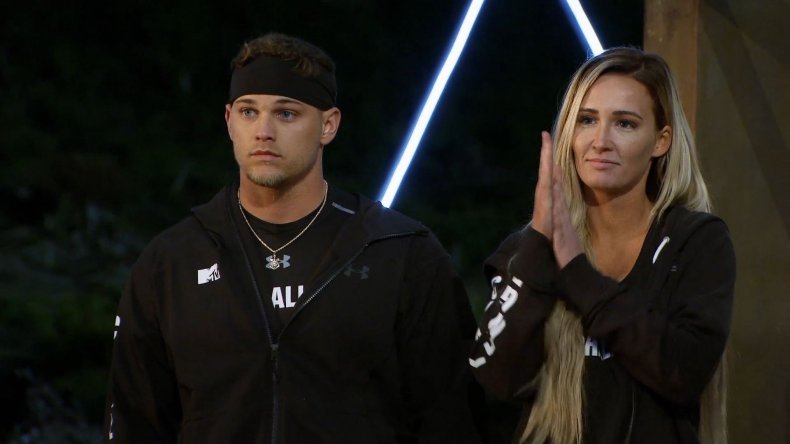 Despite that, Ashley isn't one of the competitors unhappy about her partner. (Final Reckoning teams the players up with their enemies, and she and Hunter are exes.) "I was super excited about having Hunter as my partner," she said. "When it comes to competition in the past, we've actually worked really well together." They were partners twice during 2017's Invasion of the Champions, which Ashley won. "We're like yin and yang," she explained. "He's very muscular and strong-headed and I'm very good at the puzzles. I have the brains and he has the brawns."
"I'm the politician, and he is not," she continued. She tries to be friends with everyone and lets Hunter make the enemies. "You let the boys think they're making all the decisions, and then they come off as the bad guy," she said to Newsweek. "Then, if I ever do get to compete again, I won't have all the enemies, Hunter will."
Ashley acknowledged there's potential for them to clash over their views about going into elimination rounds. "He [says], 'Throw me into elimination every time. I'm not scared. I don't care,'" she said. "If we get into that elimination, you never know what the heck's going to happen. … I just want to make sure I don't ever have to be in that ring if I don't have to."
Final Reckoning is the seventh Challenge (including three spinoffs against Pros and Stars) Ashley has been on, and the difference is she has a target on her back from the time she stepped in the house because she came in as a mercenary. "Luckily, I have a lot of friends, but how good are friends when you're competing for $1 million?" Ashley asked.
The Challenge: Final Reckoning airs Tuesdays at 9 p.m. ET on MTV.